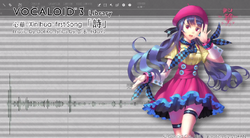 Song title
"詩"
Simplified Chinese: 诗
Pinyin: Shī
Romaji: Uta
English: Poem
Uploaded January 23, 2015, with 47,000+ (NND), 184,000+ (YT), and 65,000+ (BB) views
Singer(s)
Xin Hua
Producer(s)
doriko (compose)
dav (lyrics)
Yuumei (Japanese lyrics)
Linia (arrange)
Yui, Yomi (voice programming)
VOFAN (illust)
Links
Niconico Broadcast • YouTube Broadcast
bilibili Broadcast

Background
Edit
"Shī" is the first original demo song featuring Xin Hua, a Mandarin Chinese capable VOCALOID3 with Taiwanese origins. The video also features Japanese lyrics accompanying the Chinese lyrics. The lyrics describe the singer's desire to write their feelings for you out in a poem and stay by your side forever.
dav noted that when he first received Xin Hua's voicebank, he knew little to nothing about her aside from the fact that she is a VOCALOID that originated from Taiwan. To test out the differences between Mainland Mandarin and Taiwanese Mandarin, he purposely chose "Shi", "Chi", and "Zhi" to rhyme with each other. All three words required accurate pronunciation.
This song was featured in albums, -Xin Hua- first CD and Xīn Huá (心華), and has reached 100,000 views on YouTube. 
Chinese (中文歌詞)
Pinyin (拼音)
思念編織成了詩
Sinian bianzhi chengle shi
也許你的名字
Yexu ni de mingzi
就是最唯美的詮釋
Jiushi zui weimei de quanshi
不需要被證實
Bu xuyao bei zhengshi
不需要被解釋
Bu xuyao bei jieshi
你在我心中佔據獨特位置
Ni zai wo xinzhong zhanju dute weizhi


跟隨著你的影子
Gensuizhe ni de yingzi
勾著你的手指
Gouzhe ni de shouzhi
我這樣是不是太幼稚
Wo zheyang shi bushi tai youzhi
但是無法停止
Danshi wufa tingzhi
我的心彷彿被吞噬
Wo de xin fangfu bei tunshi
是在何時
Shi zai heshi
被誰控制
Bei shei kongzhi
複雜的情緒無法掩飾
Fuza de qingxu wufa yanshi


故事才剛剛開始
Gushi cai ganggang kaishi
等著我們去嘗試
Dengzhe women qu changshi
嘗試栽培我們的青澀果實
Changshi zaipei women de qing se guoshi
詩裡最後的句子
Shi li zuihou de juzi
透露了我的心思
Toulule wo de xinsi
今生今世
Jinsheng jinshi
想跟你一輩子
Xiang gen ni yibeizi


思念編織成了詩
Sinian bianzhi chengle shi
也許這個故事
Yexu zhege gushi
注定不能被誰藏私
Zhuding buneng bei shei cang si
換了韻的用字
Huanle yun de yong zi
對了仄的遣詞
Duile ze de qianci
錯綜的情緒依然患得患失
Cuozong de qingxu yiran huandehuanshi


以為能坦率誠實
Yiwei neng tanshuai chengshi
卻又欲言又止
Que you yu yan you zhi
我這樣是不是太固執
Wo zheyang shi bushi tai guzhi
但是無法停止
Danshi wufa tingzhi
請不要笑我太自私
Qing buyao xiao wo tai zisi
在此立誓
Zai ci lishi
今生今世
Jinsheng jinshi
一行永誌不渝的誠摯
Yixing yong zhi bu yu de chengzhi
想跟你一輩子
Xiang gen ni yibeizi


故事才剛剛開始
Gushi cai ganggang kaishi
是否等我們嘗試
Shifou deng women changshi
雖然這一切都還只是未知
Suiran zhe yiqie dou hai zhishi weizhi
詩最後的一個字
Shi zuihou de yige zi
被誰故意的擱置
Bei shei guyi de gezhi
等誰暗示
Deng shei anshi


這首詩才剛剛開始
Zheshou shi cai ganggang kaishi
在未來的某一日
Zai weilai de mou yi ri
我們的一生是否擁有彼此
Women de yisheng shifou yongyou bici
詩裡最後的句子
Shi li zuihou de juzi
是我無悔的堅持
Shi wo wu hui de jianchi
今生今世
Jinsheng jinshi
想跟你一輩子
Xiang gen ni yibeizi
Chinese (中文歌词)
Official Japanese (公式邦訳)
思念編織成了詩
君への思いを詩にして
也許你的名字
就是最唯美的詮釋
名は美しい響き
不需要被證實 不需要被解釋
どこの誰かに 言われようとしても
你在我心中 佔據 獨特位置
僕の特別は君だけだ


跟隨著你的影子
君の影に
勾著你的手指
指に引っ付く僕 子供ぽいでしょうか
我這樣是不是太幼稚
但是無法停止 我的心彷彿被吞噬
でもやめられない 君への気持ち
是在何時 被誰控制
いつのどこで 誰かに
複雜的情緒無法掩飾
心を躍らせられたようで


故事 才剛剛開始 等著我們去嘗試
物語は今 始まったばかり
嘗試栽培我們的青澀果實
青い果実が実るように
詩裡最後的句子 透露了我的心思
詩の最後に 思いを隠し
今生今世 想跟你一輩子
ずっとずっと 一緒にいたい


思念編織成了詩 也許這個故事
君への思いを詩にして
注定不能被誰藏私
僕のものにならなくても
換了韻的用字 對了仄的遣詞
少し考えすぎた 僕の気持ち
錯綜的情緒 依然 患得患失
はやばしりして


以為能坦率誠實 卻又欲言又止
頑固な自分に暗示をかけた
我這樣是不是太固執
空回りしないように
但是無法停止 請不要笑我太自私
頑張って伝えよう 不器用な僕を
在此立誓 今生今世
笑わないで 約束して
一行永誌不渝的誠摯
一回しか言わないからね
想跟你一輩子
一緒にいたい


故事才剛剛開始 是否等我們嘗試
物語は今 始まったばかり
雖然這一切都還只是未知
未知な未来が 待っている
詩最後的一個字 被誰故意的擱置
欠けた最後の 詩の一文字
等誰暗示
描こう


這首詩 才剛剛開始
詩が 今始まり
在未來的某一日
未来のあの日に
我們的一生是否 擁有彼此
そばに君がいることを信じ
詩裡最後的句子 是我無悔的堅持
詩の最後に 揺るぎない思い
今生今世 想跟你一輩子
ずっとずっと 一緒にいたい
Derivatives
Edit
Yan Xi's Cover

| | |
| --- | --- |
| Featuring | Yan Xi |
| Author(s) | Linia |
| Category | MUTA cover |
External links
Edit
| | |
| --- | --- |
| | Articles |
| | |
| --- | --- |
| | Lyrics |
| | |
| --- | --- |
| | Downloads |