谺、碧海、那由多を見定むアグラフォノスの詩篇 (Kodama, Hekikai, Nayuta wo Misadamu Aglaophonos no Shihen)
Comments

2
Share
Ad blocker interference detected!
Wikia is a free-to-use site that makes money from advertising. We have a modified experience for viewers using ad blockers

Wikia is not accessible if you've made further modifications. Remove the custom ad blocker rule(s) and the page will load as expected.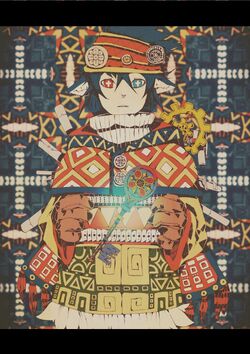 Song title
"谺、碧海、那由多を見定むアグラフォノスの詩篇"
Romaji: Kodama, Hekikai, Nayuta wo Misadamu Aglaophonos no Shihen
English: Echoes, The Blue Sea, A Collection of Poems by Aglaophonos Grasping Great Numbers
Uploaded March 4, 2012, with 251,000+ views
Singer(s)
GUMI
000 (recitation)
Producer(s)
Neru (music, lyrics) × Zauni (music, arrangement)
Ryuusee (illustration, video)
Links
Niconico Broadcast • YouTube Broadcast (with subtitles)

Background
Edit
"
...now, let us go, friend. Decapitation was the ruling.
"
 
This song is a collaboration work between Neru and Zauni.
In greek mythology Aglaophonos was one of the Sirens, her name meaning "One of beautiful voice".
Part of the song lyrics are written in made up language created by Neru.
The song is featured on EXIT TUNES compilation album GUMity.
This song has entered the Hall of Fame.
Japanese (日本語歌詞)
Romaji (ローマ字)
開かれしは 御伽話
hirakareshi wa otogibanashi
旅立ちをば 奏姫(かなめ)は告ぐ
tabidachi woba kaname wa tsugu
遥か遠く 大海原(わたのはら)に
haruka tooku wata no wara ni
童子(わらべ)は何想ふ
warabe wa nani omou


始まりしは 刻(とき)の運命(さだめ)
hajimarishi wa toki no sadame
幾億年の 因果を超へ
ikuokunen no inga o ko e
炯眼(けいがん)に見ゆ 烏羽玉(うばたま)にぞ
keigan ni miyu ubatama ni zo
物語は開く
monogatari wa hiraku


ディティーア エーニ セレスィア
ditiia eeni seresia
オエーエ エトゥ シエゴヤ
oeee etu shiegoya
デデーヤ オウナ エガシエ
dedeeya ouna egashie


響け 響け 響け
hibike hibike hibike


ディティーア ヘーゼ ヘレミア
ditiia heeze heremia
トデーエ アーオ アケビヤ
todeee aao akebiya
デデーヤ ヘシア コナシエ
dedeeya heshia konashie


響け 響け 響け
hibike hibike hibike


One who sets foot in the deep guardian woods, Etranger
The wind singing through the pines, whispering to the child.
The god-sent howl that shakes even the vast land,
crawled the blue sky, and sent an echoing roar of Life.
Aglaophonos sings.
Echoes dance on sin that's worn,
glimmering white crow soars
the deep blue waters.
from the hundred million psalters.
Now, unleash the power of the Chronicle on the possible world.


閉ざされしは 大禍時(おおまがとき)
tozasareshi wa ōmagatoki
翻せば 浮世は夢
hirugaeseba ukiyo wa yume
草木眠る 丑三つ時
kusaki nemuru ushimitsu toki
童子(わらべ)は何を知る
warabe wa nani o shiru


紡がれしは 誓いの詩(うた)
tsumugareshi wa chikai no uta
竦(すく)む四肢を 風は翔ける
sukumu shishi o kaze wa kakeru
逝者(ゆくもの)へと 捧げられし
yukumono e to sasagerareshi
物語の調べ
monogatari no shirabe


ディティーア エーニ セレスィア
ditiia eeni seresia
オエーエ エトゥ シエゴヤ
oeee etu shiegoya
デデーヤ オウナ エガシエ
dedeeya ouna egashie


響け 響け 響け
hibike hibike hibike


ディティーア ヘーゼ ヘレミア
ditiia heeze heremia
トデーエ アーオ アケビヤ
todeee aao akebiya
デデーヤ ヘシア コナシエ
dedeeya heshia konashie


響け 響け 響け
hibike hibike hibike
Derivatives
Edit
KAITO's cover

| | |
| --- | --- |
| Featuring | KAITO |
| Author(s) | Onchi-P |
| Category | VOCALOID cover |
una and kunkun's cover

| | |
| --- | --- |
| Featuring | una, kunkun |
| Author(s) | |
| Category | Human cover |
Taiyakiya's cover

| | |
| --- | --- |
| Featuring | Taiyakiya |
| Author(s) | |
| Category | Human cover |
External links
Edit
| | |
| --- | --- |
| | Articles |