Ad blocker interference detected!
Wikia is a free-to-use site that makes money from advertising. We have a modified experience for viewers using ad blockers

Wikia is not accessible if you've made further modifications. Remove the custom ad blocker rule(s) and the page will load as expected.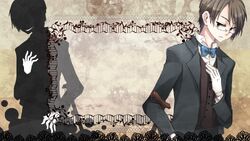 Song title
"踏めない大地と手のとどく空"
Romaji: Fumenai Daichi to Te no Todoku Sora
Uploaded December 4, 2011, with 1,000+ views
Singer(s)
Hiyama Kiyoteru
Producer(s)
Asaichi (music, lyrics, illustration, video)
Links
Niconico Broadcast
Background
Edit
Asaichi's 7th original song. It is her second song featuring Kiyoteru.
Japanese (日本語歌詞)
Romaji (ローマ字)
あるはずない邂逅だった(出会いだった)
aru hazunai kaigou datta (deai datta)
見ないフリで過ぎていれば(…もう遅い)
mienai furi de sugite ireba (mou osoi)
僕は口が悪かった(キミもそう)
boku wa kuchi ga warukatta (kimi mo sou)
キミは怒って笑って 許していた
kimi wa okotte waratte yurushite ita


楽しかった舞踏会(そのダンス)
tanoshi katta budoukai (sono dansu)
キミは踊り踊れない(笑えるね)
kimi wa odori odorenai (waraeru ne)
つまらなかった晩餐会(不味かった)
tsumarana katta bansankai (mazu katta)
キミは朗らか よく笑う(よく食べる)
kimi wa hogaraka yoku warau (yoku taberu)


佇み遮る壁は、道は 高く遠く隔て
tatazumi saegiru kabe wa, michi wa takaku tooku hedate
関係ないとキミは叫び 跳んで飛んでこちらにくると
kankeinai to kimi wa sakebi tonde tonde kochira ni kuru to
心乱れ華やぐから
kokoro midare hanayagu kara


キミの赤らむ頬が、指が 僕は黙って空を見上げてる
kimi no akaramu hoho ga, yubi ga boku wa damatte sora o miagete ru
惹かれているのがわかっていたけど
hikarete iru no ga wakatte ita kedo
はるか彼方 見ているフリをした
haruka kanata mite iru furi o shita


どっちが良いだろう?
docchi ga ii darou?
選んで、悩んで 踏めない大地と手のとどく空と
erande, nayande fumenai daichi to te no todoku sora to
握った指輪はキミの?僕の?
nigitta yubi wa kimi no? boku no?
それは誰の 誰のもの?
sore wa dare no dare no mono?


どうしてキミは眼を閉じて(覚めない?)
doushite kimi wa me o tojite (samenai?)
つくならもっと嘘のような(嘘にして)
tsuku nara motto uso no youna (uso ni shite)
これが神の試練だって?(愚かしい!)
kore ga kami no shiren datte? (orokashii!)
暗闇まで味方して(敵になる)
kurayami made mikata shite (teki ni naru)


キミの笑顔 眩しく そして幸せ満ちる声
kimi no egao mabushiku soshite shiawase michiru koe
キミの寝顔 儚く そしてとてもとてもつまらない
kimi no negao hakanaku soshite totemo totemo tsumaranai
幻に応えはない
maboroshi ni kotae wa nai


ナイトのように剣を振れば
naito no you ni ken o fureba
目が覚めるのなら 喜んでやろう
me ga sameru no nara yorokonde yarou
かつて横にいた その手繋ぐ
katsute yoko ni ita sono te tsunagu
それは誰の 誰のもの?
sore wa dare no dare no mono?


――キミの傍にいたいけど 隣の影が怖くて
kimi no soba ni itai kedo tonari kage ga kowakute
息を殺せない僕 どう思うかな?
iki o korosenai boku dou omou kana?


――王子のように口づけをすれば解決する?
ouji no you ni kuchizuke o sureba kaiketsu suru?
花を愛で 鳥と歌 風に消えたキミはどこ?
hana o mede tori to uta kaze ni kieta kimi wa doko?


どっちが良いだろう?
docchi ga ii darou?
選んで、悩んで 芽吹かない種と火噴かない炎
erande, nayande, mebukanai tane to hi fukanai honoo
視線の先に見えた存在
shisen no saki ni mieta sonzai
本当は 本当は誰だったのだろう?
hontou wa hontou wa dare datte no darou?


どっちが良いだろう?
docchi ga ii darou?
指して、示して 鼓動なき身体、心ない心
sa shite, shime shite kodou naki karada, kokoro nai kokoro
安らぎなんていらない
yasuragi nante iranai


だから
dakara
ただただキミの…僕を?
tada tada kimi no... boku o?
安穏を 安寧を願った
annon o annei o negatta
External links
Edit
| | |
| --- | --- |
| | Downloads |
| | |
| --- | --- |
| | Lyrics |