Ad blocker interference detected!
Wikia is a free-to-use site that makes money from advertising. We have a modified experience for viewers using ad blockers

Wikia is not accessible if you've made further modifications. Remove the custom ad blocker rule(s) and the page will load as expected.
This song article is lacking a proper background. You can help by adding one! The relevant section in the Song Article Guideline is a good starting point, and this blog post may also be helpful. We apologize for the inconvenience this may cause in the meantime.

Song pages lacking proper backgrounds are automatically sorted into this category.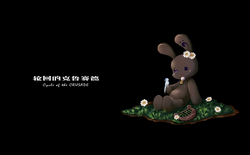 Song title
"轮回的克鲁赛德"
Traditional Chinese: 輪迴的克魯賽德
Pinyin: Lúnhuí de Kèlǔsàidé
Official English: Cycle of the CRUSADE
Uploaded July 21, 2015, with 52,000+ views
Singer(s)
Luo Tianyi, YANHE, Yuezheng Ling, XO
Producer(s)
XO (compose, arrange, mixing, reading)
Chi Niao Zhi Yi (scenes, storyboard, coloring)
Shelley (lyrics)
Xila (story, illustrator)
XP (tuning, video editor)
Links
bilibili Broadcast
Background
Edit
"Circle of the CRUSADE" is an original song featuring Luo Tianyi, Yuezheng Ling and Zhanyin Lorra. However, Lorra borrows YANHE's voicebank as she did not have a released voicebank available. The PV also shows Yuezheng Longya, Mo Qingxian, and Zhiyu Moke.
| | | | | |
| --- | --- | --- | --- | --- |
| Singer | Luo Tianyi | YANHE (Lorra) | Yuezheng Ling | Narrator |
| Color | 66CCFF | Slate Gray | Crimson | Black |
Chinese (中文歌词)
Pinyin (拼音)
Aggression
defend
prosperous
and downfall


These images
continuously cycle
in
this vast land


It is called


CRUSADE



侵略啊 在咆啸中上演

qinlüe a zai pao xiao zhong shangyan

守护啊 在绝望重现

shouhu a zai juewang chong xian

历史啊 书写着往复的诗篇

lishi a shuxiezhe wangfu de shipian

人类掠夺着保卫着嘶吼着期盼着

renlei lüeduozhe baoweizhe sihouzhe qi panzhe

祈祷着等待明天

qidaozhe dengdai mingtian




村庄变成废墟绿树凝结着泪水

cunzhuang bian cheng feixu lü shu ningjiezhe leishui

生命变得卑微铁蹄下埋葬魁儡

shengming bian de beiwei tieti xia maizang kui lei

新雨填满创伤未来由胜者支配

xin yu tian man chuangshang weilai you sheng zhe zhipei

失败写入了遗迹鲜花将战场点缀

shibai xie rule yiji xianhua jiang zhanchang dianzhui

遗骨之上 王者旗帜飞扬

yi gu zhi shang wangzhe qizhi feiyang

歌声嘹亮 隐藏血腥的真相

gesheng liaoliang yincang xuexing de zhenxiang

王座辉煌 囚禁不甘的欲望

wangzuo huihuang qiu jin bu gan de yuwang

庄严女神凝视着

zhuangyan nüshen ningshizhe

脚下城民杀戮守护的回放

jiaoxia cheng min shalu shouhu de huifang

时间记载着 浮华假象

shijian jizaizhe fuhua jiaxiang

焦土凝固城堡挺立铸成了希望

jiaotu ninggu chengbao tingli zhu chengle xiwang

明天的希望

mingtian de xiwang

侵略已让芬芳野花染遍血的苍凉

qinlüe yi rang fenfang yehua ran bian xue de cangliang

守护即将 重新描绘旧日模样

shouhu jijiang chongxin miaohui jiu ri muyang

时间洪流 不过是瞬间残像

shijian hongliu buguo shi shunjian canxiang

鲜血浇筑城墙和平之花能否再开放

xianxie jiaozhu chengqiang heping zhi hua neng fou zai kaifang




杀戮沸腾了血液发表了预告胜利的宣言

shalu feitengle xieye fabiaole yugao shengli de xuanyan

无须再惧怕背叛征服击败无力的狡辩

wuxu zai jupa beipan zhengfu jibai wuli de jiaobian

破败战场的前沿等待黎明时赛拉的加冕

pobai zhanchang de qianyan dengdai liming shi sai la de jiamian

高高的王座之上欣赏那颠覆后重生的庆典

gao gao de wangzuo zhi shang xinshang na dianfu hou chongsheng de qingdian




杀戮在继续 仇恨已刻下誓言

shalu zai jixu chouhen yi kexia shiyan

忘记那无力狡辩燃烧愤怒的火焰

wangji na wuli jiaobian ranshao fennu de huoyan

撑起沉默的双肩夺回血染的华丽宫殿

cheng qi chenmo de shuangjian duohui xue ran de huali gongdian

向希瓦祈祷无限勇气踏遍新的危险

xiang xi wa qidao wuxian yongqi ta bian xin de weixian




赛拉写下血腥的罪恶高昂王者的头颅

sai la xie xia xuexing de zui'e gao'ang wangzhe de toulu

希瓦隐藏软弱的躯壳踏上新的征途

xi wa yincang ruanruo de quke ta shang xin de zhengtu

拥有失去在循环往复上演争夺与颠覆

yongyou shiqu zai xunhuan wangfu shangyan zhengduo yu dianfu

开满鲜花的辽阔土地明天是谁的坟墓

kai man xianhua de liaokuo tudi mingtian shi shui de fenmu



Be deprived of just owned
Recaptured after losing
In the circulating battles
What on earth should we believe?
What should we hate?
How can we stop the endless round in the stream of time?
For us who struggled for life
The answer is...



废墟筑起了华丽宫殿

feixu zhu qile huali gongdian

荒芜土地已鲜花开遍

huangwu tudi yi xianhua kai bian

阳光驱散黑暗 皇冠掩埋征战

yangguang qusan hei'an huangguan yanmai zhengzhan

胜利欢呼垄罩无声哀叹

shengli huanhu long zhao wusheng aitan

历史编织着相同图案过去如尘埃飘散

lishi bianzhizhe xiangtong tu'an guoqu ru chen'ai piaosan

侵略已经遥远 守护将它还原

qinlüe yijing yaoyuan shouhu jiang ta huanyuan

鲜血浇灌和平 写下诗篇

xianxie jiaoguan heping xie xia shipian

征战着 杀戮着 掠夺着 守护着

zhengzhanzhe shaluzhe lüeduozhe shouhuzhe

重复着将历史来祭奠

chongfuzhe jiang lishi lai jidian