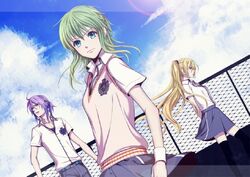 Song title
"迷走ラプソディ"
Romaji: Meisou Rhapsody
English: Straying Rhapsody
Official English: Vagus Rhapsody
Uploaded September 6, 2012 (NND) and January 24, 2015 (YT), with 234,000+ (NND) & 98,000+ (YT) views
Singer(s)
GUMI, Lily and Camui Gackpo
Producer(s)
Hitoshizuku-P & Yama△ (music, lyrics, arrangement)
Suzunosuke (illust)
TSO, VAVA (video)
Links
Niconico Broadcast • YouTube Broadcast (official)
YouTube Broadcast (reprint, subbed)

Background
Edit
The song was uploaded on Dwango User Entertainment's NicoNico channel, as the third song in their "Who is the Producer" quiz series. On October 11, the producers were revealed to be Hitoshizuku and Yama, with the song officially appearing on their NN my lists.
This song is featured on the albums V Love 25 -Desire- and After the partY.
This song has entered the Hall of Fame.
| | | | | |
| --- | --- | --- | --- | --- |
| Singer | GUMI | Gackpo | Lily | Gackpo, Lily |
Japanese (日本語歌詞)
Romaji (ローマ字)
投げ捨てたいよ 守ってたいよ
nagesute tai yo mamotte tai yo
矛盾だらけの感情表現
mujun darake no kanjou hyougen
心、泣いて 足は止まっても
kokoro, naite ashi wa tomatte mo
叫んでいたいよ
sakende itai yo



夢で見たんだ、桃源郷を

yume de mitanda, tougenkyou o

追いかけたんだ、全力疾走

oikaketanda, zenryoku shissou

でも途中で息が切れて

demo tochuu de iki ga kirete

諦めた

akirameta



「自分なんかがどうなったって・・・」
"jibun nanka ga dou nattatte"
自嘲したいの?構われたいの?
jichou shitai no? kamawaretai no?
答えの出ない迷路でずっと
kotae no denai meiro de zutto
抜け出せない
nukedase nai



過去も

未来も

今も

全て

kako mo

mirai mo

ima mo

subete

僕=

僕で変わりなく続く

boku wa

boku de kawari naku tsuzuku

散々失って、

ずっと傷つけた

sanzan ushinatte,

zutto kizutsuketa

「僕が

【僕】でいる為に」

"boku ga

【boku】de iru tame ni'"



投げ捨てたいよ 守ってたいよ

nagesute tai yo mamotte tai yo

矛盾だらけの感情表現

mujun darake no kanjou hyougen

煙る戦場、足は震えても

kemuru senjou, ashi wa furuetemo

壊して去なして

kowashite inashite

走っていたいよ 逃げ出したいよ
hashitte itai yo nigedashi tai yo
どっちなんだよ i my me mine?
docchi nandayo i my me mine?
気分爽快 つまり感情/勘定?
kibun soukai tsumari kanjou/ kanjou?
答えは出ない 迷走さ
kotae wa denai meisou sa



悩んだって現実はそう、

nayan datte genjitsu wa sou,

全てが曖昧戦場

subete ga aimai senjou

止まったって始まらないなら
tomattatte hajimaranai nara
その手で掴みに行け
sono te de tsukami ni ike



いつか夢見た桃源郷を

itsuka yumemita tougenkyou o

ずっと近くで眺めてるだけ

zutto chikaku de nagame teru dake

知ったフリだけ得意になった

shitta furi dake tokui ni natta

自衛本能

jiei honnou



「他人なんかがどうなったって・・・」
"tanin nanka ga dou nattatte"
興味ないフリ演じてるだけ
kyouminai furi enji teru dake
傷つくことを恐れる ただの
kizutsuku koto o osoreru tada no
弱虫です
yowamushi desu



過去も?

未来も?

今も?

全て

kako mo?

mirai mo?

ima mo?

subete

僕=

僕で変わりなく続く・・・?

boku wa

boku de kawari naku tsuzuku?
散々繕って、

ずっと我慢した

sanzan tsukurotte,

zutto gaman shita

「僕が、

【僕】を守るため」

"boku ga,

【boku】o mamoru tame"



投げ捨てたいよ 守ってたいよ

nagesute tai yo mamotte tai yo

矛盾だらけの感情表現

mujun darake no kanjou hyougen

すでに戦場、士気は下がっても

sudeni senjou, shiki wa sagatte mo

逸らして甘えて

sorashite amaete

走っていたいよ 逃げ出したいよ
hashitte itai yo nigedashi tai yo
どっちなんだよ 曖昧 me mine?
docchi nandayo aimai me mine?
気分爽快 つまり翻弄?
kibun soukai tsumari honrou?
答えは出ない 瞑想さ
kotae wa denai meisou sa



悩んだって現実はそう、

nayandatte genjitsu wa sou,

全てが曖昧戦場

subete ga aimai senjou

優しさを振り払う はき違えた
yasashisa o furiharau hakichigaeta
自己愛=本能?
jikoai = honnou?


投げ捨てたいよ 守ってたいよ
nagesute tai yo mamotte tai yo
矛盾だらけの感情表現
mujun darake no kanjou hyougen
心、泣いて 足は止まっても
kokoro, naite ashi wa tomattemo
叫んでいたいよ
sakende itai yo



投げ捨てたいよ 守ってたいよ

nagesute tai yo mamotte tai yo

矛盾だらけの感情表現

nujun darake no kanjō hyōgen

煙る戦場、足は震えても

kemuru senjou, ashi wa furuetemo

壊して去なして

kowashite inashite

走っていたいよ 逃げ出したいよ
hashitte itai yo nigedashi tai yo
どっちなんだよ i my me mine?
docchi nandayo i my me mine?
気分爽快 つまり感情/勘定?
kibun soukai tsumari kanjou/ kanjou?
答えは出ない 迷走さ
kotae wa denai meisou sa



悩んだって現実はそう、

nayan datte genjitsu wa sou,

全てが曖昧戦場

subete ga aimai senjou

止まったって始まらないなら
tomattatte hajimaranai nara
その手で掴みに行け
sono tede tsukami ni ike
External links
Edit
| | |
| --- | --- |
| | Articles |
| | |
| --- | --- |
| | Lyrics |
| | |
| --- | --- |
| | Downloads |