Ad blocker interference detected!
Wikia is a free-to-use site that makes money from advertising. We have a modified experience for viewers using ad blockers

Wikia is not accessible if you've made further modifications. Remove the custom ad blocker rule(s) and the page will load as expected.
This song article is lacking a proper background. You can help by adding one! The relevant section in the Song Article Guideline is a good starting point, and this blog post may also be helpful. We apologize for the inconvenience this may cause in the meantime.

Song pages lacking proper backgrounds are automatically sorted into this category.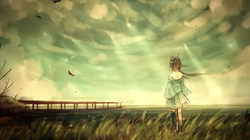 Song title
"迷鸟"
Traditional Chinese: 迷鳥
Pinyin: Mí Niǎo
English: Vagrant Bird
Uploaded April 27, 20113, with 103,000+ views
Singer(s)
Luo Tianyi
Producer(s)
ToriSama (compose, arrange)
LSAFR (lyrics)
Lian Huo (illustrator)

Links
YouTube Broadcast (reprint, subbed)
bilibili Broadcast

Background
Edit
"Mí Niǎo" is an original song featuring Luo Tianyi.
This song has exceeded 100,000 views on bilibili.
Chinese (中文歌词)
Pinyin (拼音)
摇啊摇 摇啊摇 无人问津的野草
yao a yao yao a yao wu ren wenjin de yecao
飘啊飘 飘啊飘 形单影只的羽毛
piao a piao piao a piao xingdanyingzhi de yumao
眺啊眺 眺啊眺 岌岌可危的栈桥
tiao a tiao tiao a tiao jijikewei de zhanqiao
像迷鸟 狠心离乡何处可落脚
xiang mi niao henxin li xiang he chu ke luojiao


忆年少 小小一块糖果就能逗我笑
yi nianshao xiao xiao yikuai tangguo jiu neng dou wo xiao
岁月也 温暖得像母亲的怀抱
suiyue ye wennuan de xiang muqin de huaibao
玩伴 像悠悠球赶也赶不跑
wan ban xiang youyou qiu gan ye gan bu pao
没心没肺没愁没烦恼
mei xin mei fei mei chou mei fannao


回忆里 谁的笑容 还鲜艳未泛黄
huiyi li shui de xiaorong hai xianyan wei fan huang
我的梦 和思绪常被乡音萦绕
wo de meng he sixu chang bei xiangyin yingrao
委屈 只说给自己听就好
weiqu zhi shuo ji ziji ting jiu hao
不求 谁能收到我信号
bu qiu shui neng shou dao wo xinhao


摇啊摇 摇啊摇 无人问津的野草
yao a yao yao a yao wu ren wenjin de yecao
飘啊飘 飘啊飘 形单影只的羽毛
piao a piao piao a piao xingdanyingzhi de yumao
眺啊眺 眺啊眺 岌岌可危的栈桥
tiao a tiao tiao a tiao jijikewei de zhanqiao
像迷鸟 狠心离乡何处可落脚
xiang mi niao henxin li xiang he chu ke luojiao


厌倦了 虚伪的笑容和不变的日常
yanjuanle xuwei de xiaorong he bu bian de richang
每个人 动机是为自身的存亡
mei geren dongji shi wei zishen de cunwang
习惯 被风带向遥远的彼方
xiguan bei feng dai xiang yaoyuan de bifang
忘记了那最初的梦想
wangjile na zuichu de mengxiang


再后来 厚厚一叠思念被越藏越深
zai houlai hou hou yi die sinian bei yue cang yue shen
把漂泊 静静藏在每条眉间纹
ba piaobo jing jing cang zai mei tiao mei jian wen
磨难 磨平我冲锋的利刃
monan mo ping wo chongfeng de liren
只能 狂风骤雨中沉沦
zhi neng kuangfeng zhou yuzhong chenlun


摇啊摇 摇啊摇 无人问津的野草
yao a yao yao a yao wu ren wenjin de yecao
飘啊飘 飘啊飘 形单影只的羽毛
piao a piao piao a piao xingdanyingzhi de yumao
眺啊眺 眺啊眺 岌岌可危的栈桥
tiao a tiao tiao a tiao jijikewei de zhanqiao
像迷鸟 狠心离乡何处可落脚
xiang mi niao henxin li xiang he chu ke luojiao


摇啊摇 摇啊摇 向往蓝天的野草
yao a yao yao a yao xiangwang lantian de yecao
飘啊飘 飘啊飘 渴望归宿的羽毛
piao a piao piao a piao kewang guisu de yumao
眺啊眺 眺啊眺 童年嬉戏的小桥
tiao a tiao tiao a tiao tongnian xixi de xiao qiao
愿做候鸟 下个暖春重返我故乡
yuan zuo houniao xia ge nuan chun chong fan wo guxiang


问啊问 问啊问 迷茫是否算人生
wen a wen wen a wen mimang shifou suan rensheng
等啊等 等啊等 但愿转身是归程
deng a deng deng a deng dan yuan zhuanshen shi guicheng
冷啊冷 冷啊冷 寒月冰封的灵魂
leng a leng leng a leng hanyue bing feng de linghun
谁能够 为我仅存的愿望发声
shui nenggou wei wo jin cun de yuanwang fasheng


恨啊恨 恨啊恨 阴云笼罩着天灯
hen a hen hen a hen yinyun longzhaozhe tian deng
梦啊梦 梦啊梦 梦回最初的纯真
meng a meng meng a meng meng hui zuichu de chunzhen
追啊追 追啊追 触到江南柳枝嫩
zhui a zhui zhui a zhui chu dao jiangnan liu zhi nen
恍惚里 何处传来熟悉牧笛声
huanghu li he chu chuan lai shuxi mudi sheng


恍惚里 谁呼唤着 用亲切口吻
huanghu li shui huhuan zheyong qinqie kouwen
External links
Edit
| | |
| --- | --- |
| | Articles |