Ad blocker interference detected!
Wikia is a free-to-use site that makes money from advertising. We have a modified experience for viewers using ad blockers

Wikia is not accessible if you've made further modifications. Remove the custom ad blocker rule(s) and the page will load as expected.
!

Warning:

This song contains questionable lyrics and themes (

violence

); it may be inappropriate for younger audiences.

The Vocaloid Wiki does not have a policy on lyrical content or theme; however, it attempts to follow the Wikia TOU.
For further discussion see Thread:68883. Questionable songs are automatically sorted into this category.

!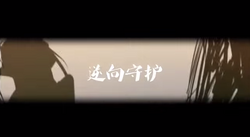 Song title
"逆向守护"
Traditional Chinese: 逆向守護
Pinyin: Nìxiàng Shǒuhù
English: Reverse Guard
Uploaded February 27, 2014, with 291,000+ views
Singer(s)
Luo Tianyi
Producer(s)
JUSF (Compose, arrange, tuning, PV)
Sya (illust)
Links
YouTube Broadcast (reprint)
bilibili Broadcast

Background
Edit
"Nìxiàng Shǒuhù" is the sixth song of the Bidirectional Series, a collab between JUSF and Sya. This song gives an insight as to why Tianyi did such a terrible thing to YANHE and Yuezheng Ling.
It was revealed that Tianyi suffers from multiple personality disorder and is split into two personalities. One is a pure and kind Tianyi, the other is cruel and menacing. The cruel side of her acts as a guardian to the kind side, and when the kind soul's heart was broken due to Ling's traps and was fooled into thinking YANHE hates her, it leans on the dark side, willing to be its prisoner so she can runaway from her agony. This allows the dark side to take over and resort to murder as the answer.
The PV uses two different fonts to represent the two sides of Tianyi. The thin, elegant and simple font is used to represent the kind side, while the cruel side uses the thicker font.
A remastered version of the song is featured in the album, Shuāngxiàng·Lúnhuí yǔ Xìngfú (双向·轮回与幸福).
This song has exceeded 100,000 views on bilibili.
Succeeding versions
Edit
Remastered Version

Featuring
Luo Tianyi
Author(s)
JUSF and Sya
Category
VOCALOID cover; Remastered; Succeeding version

Description

Available in the Shuāngxiàng·Lúnhuí yǔ Xìngfú (双向·轮回与幸福) album.
Chinese (中文歌词)
Pinyin (拼音)
逆向的 逆向的 逆向的守护
nixiang de nixiang de nixiang de shouhu
逆向的 逆向的 逆向的守护
nixiang de nixiang de nixiang de shouhu
逆向的 逆向的 逆向的守护
nixiang de nixiang de nixiang de shouhu
逆向的 逆向的 逆向的守护
nixiang de nixiang de nixiang de shouhu


被隔离在墙外的那个无知的人呐
bei geli zai qiang wai di nage wuzhi de ren na
是否曾经也有过被拯救的错觉呐
shifou cengjing yeyouguo bei zhengjiu de cuojue na
散落一地的肖像被时间无情践踏
sanluo yi di de xiaoxiang bei shijian wuqing jianta
不知不觉忆起了那夜盛开过的花
buzhi bu jue yi qile na ye shengkaiguo de hua
梦境中她一直没有停驻
mengjing zhong ta yizhi meiyou ting zhu
只是朝着前方僵硬地迈步
zhishi chaozhe qianfang jiangying di maibu
有时回首冲我咧开嘴角
youshi huishou chong wo lie kai zuijiao
吐出一颗腐烂多日的眼珠
tuchu yi ke fulan duo ri de yanzhu
我的一切在她的指责中
wo de yiqie zai ta de zhize zhong
越发得肮脏卑劣刺目
yuefa de ang zang beilie cimu
被她囚禁之后我是否
bei ta qiujin zhihou wo shifou
不会再感到彷徨无助
bu hui zai gandao fanghuang wu zhu
梦境中她总蜷缩在角落
mengjing zhong ta zong quansuo zai jiaoluo
啜泣的声音嘈杂却清晰
chuaiqi de shengyin caoza que qingxi
像是一只受了伤的小猫
xiang shi yi zhi shoule shang de xiao mao
念着那人的名字闭着眼睛
nianzhe na ren de mingzi bi zhuo yanjing
来吧试着让我看见阳光
lai ba shizhe rang wo kanjian yangguang
让我呼吸一下草木的芬芳
rang wo huxi yixia caomu de fenfang
我是如此深爱着你的盲
wo shi ruci shen aizhe ni de mang
让我守护这一片梦乡
rang wo shouhu zhe yipian mengxiang


逆向的 逆向的 逆向的守护
nixiang de nixiang de nixiang de shouhu
逆向的 逆向的 逆向的守护
nixiang de nixiang de nixiang de shouhu
逆向的 逆向的 逆向的守护
nixiang de nixiang de nixiang de shouhu
逆向的 逆向的 逆向的守护
nixiang de nixiang de nixiang de shouhu


被隔离在墙外的那个无知的人呐
bei geli zai qiang wai di nage wuzhi de ren na
是否曾经也有过被拯救的错觉呐
shifou cengjing yeyouguo bei zhengjiu de cuojue na
散落一地的肖像被时间无情践踏
sanluo yi di de xiaoxiang bei shijian wuqing jianta
不知不觉忆起了那夜盛开过的花
buzhi bu jue yi qile na ye shengkaiguo de hua
被隔离在墙外的那个可怜的人呐
bi geli zai qiang wai di nage kelian de ren na
是否现在还依然放不下这一切呐
shifou xianzai hai yiran fang buxia zhe yiqie na
散落一地的信件昭示防线的坍塌
sanluo yi di de xinjian zhaoshi fangxian de tanta
不知不觉忘却了曾构筑的幸福呐
buzhi bu jue wangquele ceng gouzhu de xingfu na
梦境中她终于开始停驻
mengjing zhong ta zhongyu kaishi ting zhu
不再朝着前方僵硬地迈步
bu zai chaozhe qianfang jiangying di maibu
有时还会低下她的头颅
youshi hai hui dixia ta de toulu
用沾满血的手将我的脸轻抚
yong zhan man xue de shou jiang wo de lian qing fu
我的一切在她的指责中
wo de yiqie zai ta de zhize zhong
越发得肮脏卑劣刺目
yuefa de ang zang beilie cimu
快些将我囚禁起来
kuai xie jiang wo qiujin qilai
别让我感到彷徨无助
bie rang wo gandao fanghuang wu zhu
梦境中她还蜷缩在角落
mengjing zhong ta hai quansuo zai jiaoluo
啜泣的声音嘈杂却清晰
chuaiqi de shengyin caoza que qingxi
像是一只受了伤的小猫
xiang shi yi zhi shoule shang de xiao mao
念着那人的名字闭着眼睛
nianzhe na ren de mingzi bi zhuo yanjing
但她望着我的眼神
dan ta wangzhe wo de yanshen
逐渐变得充满依赖的感情
zhujian bian de chongman yilai de ganqing
我是如此深爱着你的盲
wo shi ruci shen aizhe ni de mang
让我守护这一片梦乡
rang wo shouhu zhe yipian mengxiang


看吧 笑吧 恨吧 别再哭啦
kan ba xiao ba hen ba bie zai ku la
看吧 笑吧 恨吧 开心吗
kan ba xiao ba hen ba kaixin ma
看吧 笑吧 恨吧 别再哭啦
kan ba xiao ba hen ba bie zai ku la
看吧 笑吧 恨吧 只要得到他
kan ba xiao ba hen ba zhiyao dedao ta


那个人的芬芳似
nage ren de fenfang shi
萤火一般昙花一现
ying huo yiban tanhuayixian
那个人的气息似初夏叶隙柔和光线
nage ren de qixi shi chuxia ye xi rouhe guangxian
如今我终于明白
rujin wo zhongyu mingbai
为何她会止不住爱
weihe ta hui zhi bu zhu ai
只因那人身上有我们向往的温暖
zhi yin na ren shenshang you women xiangwang de wennuan


梦境中她不知从哪天起
mengjing zhong ta buzhi cong na tian qi
再也听不见我呼唤的声音
zai ye ting bujian wo huhuan de shengyin
隐约记得她在我的掌心
yinyue jide ta zai wo de zhangxin
写下了一段小小的秘密
xie xiale yiduan xiao xiao de mimi
我的一切在她的指责中
wo de yiqie zai ta de zhize zhong
早已失去了独立存在意义
zaoyi shiqule duli cunzai yiyi
被她囚禁之后我是否
bei ta qiujin zhihou wo shifou
不会再感到彷徨无助
bu hui zai gandao fanghuang wu zhu
梦境中她仍蜷缩在角落
mengjing zhong ta reng quansuo zai jiaoluo
啜泣的声音嘈杂却清晰
chuaiqi de shengyin caoza que qingxi
像是一只快要死的野猫
xiang shi yi zhi kuaiyao si de yemao
念着那人的名字闭着眼睛
nianzhe na ren de mingzi bi zhuo yanjing
来吧试着让我离开阳光
lai ba shizhe rang wo likai yangguang
让我不再呼吸草木的芬芳
rang wo bu zai huxi caomu de fenfang
我已替你扫除所有障碍
wo yi ti ni saochu suoyou zhang'ai
让我守护这一片梦乡
rang wo shouhu zhe yipian mengxiang


逆向的 逆向的 逆向的守护
nixiang de nixiang de nixiang de shouhu
逆向的 逆向的 逆向的守护
nixiang de nixiang de nixiang de shouhu
逆向的 逆向的 逆向的守护
nixiang de nixiang de nixiang de shouhu
逆向的 逆向的 逆向的守护
nixiang de nixiang de nixiang de shouhu