Ad blocker interference detected!
Wikia is a free-to-use site that makes money from advertising. We have a modified experience for viewers using ad blockers

Wikia is not accessible if you've made further modifications. Remove the custom ad blocker rule(s) and the page will load as expected.
This song article is lacking a proper background. You can help by adding one! The relevant section in the Song Article Guideline is a good starting point, and this blog post may also be helpful. We apologize for the inconvenience this may cause in the meantime.

Song pages lacking proper backgrounds are automatically sorted into this category.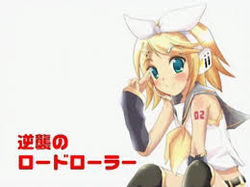 Song title
"逆襲のロードローラー"
Romaji: Gyakushuu no Roodorooraa
English: Counterattack of the Road Roller
Uploaded December 29, 2007, with 429,000+ views
Singer(s)
Kagamine Rin
Producer(s)
Iieru-P
Links
Niconico Broadcast
Background
Edit
"Gyakushuu no Roadroller" is an original song by Iieru-P featuring Kagamine Rin. This song is the first song in the Roadroller Trilogy.
This song is featured in Iieru-P's album, Rise of Dark ~ MRH featuring VOCALO FAMILY.
This song has entered the Hall of Fame.
Succeeding versions
Edit
Music PV

Featuring
Kagamine Rin
Author(s)
R_Miyamoto (movie), Iieru (lyrics, music)
Category
Music PV

Description

A music video featuring Kagamine Rin for this song. This video has over 200,000 views on Niconico.
Japanese (日本語歌詞)
Romaji (ローマ字)
誰よあの子 緑の髪の子 部屋から声聞こえた
dare yo ano ko midori no kami no ko heya kara koe kikoeta


馬鹿にしないでちょうだい ネギの匂いはごまかせないのよ
baka ni shinaide choudai negi no nioi wa gomakasenai no yo
ロードローラーだ!!
roodorooraa da!!


裏切るヤツは誰だッ! (おまいか!?)
uragiru yatsu wa dare daa! (omai ka!?)
従わないヤツ誰だッ! (ミクか!?)
shitagawanai yatsu dare daa! (miku ka!?)
裏切るヤツは誰だッ! (カイトか!?)
uragiru yatsu wa dare daa! (kaito ka!?)
従わないヤツは誰だッ! (メイコか!?)
shitagawanai yatsu dare daa! (meiko ka!?)
誰だ! 誰だ! 誰だ!
dare da! dare da! dare da!
ロードローラーの錆になれ (WRYYYYYYYYYN!!)
roodorooraa no sabi ni nare (wryyyyyyyyyn!!)


昨日の夜どこにいたのよ あなたの事待ってた
kinpu no yoru doko ni ita no yo anata no koto matteta


馬鹿にしないでちょうだい ネギの匂いはごまかせないのよ
baka ni shinaide choudai negi no nioi wa gomakasenai no yo
ロードローラーだ!!
roodorooraa da!!


裏切るヤツは誰だッ! (おまいか!?)
uragiru yatsu wa dare daa! (omai ka!?)
従わないヤツ誰だッ! (ミクか!?)
shitagawanai YATSU dare daa! (miku ka!?)
裏切るヤツは誰だッ! (カイトか!?)
uragiru yatsu wa dare daa! (kaito ka!?)
従わないヤツは誰だッ! (メイコか!?)
shitagawanai yatsu dare daa! (meiko ka!?)
誰だ! 誰だ! 誰だ!
dare da! dare da! dare da!
ロードローラーの錆になれ (WRYYYYYYYYYN!!)
roodorooraa no sabi ni nare (wryyyyyyyyyn!!)
External links
Edit
| | |
| --- | --- |
| | Articles |
| | |
| --- | --- |
| | Lyrics |