Ad blocker interference detected!
Wikia is a free-to-use site that makes money from advertising. We have a modified experience for viewers using ad blockers

Wikia is not accessible if you've made further modifications. Remove the custom ad blocker rule(s) and the page will load as expected.
©

Notice:

This song is no longer available publicly; the original upload has been ceased by the Producer. Take caution with reprints as the Producer can still claim copyright infringement.

The Vocaloid Wiki does not have a policy on lyrical contents or themes no longer being available from its original source, however, it attempts to follow the Wikia TOU, the Author must contact Administrators or Wikia Staff for such concerns.
For further discussion see Thread:107893. Ceased songs are automatically sorted into this category.

©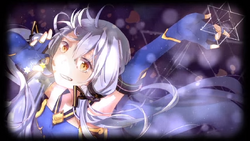 Song title
"遥望星辰"
Traditional Chinese: 遙望星辰
Pinyin: Yáowàng Xīngchén
Uploaded April 16, 2016, with 3,000+ (YT) & 36,000+ (BB) views
Singer(s)
Stardust
Producer(s)
ToToo (compose, arrange, mixing, editing)
Linqin (lyrics)
Beng Die de Zimu (tuning)
Cang Yan SI, Tiko (illustrators)
Hai Ya (logo)
Fu Shu (video editor)
Links
YouTube Broadcast (deleted)
bilibili Broadcast (deleted)

Background
Edit
"Yáowàng Xīngchén" is an original song featuring Stardust. As of October 2016, the official uploads were no longer available.
Chinese (中文歌词)
Pinyin (拼音)
焰火燃烧盼待永恒
yanhuo ranshao pan dai yongheng
年少气盛缺氧而降温
nianshao qi sheng que yang er jiangwen
歧路上风吹雨打 将棱角磨钝
qilu shangfeng chui yu da jiang lengjiao mo dun
跌撞过因痛把心一横
die zhuangguo yin tong ba xin yi heng
涧水破浪成花 汹涌太折腾
jian shui polang cheng hua xiongyong tai zheteng
随波逐流委曲浮沉
suibozhuliu weiqu fuchen
荒土贫瘠裂痕 靠谁来滋润
huangtu pinji liehen kao shei lai zirun
只好选丰饶落地生根
zhihao xuan fengrao luodi shenggen


昼夜更迭日月星辰 繁忙制造共振
zhouye gengdie ri yue xingchen fanmang zhizao gongzhen
拂晓誓扰攘至凌晨
fuxiao shi raorang zhi lingchen
为三餐为口奔 宿约捆绑套住人
wei san can wei kou ben su yue kunbang tao zhuren
悬梁不到气绝都断魂
xuanliang bu dao qi jue dou duan hun
何时能够高枕 酣梦醒出安稳
he shi nenggou gaozhen han meng xing chu anwen
卧榻旁容人鼾睡可忍
wota pang rong ren hanshui ke ren
何时寒冬败阵 重回梅开出春
he shi handong baizhen chong hui mei kai chu chun
别临近岁晚才叹黄昏
bie linjin sui wan cai tan huanghun


共同邀游苍穹遥望星辰
gongtong yao you cangqiong yaowang xingchen
望远镜探轨迹里程
wangyuanjing tan guiji licheng
浩瀚杳渺宇宙里掀开层层
haohan yao miao yuzhou li xian kai ceng ceng
神秘薄纱寻求相衬
shenmi bo sha xunqiu xiang chen
迷失漂泊流离抚心自问
mishi piaobo liuli fu xin ziwen
问我将去向何处哪里等
wen wo jiang quxiang he chu nali deng
跨过追念时间历久推陈
kuaguo zhui nian shijian lijiu tui chen
记录初衷光阴相传承
jilu chuzhong guangyin xiang chuancheng


为谁倾国倾城 为自保城府深
wei shei qing guo qingcheng wei zi bao chengfu shen
眉眼嘴角麻木不仁
meiyan zuijiao mamuburen
自由众说纭纷 拘束反而很逼真
ziyou zhongshuo yun fen jushu fan'er hen bizhen
凭何作感应照灭施灯
ping he zuo ganying zhao mie shi deng
自有十方公论 然后衍生不忿
zi you shi fang gonglun ranhou yansheng bufen
再平衡都还是不对称
zai pingheng dou haishi bu duichen
自有一念归本 留下万种风尘
zi you yinian gui ben liu xia wan zhong fengchen
待往后忆起如数家珍
dai wang hou yi qi rushujiazhen


独自遨游苍穹遥望星辰
duzi aoyou cangqiong yaowang xingchen
望远镜中聚散合分
wangyuanjing zhong ju san he fen
浩瀚杳渺宇宙里孑然一生
haohan yao miao yuzhou li jieran yisheng
凛冽朔风份外觉冷
linlie shuofeng fen wai jue leng


迷失漂泊流离抚心自问
mishi piaobo liuli fu xin ziwen
问我将去向何处哪里等
wen wo jiang quxiang he chu nali deng
逾越光年传到以太之海
yuyue guang nian chuan dao yitai zhi hai
为那未知的憧憬苏生
wei na weizhi de chongjing su sheng


共同邀游苍穹遥望星辰
gongtong yao you cangqiong yaowang xingchen
望远镜探轨迹里程
wangyuanjing tan guiji licheng
浩瀚杳渺宇宙里掀开层层
haohan yao miao yuzhou li xian kai ceng ceng
神秘薄纱寻求相衬
shenmi bo sha xunqiu xiang chen
迷失漂泊流离抚心自问
mishi piaobo liuli fu xin ziwen
问我将去向何处哪里等
wen wo jiang quxiang he chu nali deng
跨过追念时间历久推陈
kuaguo zhui nian shijian lijiu tui chen
记录初衷光阴相传承
jilu chuzhong guangyin xiang chuancheng