Ad blocker interference detected!
Wikia is a free-to-use site that makes money from advertising. We have a modified experience for viewers using ad blockers

Wikia is not accessible if you've made further modifications. Remove the custom ad blocker rule(s) and the page will load as expected.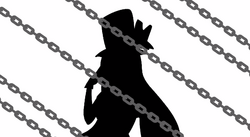 Song title
"都市怪盜與鄉村偵探"
Simplified Chinese: 都市怪盗与乡村侦探
Pinyin: Dūshì Guàidào Yǔ Xiāngcūn Zhēntàn
English: The Mysterious City Thief and the Village Detective
Uploaded April 2, 2015, with 7,000+ views
Singer(s)
Xin Hua and Xia Yuyao
Producer(s)
Youdu Di K Zi (compose, arrange, lyrics)
Yida Zhengzong (tuning)
Fa Fa (illustrator, video editor)
Links
Niconico Broadcast (reprint) • YouTube Broadcast

Background
Edit
"Dūshì Guàidào Yǔ Xiāngcūn Zhēntàn" is an original duet song between the VOCALOID, Xin Hua, and the UTAU, Xia Yu Yao.
Xia Yu Yao is a detective who is trying to catch an infamous thief in the city. Xin Hua, who is the thief, is always out of reach, and comments on how there is always someone trying to catch her but failing to do so. At one point in the song, Xia Yu Yao passes by Xin Hua during the day in the city, but dismisses her as just a normal pretty lady and continues to try and find the identity of the thief.
Chinese (中文歌詞)
Pinyin (拼音)
都市中有一个怪盗
Dushi zhong you yige guaidao
他面貌从没有人知道
Ta mianmao cong meiyou ren zhidao
村庄里有一位侦探
Cunzhuang li youyi wei zhentan
他努力去揭穿这怪盗
Ta nuli qu jiechuan zhe guaidao


繁华都市
Fanhua dushi
上午非常热闹
Shangwu feichang renao
但过午夜
Danguo wuye
就会出现怪盗
Jiu hui chuxian guaidao
都市员警
Dushi yuan jing
日夜不停的找
Riye bu ting de zhao
但是怪盗
Danshi guaidao
依然都抓不到
Yiran dou zhua bu dao
政商名流
Zhengshang mingliu
都很害怕
Dou hen haipa
金银财宝
Jin yin caibao
被他抹杀
Bei ta mosha
平民百姓
Pingmin baixing
对他谩骂
Dui ta manma
谁能将他
Shui neng jiang ta
绳之以法
Sheng zhi yi fa


都市中有一个怪盗
Dushi zhong you yige guaidao
他面貌从没有人知道
Ta mianmao cong meiyou ren zhidao
村庄里有一位侦探
Cunzhuang li youyi wei zhentan
他努力去揭穿这怪盗
Ta nuli qu jiechuan zhe guaidao


都市外面
Dushi waimian
有个美丽小镇
You ge meili xiao zhen
有位侦探
You wei zhentan
坐在自家板凳
Zuo zai zijia bandeng
报纸上面
Baozhi shangmian
述说怪盗凶狠
Shushuo guaidao xionghen
于是马上
Yushi mashang
朝着都市动身
Chaozhe dushi dongshen
案件渺小
Anjian miaoxiao
也不错过
Ye bu cuoguo
蛛丝马迹
Zhusimaji
全不放过
Quan bu fangguo
任何资讯
Renhe zixun
他都掌握
Ta dou zhangwo
所有骗局
Suoyou pianju
他都看破
Ta dou kanpo
都市中有一个怪盗
Dushi zhong you yige guaidao
他面貌从没有人知道
Ta mianmao cong meiyou ren zhidao
村庄里有一位侦探
Cunzhuang li youyi wei zhentan
他努力去揭穿这怪盗
Ta nuli qu jiechuan zhe guaidao
都市中有一个怪盗
Dushi zhong you yige guaidao
他面貌也许有人知道
Ta mianmao yexu youren zhidao
村庄里有一位侦探
Cunzhuang li youyi wei zhentan
他正在去揭穿这怪盗
Ta zhengzai qu jiechuan zhe guaidao