Ad blocker interference detected!
Wikia is a free-to-use site that makes money from advertising. We have a modified experience for viewers using ad blockers

Wikia is not accessible if you've made further modifications. Remove the custom ad blocker rule(s) and the page will load as expected.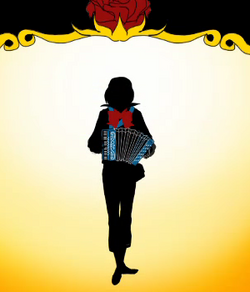 Song title
"金の入日に手風琴"
Romaji: Kin no Iribi ni Tefuukin
English: Accordion in the Golden Sunset
Uploaded December 4, 2009, with 218,000+ views
Singer(s)
MEIKO
KAITO (chorus)
Producer(s)
■P (music, lyrics)
cochineal (video)
Links
Niconico Broadcast • YouTube Broadcast

Background
Edit
The song was first uploaded on December 4, 2009 as a part of Meiko's anniversary on November 5, 2009. It was at first uploaded to Shikaku-P's Piapro on December 1, 2009. A year after the song was uploaded on December 20, 2010, it reached Nico Hall of Fame (exceeding 100,000 views) with currently over 200,000 views to date; making it Shikaku-P's first work to achieve so.
"Accordion in the Golden Sunset" tells a story of an accordion player who've lost something that seems to be important to the player. She sung of what she'd lost, though by the end of the song she'd forgotten what she has lost in the first place.
Japanese (日本語歌詞)
Romaji (ローマ字)
灰色の石畳 暮れなずむ影絵の街
haiiro no ishidatami kurenazumu kagee no machi
眠り込む日時計に 息吹き込む音は手風琴
nemurikomu hidokei ni iki fukikomu ne wa tefuukin
玻璃窓の煌きに 鳴りわたる異国の鐘
harimado no kirameki ni nariwataru ikoku no kane
ゆらり踊る影法師 誘われ灯る幻燈五色
yurari odoru kagehoushi sasoware tomoru gentou go shiki


紅色の頬を染め走り出した 無邪気な迷子のふりをして
beniiro no hoho wo some hashiridashita mujakina maigono furi wo shite
雪色に光る剃刀のような 密かな秘め事を忍ばせて
yukiiro ni hikaru kamisori no youna hisokana himegoto wo shinobasete


金の入日に手風琴 失くしたものは見つからない
kin no irihi ni tefuukin nakushita mono wa mi tsukaranai
金の入日に手風琴 失くしたものは見つからない
kin no irihi ni tefuukin nakushita mono wa mi tsukaranai


終わりへと落ちてゆく 燃え朽ちる夕日に手風琴
owari e to ochiteyuku moekuchiru yuuhi ni tefuukin
きりきりと舞い続く 風見鶏 風にから回る
kirikiri to maitsuzuku kazami dori kaze ni karamawaru
追いかけて追いつけない 遠く香る金木犀
oikakete oitsukenai tooku kaoru kinmokusei
紅玉の瞳細め 大鴉 風にから笑う
kougyoku no hitomi hosome oogarasu kaze ni karawarau


菫色のはかない夢 腕に抱いて 全てを振り捨て往く先に
sumireiro no hakanai yume ude ni daite subete wo furisute yuku saki ni
闇色に深い罪 体染めて もう戻れないのを知りながら
yamiiro ni fukai tsumi karada somete mou modorenai no wo shirinagara


金の入日に手風琴 失くしたものは見つからない
kin no irihi ni tefuukin nakushita mono wa mitsukaranai
金の入日に手風琴 失くしたものは見つからない
kin no irihi ni tefuukin nakushita mono wa mitsukaranai


金の入日に手風琴 ついてはならぬ嘘をつき
kin no irihi ni tefuukin tsuite wa naranu uso wo tsuki
金の入日に手風琴 忘れてならぬ名を忘れ
kin no irihi ni tefuukin wasurete naranu na wo wasure
金の入日に手風琴 夢見てならぬ夢を見て
kin no irihi ni tefuukin yumemite naranu yume wo mite
金の入日に手風琴 憧れさまよう影絵の街
kin no irihi ni tefuukin akogare samayou kage-e no machi


金の入日に手風琴 失くしたものを見つけるまで
kin no irihi ni tefuukin n kushita mono wo mitsukeru made
失くしたことも忘れるまで
nakushita koto mo wasureru made
Derivatives
Edit
Luka's Cover

| | |
| --- | --- |
| Featuring | Megurine Luka |
| Author(s) | MilkmanConspiracy |
| Category | VOCALOID cover |
riran's Project Diva PV

| | |
| --- | --- |
| Featuring | MEIKO |
| Author(s) | riran |
| Category | Project Diva PV |
External links
Edit
| | |
| --- | --- |
| | Articles |
| | |
| --- | --- |
| | Lyrics |