Ad blocker interference detected!
Wikia is a free-to-use site that makes money from advertising. We have a modified experience for viewers using ad blockers

Wikia is not accessible if you've made further modifications. Remove the custom ad blocker rule(s) and the page will load as expected.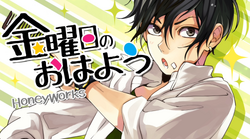 Song title
"金曜日のおはよう"
Romaji: Kin'youbi no Ohayou
English: Friday's Good Mornings
Uploaded July 02, 2014, with 762,000+ (NND) and 7,604,000+ (YT) views
Singer(s)
GUMI
Producer(s)
HoneyWorks:
shito (music, lyrics)
Gom (lyrics)
Yamako (illust, video)
Other Artists:
Kurosu Katsuhiko (arrange)
Links
Niconico Broadcast • YouTube Broadcast

Background
Edit
"
"Your every morning comes to shine even just a little."
"
 

— Author's comment
It was uploaded onto Niconico Douga and YouTube on July 2, 2014. It has entered the Hall of Fame on Niconico and reached over 2 million views on it's YouTube upload.
This song is part of HoneyWorks' Confession Executive Committee Love Series. It focuses on Hamanaka Midori while he's trying to say "good morning" to Narumi Sena, a girl from the same school as him, whom he developed a crush on.
Succeeding versions
Edit
Gero's Cover

| | |
| --- | --- |
| Featuring | Gero |
| Author(s) | |
| Category | Human cover |
Melochin's Dance Cover

| | |
| --- | --- |
| Featuring | Gero |
| Author(s) | Melochin |
| Category | Dance cover |
Japanese (日本語歌詞)
Romaji (ローマ字)
おはようのオーディションして
ohayou no oodishon shite
髪型もバッチリOK
kami gata mo bacchiri OK
金曜日は頑張らなくちゃ
kin'youbi wa ganbara nakucha
だって2日会えないからね
datte futsuka aenai kara ne


8:00 2車両目お気に入りの特等席
hachiji zerofun nisharyou me okiniiri no tokutou seki
隣の人眠そうですね そんな日常
tonari no hito nemu sou desu ne sonna nichijou
8:07 開くのは向かいのドア息を呑む
hachiji nanafun hiraku no wa mukai no doa iki o nomu
言いかけてた"その言葉"は今日も逃げた
iikaketeta "sono kotoba" wa kyou mo nigeta


きっかけシンプルでいいのに意気地ないな
kikkake shinpuru de ii noni ikujinai na
勇気のテスト乗り越えなきゃ 逃げるなって…
yuuki no tesuto nori koe nakya nigeru natte...


おはようのオーディションして
ohayou no oodishon shite
弱虫な自分に勝って
yowamushi na jibun ni katte
金曜日は頑張らなくちゃ
kin'youbi wa ganbara nakucha
だって2日会えないからね
datte futsuka aenai kara ne
眠そうな君を見てる
nemusou na kimi o miteru
それだけで満足しちゃって
sore dake de manzoku shichatte
ダメだって「頑張らなくちゃ」
dame datte "ganbara nakucha"
そっと声に出してみた
sotto koe ni dashitemita


8:00 2車両目座られてた特等席
hachiji zerofun nisharyou me suwarareteta tokutou seki
ついてないな 空模様まで泣きそうです
tsuitenai na sora moyou made naki sou desu
8:07 準備まだ、ちょっと待ってドキドキが…
hachiji nanafun junbi mada, chotto matte dokidoki ga...
震え混じり"その言葉"はかき消された
furue majiri "sono kotoba" wa kakikesareta


雨宿り立ち尽くす僕に「傘をどうぞ」
amayadori tachitsukusu boku ni "kasa o douzo"
君は少し恥ずかしそうに下を向いた
kimi wa sukoshi hazukashi sou ni shita o muita


「ありがとう」震えていた
"arigatou" furueteita
練習してない言葉言えたから頑張らなくちゃ
renshuu shitenai kotoba ieta kara ganbara nakucha
だって2日会えないからね
datte futsuka aenai kara ne
大好きな君を見てる
daisuki na kimi o miteru
それだけじゃ満足しなくて
sore dake ja manzoku shinakute
月曜日頑張らなくちゃ
getsuyoubi ganbara nakucha
そっと声に出してみた
sotto koe ni dashitemita


夢では自然に話せるのに
yume de wa shizen ni hanaseru noni
勇気のテスト乗り越えるから少し待ってて
yuuki no tesuto norikoeru kara sukoshi mattete


おはようのオーディションして
ohayou no oodishon shite
髪型もバッチリOK
kami gata mo bacchiri OK
8:07に君を待ってる
hachiji nanafun ni kimi o matteru
だって今日は言えるから
datte kyou wa ieru kara
おやすみも言いたいけれど ちょっと待って
oyasumi mo iitai keredo chotto matte
大好きな言葉なんだ
daisuki na kotoba nanda
だって君に会えるからね
datte kimi ni aeru kara ne
Derivatives
Edit
Sana's Cover

| | |
| --- | --- |
| Author(s) | Sana |
| Category | Human cover |
Manako's Dance Cover

| | |
| --- | --- |
| Author(s) | Manako |
| Category | Dance cover |
un:c's Cover

| | |
| --- | --- |
| Author(s) | un:c |
| Category | Human cover |
Akatin's Cover

| | |
| --- | --- |
| Author(s) | Akatin |
| Category | Human cover |
Ririri's Dance Cover

| | |
| --- | --- |
| Author(s) | Ririri |
| Category | Dance cover |
96Neko's Cover

| | |
| --- | --- |
| Author(s) | 96Neko |
| Category | Human cover |
External links
Edit
| | |
| --- | --- |
| | Official |
| | |
| --- | --- |
| | Articles |
| | |
| --- | --- |
| | Lyrics |
| | |
| --- | --- |
| | Downloads |