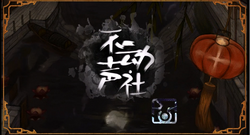 Song title
"金陵舟歌"
Pinyin: Jīnlíng Zhōugē
Uploaded January 23, 2014, with 140,000+ views
Singer(s)
Luo Tianyi
Producer(s)
Budongsheng She:
Oupianfangzhu Lian (music, lyrics, tuning)
Nanfengxitu (background illustration, border illustration)
FZ. (character illustration, window background illustration)
Foyan (video)
Xingyin-P (后期)
Links
YouTube Broadcast (reprint)
bilibili Broadcast
5SING Broadcast

Background
Edit
"Jīnlíng Zhōugē" is an original Luo Tianyi song.
The song has surpassed 100,000 views on bilibili.
Chinese (中文歌词)
Pinyin (拼音)
沏新茗远香暖秋意
qi xin ming yuan xiang nuan qiu yi
驾兰舟静望秦淮映月明
jia lan zhou jing wang qinhuai ying yue ming
问谁人摘落青叶随风随流去
wen shei ren zhai luo qing ye sui feng sui liu qu
谁拨乱河畔千丝万缕 又惊起涟漪
shui bo luan hepan qian si wan lu you jing qi lianyi


行人伶仃楼前灯火稀
xingren lingding lou qian denghuo xi
空巷不见燕迹霜满石桥低
kong xiang bujian yan ji shuang man shi qiao di
怅然轻吟舟歌一曲今夕是何夕
changran qing yin zhouge yi qu jinxi shi he xi
忽闻阑珊处琵琶奏鸣 诉说谁的心绪
hu wen lanshan chu pipa zou ming sushuo shui de xinxu


画舫雕楼金粉华灯迷离
huafang diao lou jinfen huadeng mili
袅袅娜娜美人照影戏烟雨
niaoniao na na meiren zhao yingxi yanyu
五陵年少一掷千金盼相叙
wu ling nianshao yizhiqianjin pan xiang xu
巧笑倩兮遂弃罗裙换羽衣
qiao xiao qian xi sui qi luo qun huan yuyi


舞榭歌台笙箫鼓瑟不息
wu xie ge tai sheng xiao gu se bu xi
走走停停不舍依依到天明
zou zou ting ting bu she yiyi dao tianming
远游子亦知真金难换真心
yuan youzi yi zhi zhen jin nan huan zhenxin
忙将情思汇入丹青望相许
mang jiang qingsi hui ru danqing wang xiang xu


曲音薄弱似叹息
qu yin boruo shi tanxi
茶色渐淡如秋情
chase jian dan ru qiu qing
灯影将黯掩思忆
dengying jiang an yan si yi
欲回眸 再看秦淮往昔
yu huimou zai kan qinhuai wangxi


画舫雕楼金粉华灯长寂
huafang diao lou jinfen huadeng zhang ji
寒蝉凄凄琵琶声停 只剩我独饮
hanchan qi qi pipa sheng ting zhi sheng wo du yin
Ad blocker interference detected!
Wikia is a free-to-use site that makes money from advertising. We have a modified experience for viewers using ad blockers

Wikia is not accessible if you've made further modifications. Remove the custom ad blocker rule(s) and the page will load as expected.