Ad blocker interference detected!
Wikia is a free-to-use site that makes money from advertising. We have a modified experience for viewers using ad blockers

Wikia is not accessible if you've made further modifications. Remove the custom ad blocker rule(s) and the page will load as expected.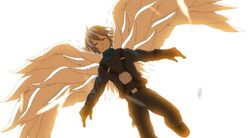 Song title
"鋼鉄ノ鳥"
Romaji: Koutetsu no Tori
English: Steel Bird
Uploaded June 22, 2013, with 164,000+ views
Singer(s)
IA
Producer(s)
Wataame (music, lyrics)
Otsuchibi (bass)
hazfirst (illustration, video)
Links
Niconico Broadcast • YouTube Broadcast (reprint, subbed)

Background
Edit
"
The boy had wanted to become a bird.
"
 
Wataame's 15th published work. This song is featured on TEAM Entertainment's compilation album IA THE WORLD ~Tsubasa~.
This song has entered the Hall of Fame.
Japanese (日本語歌詞)
Romaji (ローマ字)
廻れ、廻れよ いと儚げに
maware, maware yo ito hakanage ni
翼持たぬ鳥の歌よ
tsubasa motanu tori no uta yo


水平線高く鳥は唄い 今飛び発つ銀の翼にて
suihei sen takaku tori wa utai ima tobitatsu gin no tsubasa nite
その瞳に灯す冷たい火は 戦場へと放つ雷槌(いかづち)よ
sono hitomi ni tomosu tsumetai hi wa ikusaba e to hanatsu ikazuchi yo


その羽根で何処まで往ける気か
sono hane de doko made yukeru ki ka
空は蒼く高くどこまでも遠く澄み渡り
sora wa aoku takaku doko made mo tooku sumiwatari
少年は鳥になりたかっただけ 戦火の渦に巻かれて
shounen wa tori ni naritakatta dake senka no uzu ni makarete


飛ばせ 遙かなる旅路でも
tobase harukanaru tabiji demo
翼持たぬ鳥は遠く
tsubasa motanu tori wa tooku
たとえその手を血に染めても
tatoe sono te o chi ni somete mo
お国のためと 撃鉄落とす
okuni no tame to gekitetsu otosu
燃やせ その生命を 火に変えて
moyase sono inochi o hi ni kaete
翼宿す意志は強く
tsubasa yadosu ishi wa tsuyoku
蜉蝣(かげろう)ほどの命であれど
kagerō hodo no inochi de are do
空に 華を 咲かせてみよう
sora ni hana o sakasete miyou


地平線に昇る陽を背にして 朝霧へと紛れ忍び寄り
chiheisen ni noboru you o se ni shite asagiri e to magire shinobiyori
燻銀(いぶしぎん)の機体駆る戦士は 戦場へと刻下導かれ
ibushigin no kitai karu senshi wa ikusaba e to kokka michibikare


鋼鉄ノ鳥は何処まで往ける
koutetsu no tori wa doko made yukeru
雲は厚く視界は遮られども
kumo wa atsuku shikai wa saegirare domo
更なる空を見る少年よ 鳥のように羽撃け
saranaru sora o miru shōnen yo tori no you ni hanagake


落とせ 数多の屍(しかばね)超えて
otose amata no shikabane koete
蒼き炎 巻いて飛んで
aoki honou maite tonde
鳥より鳥らしく在るために
tori yori tori rashiku aru tame ni
武器と成りて空を駆けます
buki to narite sora o kakemasu
散らせ その生命を紅く染め
chirase sono inochi o akaku some
翼宿る意志は強く
tsubasa yadoru ishi wa tsuyoku
そして己の 焔を抱いて
soshite onore no homura o daite
刹那 空に 散り逝く定め
setsuna sora ni chiri iku sadame


響け 彼の命の福音よ
hibike kare no inochi no fukuin yo
翼授け空へ放つ
tsubasa sazuke sora e hanatsu


鋼翼ノ鳥は放たれた
koutetsu no tori wa hanatareta
彼の翼 永久の空へ
kare no tsubasa towa no sora e
朽ちて尚飛び立つ若武者は
kuchite nao tobitatsu wakamusha wa
鳥と成りて空を駆けます
tori to narite sora o kakemasu
飛ばせ 遙かなる旅路でも
tobase harukanaru tabiji demo
翼持たぬ鳥は詠う
tsubasa motanu tori wa utau
銀の翼を背にはためかせ
gin no tsubasa o se ni hatamekase
朝日 空に 消える思いよ
asahi sora ni kieru omoi yo
External links
Edit