Ad blocker interference detected!
Wikia is a free-to-use site that makes money from advertising. We have a modified experience for viewers using ad blockers

Wikia is not accessible if you've made further modifications. Remove the custom ad blocker rule(s) and the page will load as expected.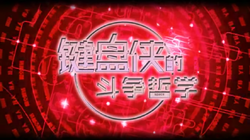 Song title
"键盘侠的斗争哲学"
Traditional Chinese: 鍵盤俠的鬥爭哲學
Pinyin: Jiànpán Xiá de Dòuzhēng Zhéxué
English: Fighting Philosophy of the Keyboard Warrior
Uploaded August 19, 2015, with 250,000+ views
Singer(s)
Yuezheng Ling
Producer(s)
Jiang Wu Luan Wan (compose, lyrics, mixing, tuning, illustrator, video editor)
Xiao Mu (video editor)
Links
YouTube Broadcast (reprint)
bilibili Broadcast

Background
Edit
"Jiànpán Xiá de Dòuzhēng Zhéxué" is an original Yuezheng Ling song and is the sequel to Cóngzhòng Xiàoyìng (Conformity). The song mocks the life of a Keyboard Warrior, saying that they have no independent perspective and start wars to make their existence known.
This song has exceeded 100,000 views on bilibili.
Chinese (中文歌词)
Pinyin (拼音)
十指按鍵散流言 二進制算盡每天
Shizhi anjian san liuyan erjinzhi suan jin meitian
這一篇字幾千
Zhe yi pian zi ji qian
肚皮後的人心險 屏幕後的人心閒
Dupi hou de renxin xian pingmu hou de renxin xian
小心點多心點
Xiaoxin dian duo xin dian
人說你是唯恐天下不亂
Ren shuo ni shi weikong tianxia bu luan


先使個壞呀 再釋個懷呀
Xian shi ge huai ya zai shi ge huai ya
世態炎涼不改想那麼多何必呀
Shitaiyanliang bu gai xiang name duo hebi ya
見風使舵呀 顛倒黑白呀
Jian feng shi duo ya diandao heibai ya
林子大了什麼樣的鳥都會有吧
Linzi dale shenme yang de niao duhui you ba


十指按鍵飛如電 滿腹經綸靠字典
Shizhi anjian fei ru dian manfujinglun kao zidian
過一天算一天
Guo yitian suan yitian
頭條新聞太礙眼 三言兩語想翻篇
Toutiao xinwen tai aiyan sanyanliangyu xiang fan pian
找刺激找新鮮
Zhao ciji zhao xinxian
就是為了最大化存在感
Jiushi weile zuida hua cunzai gan


先扯個白呀 再賣個乖呀
Xian che ge bai ya zai mai ge guai ya
笑容可掬背後天知道是真是假
Xiaorong ke ju beihou tianzhidao shi zhenshi jia
黑歷史來呀 早晚洗白呀
Hei lishi lai ya zaowan xi bai ya
孑然一身只是莫須有的存在吧
Jieran yishen zhi shi moxuyou de cunzai ba


你看這火藥味的字眼
Ni kan zhe huoyaowei de ziyan
這火藥味的焦點
Zhe huoyaowei de jiaodian
這火藥味的表演
Zhe huoyaowei de biaoyan
就是所謂你的鬥爭哲學
Jiushi suowei ni de douzheng zhexue


先扯個白呀 再賣個乖呀
Xian che ge bai ya zai mai ge guai ya
笑容可掬背後天知道是真是假
Xiaorong ke ju beihou tianzhidao shi zhenshi jia
黑歷史來呀 早晚洗白呀
Hei lishi lai ya zaowan xi bai ya
孑然一身只是莫須有的存在吧
Jieran yishen zhi shi moxuyou de cunzai ba
你會學乖了呀 還是學壞呀
Ni hui xue guaile ya haishi xue huai ya
說著虛心接受又會堅決不改呀
Shuozhe xuxin jieshou you hui jianjue bu gai ya
亮出後台呀 人艱不拆呀
Liang chu houtai ya ren jian bu chai ya
反正這萬千像素矩陣那一邊
Fanzheng zhe wan qian xiangsu juzhen na yibian


全都是火藥味的字眼
Quandou shi huoyaowei de ziyan
這火藥味的焦點
Zhe huoyaowei de jiaodian
這火藥味的表演
Zhe huoyaowei de biaoyan
就是所謂你的哲學
Jiushi suowei ni de zhexue