Ad blocker interference detected!
Wikia is a free-to-use site that makes money from advertising. We have a modified experience for viewers using ad blockers

Wikia is not accessible if you've made further modifications. Remove the custom ad blocker rule(s) and the page will load as expected.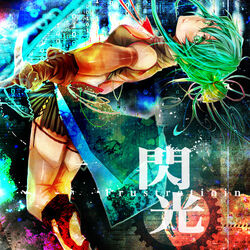 Song title
"閃光⇔Frustration"
Romaji: Senkou⇔Frustration
English: Flash⇔Frustration
Uploaded May 7, 2012, with 209,000+ (NND) and 41,000+ (YT) views
Singer(s)
Hatsune Miku
Producer(s)
Yairi (music, lyrics)
Yuki (illust)
Hiragi Aska (video)
Links
Niconico Broadcast • YouTube Broadcast (uploaded by author)

Background
Edit
This song is Yairi's 3rd work and one of his most popular ones.
This song has entered the Hall of Fame.
Japanese (日本語歌詞)
Romaji (ローマ字)
足元掬われる かもしれない
ashimoto sukuwareru kamoshirenai
もどかしい想いは すぐに壊して
modokashii omoi wa sugu ni kowashite
しまわないようにと 消えてしまう
shimawanai youni to kieshiteshimau
切ない 百合の花の香り
setsunai yuri no hana no kaori


これ以上は 困らせないで 苦しませないで
kore ijou wa komarasenai de kurushimasenai de
-見下している- ような目をしないで
Mikudashite iru yōna me wo shinaide
望み過ぎている
nozomi sugiteiru


かのような 多様な閃光が
kano youna tayou na senkou ga
目の前を霞め 消えそうだ
me no mae wo kasume kiesouda
今なら僅かでもいい 届くかな?
ima nara wazuka demo ii todoku kana?


その手のひらに零れた 虚構の盾を
sono te no hira ni koboreta kyokou no tate wo
貫いて 一筋の光
tsuranuite hitosuji no hikari
輝け闇の中で ただそれだけ
kagayake yami no naka de tada sore dake
いままでのこと 謝ってみてよ
ima made no koto ayamattemiteyo
元通りになることは無いのに
moto doori ni naru koto wa nai no ni
さよならだね 「照らせ 光のままに」
sayonara da ne [terase hikari no mama ni]


嗚呼 何がしたい? 君がしたい 事をしたい
aa nani ga shitai? kimi ga shitai koto wo shitai
「したいよ?」「すればいい」
[shitai yo?] [surebaii]
照らす閃光 1080000000 追いつけない
terasu senkou 1080000000 oitsukenai
分かりきった 答えなら 満足?
wakarikitta kotae nara manzoku?
低俗な恍惚、攻略、恫喝、法則、曙光(しょこう)崩壊
teizuku na koukotsu, kouryaku, doukatsu, housoku, shokou houkai


輝きだすあの光は 遥か彼方へと導いて行く
kagayaki dasu ano hikari wa haruka achira he to michibiite iku
光射す方へ 僕を導いて
hikari sasu hou he boku wo michibiite


可のような不可のような天候が
ka no youna fuka no youna tenkou ga
目の前を霞め消えそうだ
me no mae wo kasume kiesouda
今なら僅かでもいい届くなら
ima nara wazuka demo ii todoku nara


そっと手のひらにこぼれた 欲望の糧を
sotto te no hira ni koboreta yokubou no kate wo
出し抜いて 一時の兆し
dashinuite hitoto ki no kizashi
輝け闇の中で まだそれだけ
kagayake yami no naka de mada sore dake
今までのこと 誤っていても
ima made no koto ayamatteitemo
正せない 数多(あまた)さえ然り
tadasenai amata sae shikari
さよならまで・・・ さよならまで・・・
sayonara made... sayonara made...
「照らせ 光のままに」
[terase hikari no mama ni]


「テラセオモイノママニ」
[terase omoi no mama ni]
Derivatives
Edit
Kakichoco's Cover

| | |
| --- | --- |
| Featuring | Kakichoco |
| Author(s) | |
| Category | Human cover |
Shoohey's Cover

| | |
| --- | --- |
| Featuring | Shoohey |
| Author(s) | |
| Category | Human cover |
Spica's Cover

| | |
| --- | --- |
| Author(s) | Spica |
| Category | drum cover |
External links
Edit
| | |
| --- | --- |
| | Articles |