Ad blocker interference detected!
Wikia is a free-to-use site that makes money from advertising. We have a modified experience for viewers using ad blockers

Wikia is not accessible if you've made further modifications. Remove the custom ad blocker rule(s) and the page will load as expected.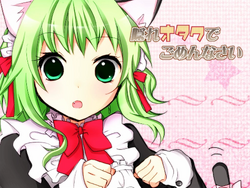 Song title
"隠れオタクでごめんなさい"
Romaji: Kakure Otaku de Gomennasai
English: I'm Sorry for Being a Closet Otaku
Uploaded April 22, 2010, with 120,000+ views
Singer(s)
GUMI
Producer(s)
Katahotori-P (music, lyrics, video)
Akatsuki, Mitsuka, Ririco_, and 雪乃~setsu~ (illustrations)
Links
Niconico Broadcast
Background
Edit
A humorous song by Katahotori-P, about an otaku girl and her discovery that the people around her are otakus too (a boy from class turns out to be an amateur photographer who photographs cosplayers, her father visits maid cafes, and a video of her mother dancing in her school uniform has become a popular video on Niconico) while coming out of her shell.
This song is featured on the album ハイテン★ガール2 and has entered the Hall of Fame.
Japanese (日本語歌詞)
Romaji (ローマ字)
いよいよアタシもコスプレデビュー
iyo iyo atashi mo kosupure debyuu
(西館 屋上 視線集めて)
(nishikan okujou shisen atsumete)
「目線ください」とカメコの声に
"mesen kudasai" to kameko no koe ni
振り向いたらクラスの男の子でした
furimuitara kurasu no otoko no ko deshita


「何やってんだこんなところで」
"nani yatten da kon'na tokoro de"
それはアタシのセリフでしょ!
sore wa atashi no serifu desho!
「週末は海にランデブーだ」って
"shuumatsu wa umi ni randebuu da" tte
キミは確か言ってたじゃないの
kimi wa tashika itteta janai no


おもいっきり弾けちゃうよ
omoikkiri hajikechau yo
今日のアタシは自重しないの
kyou no atashi wa jichoushinai no
わかるでしょ?ほら
wakaru desho? hora
これは二人だけの秘密だよ
kore wa futari dake no himitsu da yo
いつだってこんな風に
itsudatte kon'na fuu ni
素直に振舞う勇気頂戴
sunao ni furumau yuuki choudai
でもやっぱり…まだ
demo yappari...mada
クラスのみんなには内緒にしておきたい
kurasu no min'na ni wa naisho ni shite okitai
アタシ 隠れオタクでごめんなさい
atashi kakure otaku de gomen'nasai




気を取りなおしてバイトに出勤
ki wo torinaoshite baito ni shukkin
(お馴染みアキバのメイド喫茶)
(onajimi akiba no meido kissa)
「お帰りなさいご主人様」って
"okaerinasai go-shujin-sama" tte
顔を上げたらアタシのパパでした
kao wo agetara atashi no papa deshita


「何やってんだこんなところで」
"nani yatten da kon'na tokoro de"
それはアタシのセリフでしょ!
sore wa atashi no serifu desho!
「今夜は会議で遅くなるよ」って
"kon'ya wa kaigi de osokunaru yo" tte
今朝はママに言ってたじゃないの
kesa wa mama ni itteta janai no


おもいっきり弾けちゃうよ
omoikkiri hajikechau yo
今日もアタシは全力で接待
kyou mo atashi wa zenryoku de settai
わかるでしょ?ねえ
wakaru desho? nee
これは二人だけの秘密だよ
kore wa futari dake no himitsu da yo
いつだってこんな風に
itsudatte kon'na fuu ni
自由に話せる時間を頂戴
jiyuu ni hanaseru jikan wo choudai
でもやっぱり…まだ
demo yappari...mada
ママには余計な心配をかけたくないの
mama ni wa yokei na shinpai wo kaketakunai no
アタシ 隠れオタクでごめんなさい
atashi kakure otaku de gomen'nasai




だってこの国の社会は
datte kono kuni no shakai wa
まだまだアタシたちには厳しい時代なの
mada mada atashi-tachi ni wa kibishii jidai na no


おもいっきり弾けちゃうよ
omoikkiri hajikechau yo
今日のアタシは自重しないの
kyou no atashi wa jichoushinai no
わかるでしょ?ほら
wakaru desho? hora
これは二人だけの秘密だよ
kore wa futari dake no himitsu da yo
いつだってこんな風に
itsudatte kon'na fuu ni
素直に振舞う勇気頂戴
sunao ni furumau yuuki choudai
でもやっぱり…まだ
demo yappari...mada
こんなアタシの秘密は打ち明けられないよ!
kon'na atashi no himitsu wa uchiakerarenai yo!




何はともあれ今日はお疲れさん
nani wa to mo are kyou wa otsukaresan
(パジャマに着替えてニコニコ見てる)
(pajama ni kikaete nikoniko miteru)
人気の動画をチェックしてたら
ninki no douga wo chekkushitetara
アタシの制服着たママが踊ってた
atashi no seifuku kita mama ga odotteta
External links
Edit
| | |
| --- | --- |
| | Official |
| | |
| --- | --- |
| | Articles |