Ad blocker interference detected!
Wikia is a free-to-use site that makes money from advertising. We have a modified experience for viewers using ad blockers

Wikia is not accessible if you've made further modifications. Remove the custom ad blocker rule(s) and the page will load as expected.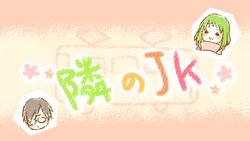 Song title
"隣のJK"
Romaji: Tonari no JK
English: The Highschool Girl Next To Me
Uploaded January 09, 2011, with 24,800+ views
Singer(s)
GUMI, Konori
Producer(s)
Konori (music, lyrics)
Ohagi-san (illust, PV)
Links
Niconico Broadcast • YouTube Broadcast (with subtitles)

Background
Edit
The song tells the tale of a schoolgirl who, after studying hard for a test, falls a sleep on a man's arm while on the train home. The man is torn between waking her up and disturbing her and leaving her be because she is cute and he secretly likes it. When she wakes up, she says it was a innocent act to fall asleep, embarrassed she texts her friend (Miku) saying she fell asleep against a old man. This angers the man, as he is only a college grade student and therefore is not as old as she thinks. As her stop comes up, he is torn once again, this time with telling her he isn't old and in the process letting her know he read her text.
Japanese (日本語歌詞)
Romaji (ローマ字)
テスト勉強疲れちゃって
tesuto benkyou tsukarechatte
電車の中だけど終点まで
densha no naka dakedo shuuten made
少し寝ようと思ったら
sukoshi nuyou to omottara
ぐっすり寝ちゃうことってあるよね
gussuri nechau kototte aru yo ne


uh...嗚呼!! 隣のJKが !
uh...AA!! tonari no JK ga!
uh...嗚呼!! もたれかかってくる
uh...AA!! motareka katte kuru
いい匂い
ii nioi


夢の中 王子様 笑顔にシビれちゃう☆
yume no naka ouji-sama egao ni shibi rechau


腕が痺れる
ude ga shibireru
背中も痺れちゃう
senaka mo shibirechau


勉強ガンバった私に ステキなご褒美ね☆
benkyou ganbatta watashi ni suteki na go houbi ne


嗚呼! 頑張って僕の腕
AA! ganbatte boku no ude
そりゃまぁ この子を起こせば良いんだけど。。。
soryamaa kono ko wo okoseba iin dakedo...


あーチクショー! あ~なんてイケメン!
a-chikusho-! a~nante ikemen!
可愛いなぁ!  夢だと分かっても
kawaii na-! yume dato mukatte mo


(もったいなくて起こせないんだよ。。。)
(mottai nakute okosenain dayo...)
もったいなくて起きたくないの!
mottai nakute okitakunai no!


電車の中で寝ちゃうと
densha no naka de nechau to
せっかく良い夢だったのに
sekkaku ii yume datta no ni
オッサンにもたれかかってて
ossan ni motareka katte te
ガッカリしちゃうこともあるよね
gakkari shichau koto mo aru yo ne


uh...嗚呼!! 隣のJKが!
uh...AA!! tonari no JK ga!
uh...嗚呼!! 僕をオッサンって
uh...AA!! boku wo ossantte
言ってる メールで
itteru ME-RU (mail) de
ひでぇ...
hidee...


たとえオッサンにまみれても
tatoe ossan ni mamirete mo
私は私だから  ね!
watashi wa watashi dakara ne!


「ね!」じゃねーよ!
[ne!] jyane-yo-!


なんか隣のオッサンがチラチラ見てるけど
nanka tonari no ossan ga chirachira miteru kedo


僕 まだ大学生
ore mada daigakusei
老けてるけど 大学生
fuketeru kedo daigakusei


そろそろ池袋 ガンバレ今日の私
sorosoro ikebukuro ganbare kyou no watashi


だがしかし、ここで怒ってしまったら、
daga shikashi, koko de okotte shimattara
メールを見ていたことがバレてしまう。。。
ME-RU (mail) wo miteita koto ga bare te shimau...
っていうか、そんなことより。。。!
tteiu ka, sonna koto yori... !


あーチクショー! 後で彼氏に
a-chikusho-! ato de kareshi ni
いい脚だ... 慰めてもらおう
ii ashi da... nagusamete moraou


電車は今日も煩悩を運ぶ
densha wa kyou mo honnou wo hakobu


隣のJK!
tonari no JK!
External links
Edit