Ad blocker interference detected!
Wikia is a free-to-use site that makes money from advertising. We have a modified experience for viewers using ad blockers

Wikia is not accessible if you've made further modifications. Remove the custom ad blocker rule(s) and the page will load as expected.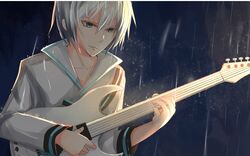 Song title
"雨落如注"
Pinyin: Yǔ Luò Rú Zhù
English: Pouring Rain
Uploaded May 23, 2015, with 59,000+ views
Singer(s)
YANHE
Producer(s)
Heibai-P (music, lyrics, mastering, video editing)
Sheng Yu Xi Meng and fall of fall (illustrators)
Links
YouTube Broadcast (reprint)
bilibili Broadcast

Background
Edit
"Yǔ Luò Rú Zhù" is an original song featuring YANHE. She sings about her agony and describes how her heart is like a pouring rain.
Chinese (中文歌詞)
Pinyin (拼音)
平鞋底尚未淹
Ping xiedi shangwei yan
泛開去的水漣
Fan kai qu de shui lian
模糊著倒映其中無表情的臉
Mohuzhe daoying qizhong wu biaoqing de lian
伸展開的枝葉
Shen zhankai de zhiye
細小的縫隙間
Xixiao de fengxi jian
逐漸匯聚不時砸落的雨點
Zhujian huiju bu shi za luo de yudian


掠過的人群
Lüeguo de renqun
傘築起的墻
San zhu qi de qiang
三兩談笑淡漠繁忙一如往常
San liang tanxiao danmo fanmang yi ru wangchang
無傘的囚徒
Wu san de qiutu
無形的鎖鏈
Wuxing de suolian
挣开吧
Zheng kai ba
迈出脚步
Mai chu jiaobu
向着
Xiangzhe
这水帘
Zhe shui lian


滲透著煙散開
Shentouzhe yan sankai
這徹骨的冰涼
Zhe chegu de bingliang
恍惚間早已在雨中迷失方向
Huanghu jian zaoyi zai yuzhong mishi fangxiang
最開始的目標
Zui kaishi de mubiao
目的地的方向
Mudi di de fangxiang
是否在這低溫下凝結遺忘
Shifou zai zhe diwen xia ningjie yiwang


總是在渴望
Zong shi zai kewang
總是在幻想
Zong shi zai huanxiang
晴空在某人傾來的傘下綻放
Qingkong zai mou ren qing lai de sanxia zhanfang
短暫的虛幻
Duanzan de xuhuan
破碎著消散
Posuizhe xiaosan
无来源
Wu laiyuan
的孤独感
De gudu gan
吞噬
Tunshi
般袭来
Ban xi lai


浸于這積起微淺而終將消失的水面
Jin yu zhe ji qi wei qian er zhong jiang xiaoshi de shuimian
清晰的鼓動這顆還尚未鏽蝕的心臟
Qingxi de gudong zhe ke hai shangwei xiushi de xinzang


无边际的寂寥
Wu bianji de jiliao
满溢出的悲伤
Man yichu de beishang
随着这雨声一同消散融化
Suizhe zhe yu sheng yitong xiaosan ronghua
滚烫的执念携疼痛烧灼而下
Guntang de zhi nian xie tengtong shaozhuo er xia
划过伤痕累累冰凉的面颊
Huaguo shanghen leilei bingliang de mianjia


肆虐着的记忆
Sinüezhe de jiyi
驱不走的画面
Qu bu zou de huamian
无法传递的言语梗塞于喉间
Wufa chuandi de yanyu gengse yu hou jian
手掌触向地面
Shouzhang chu xiang dimian
传递来的实感
Chuandi lai de shigan
支起身吧
Zhi qishen ba
还不能
Hai buneng
就此沦陷
Jiuci lunxian


聚不起的雨點
Ju bu qi de yudian
在伸出的掌間
Zai shen chu de zhang jian
順著指縫滲過衣袖滴落四濺
Shunzhe zhi feng shenguo yi xiu di la si jian
就如同這時間
Jiu rutong zhe shijian
無聲息地向前
Wusheng xi di xiang qian
無法攥緊卻永遠都在手邊
Wufa zuan jin que yongyuan dou zai shoubian


或許還懼怕
Huoxu hai jupa
或許還憂傷
Huoxu hai youshang
或許心間有著不可觸碰一角
Huoxu xin jian youzhe buke chu peng yijiao
然而已懂得
Ran'er yi dongde
接受与面對
Jieshou yu mian dui
向着灰暗地平线
Xiangzhe hui'an dipingxian
挣扎着向前
Zhengzhazhe xiang qian


风裹携着雨点
Feng guo xiezhe yudian
被模糊的视线
Bei mohu de shixian
跨过这水塘越过那道边界
Kuaguo zhe shui tang yueguo na dao bianjie
沉重的步伐下
Chenzhong de bufa xia
泛开的水纹间
Fan kai de shui wen jian
点点积起不断汇聚希望碎片
Diandian ji qi buduan huiju xiwang suipian


还有未曾传达
Hai you weiceng chuanda
还有想去传达
Hai you xiang qu chuanda
总有一天会将心意传递吧
Zong you yitian hui jiang xinyi chuandi ba
暴雨迎面而来
Baoyu yingmian er lai
即使跌倒失败
Jishi diedao shibai
也会去奔向这未知的未来
Ye hui qu ben xiang zhe weizhi de weilai