Ad blocker interference detected!
Wikia is a free-to-use site that makes money from advertising. We have a modified experience for viewers using ad blockers

Wikia is not accessible if you've made further modifications. Remove the custom ad blocker rule(s) and the page will load as expected.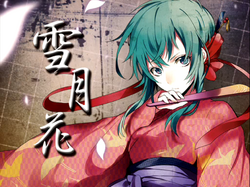 Song title
"雪月花"
Romaji: Setsugetsuka
English: Beauty of the Four Seasons
Uploaded April 20, 2012, with 114,000+ views
Singer(s)
GUMI
Producer(s)
Devilish-P (music)
Arisaka Ako (illust)
kaichi (mix)
NETERO (drum arrangement)
Links
Niconico Broadcast • YouTube Broadcast (reprint)

Background
Edit
This song was featured on Karakuri Man'yoshu and the single off the same name.
It has entered Hall of Fame.
Succeeding versions
Edit
Hanatan's cover

Featuring
Hanatan
Author(s)
Devilish-P (music, lyrics), NETERO (drum), kaichi(mix)
Category
Succeeding version; human-cover

Description

A cover of the song featured on the tribute album chronosing.
Japanese (日本語歌詞)
Romaji (ローマ字)
巡りゆく 仄かに薫る季節 迷い込んだ
meguri yuku honoka ni kaoru kisetsu mayoikonda
無に還る 零れた雪の花 彼方に散りゆく
mu ni kaeru koboreta yuki no hana kanata ni chiri yuku


胸の中 すり抜けて 舞い落ちる ヒラヒラと
mune no naka surinukete mai ochiru hirahira to
透き通る あの日々は 鮮やかに今も 彩る
sukitooru ano hibi wa azayaka ni ima mo irodoru


過ぎ去る日々を数えては 貴方を想うわ
sugisaru hibi o kazoete wa anata o omou wa
求めを胸に抱いては 儚い空 見上げ
motome o mune ni daite wa hakanai sora miage


戻らない 重ねた日々の行方 霞んでゆく
modoranai kasaneta hibi no yukue kasunde yuku
月明かり 映した幻は
tsukiakari utsushita maboroshi wa
浅い眠りの中で 濡れた頬に 手を伸ばした
asai nemuri no naka de nureta hoho ni te o nobashita


切ない想い連ねては この胸痛むわ
setsunai omoi tsuranete wa kono mune itamu wa
晴れない心映し出す 散り行く花 見つめ
harenai kokoro utsushidasu chiri yuku hana mitsume


触れ合う度にこの心 ゆらゆら揺れるわ
fureau tabi ni kono kokoro yurayura yureru wa
薄紅染まるこの想い せめて夢で逢えたら
usubeni somaru kono omoi semete yume de aetara


過ぎ去る日々を数えては 貴方を想うわ
sugisaru hibi o kazoete wa anata o omou wa
叶わぬ願い舞い上がる 二人の今
kanawanu negai maiagaru futari no ima


切ない想い奏でては この胸満ちてく
setsunai omoi kanadete wa kono mune michiteku
舞い散る花よ永遠に 儚い空 嗚呼
maichiru hana yo eien ni hakanai sora aa
External links
Edit
| | |
| --- | --- |
| | Articles |
| | |
| --- | --- |
| | Lyrics |
| | |
| --- | --- |
| | Downloads |