Ad blocker interference detected!
Wikia is a free-to-use site that makes money from advertising. We have a modified experience for viewers using ad blockers

Wikia is not accessible if you've made further modifications. Remove the custom ad blocker rule(s) and the page will load as expected.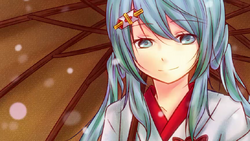 Song title
"雪花繚乱"
Romaji: Sekka Ryouran
English: An Abundance of Snowflakes
Uploaded January 7, 2013, with 223,700+ views
Singer(s)
Hatsune Miku
Producer(s)
INFINITY∞: Daisuke-P (music)
INFINITY∞: SaKi (lyrics)
Suzu, Amaoto., Zumaru, Haru, Anpon, Ayasaki, Maguro, henei, nanobu, Temari, tkhs, ★TOMO☆ (illust)
Links
Niconico Broadcast
piapro Broadcast
Background
Edit
"
Hokkaido's snow is severely, sometimes beautifully gentle….
"
 

— Author's comment
INFINITY∞'s 8th song, a traditional Japanese style song for SNOW MIKU 2013 about the winters and snow of Hokkaido. Daisuke-P states that he wanted to create the image of 2013 Snow Miku in a white kimono.
This song is included on the compilation album Yoen Waso Emaki.
This song has entered the Hall of Fame.
Succeeding versions
Edit
MAIKA's Demo

| | |
| --- | --- |
| Featuring | MAIKA |
| Author(s) | Daisuke-P |
| Category | VOCALOID cover |
Sachiko's Cover

| | |
| --- | --- |
| Featuring | Sachiko |
| Author(s) | Daisuke-P |
| Category | VOCALOID original |
一抹の淡き夢よ 去り行く日まで 踊れ
ichimatsu no awaki yume yo sariyuku hi made odore


Japanese (日本語歌詞)
Romaji (ローマ字)
枯れた葉を落とした 木々の両の腕に
kareta ha wo otoshita kigi no ryou no ude ni
白い花びらを運ぶ 師走の風
shiroi hanabira wo hakobu shiwasu no kaze
新たな夜が明けて 辺りは雪化粧
arata na yo ga akete atari wa yukigeshou
騒がしい街の色も 静寂を守る
sawagashii machi no iro mo seijaku wo mamoru


触れればたちまち消え失す 一粒なれど
furereba tachimachi kieshissu hitotsubu naredo
根を張れば やむごとなき強さ 『心』の如く
ne wo hareba yamugoto naki tsuyosa "kokoro" no gotoku


降る雪は闇夜にさえ 明るく咲き誇る
furu yuki wa yamiyo ni sae akaruku sakihokoru
冬の白い月光を浴びて
fuyu no shiroi gekkou wo abite
雪花繚乱 美しくも 儚いこの歌を
sekka ryouran utsukushiku mo hakanai kono uta wo
力強く歌い上げよう 届け 御空(みそら)の 果てまで
chikarazuyoku utaiageyou todoke misora no hate made


待つ家族(ひと)の名前を 幾度も紡いで
matsu hito no namae wo ikudo mo tsumuide
吹雪をくぐり抜ける 若き旅人
yubuki wo kuguri nukeru wakaki tabihito


極寒にとりとめない日々を描けば
gokkan ni toritomenai hibi wo egakeba
その言の葉のひとつひとつが いと 温かろう
sono koto no ha no hitotsuhitotsu ga ito atatakarou


降る雪は時として 道をも閉ざして
furu yuki wa toki toshite michi wo mo tozashite
人の笑顔の 有り難みを説く
hito no egao no arigatami wo toku
雪花繚乱 故郷(ふるさと)を 愛す者のうたを
sekka ryouran furusato wo aisumono no uta wo
力強く歌い上げて 曇る 視界を 貫け
chikarazuyoku utaiagete kumoru shikai wo tsuranuke


朝に 昼に 夕に そして夜に
asa hiru ni yuu ni soshite yoru ni
すべての者に等しく 煌めく
subete no mono ni hitoshiku kirameku


雪花繚乱 山となり 時には像となり
sekka ryouran yama to nari toki ni wa zou tonari
人の集う傍らに生きる
hito no tsudou katawara ni ikiru


降る雪は 春が来れば その姿を隠し
furu yuki wa haru ga kureba sono sugata wo kakushi
次の冬を 天上で待ちわびる
tsugi no fuyu wo tenjou de machiwabiru


雪花繚乱 美しくも 儚いこの歌を
sekka ryouran utsukushiku mo hakanai kono uta wo
なんどきも歌い上げよう 届け 御空(みそら)の 果てまで
nandoki mo utaiageyou todoke misora no hate made


響け 季節を 超えて
hibike kisetsu wo koete
Derivatives
Edit
Minamin's Cover

| | |
| --- | --- |
| Featuring | Minamin |
| Author(s) | Minamin |
| Category | Human cover |
External links
Edit
| | |
| --- | --- |
| | Articles |