The following song article is still a work in progress. For information on how to help, see the song article guideline. We apologize for the inconvenience this may cause in the meantime.

What is being worked on?

Romaji lyrics.

Work-in-progress song pages are automatically sorted into this category.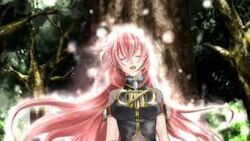 Song title
"音のしずく"
Romaji: Oto no Shizuku
English: A Drop of Sound
Uploaded January 4, 2009, with 41,000+ views
Singer(s)
Megurine Luka
Producer(s)
unknown
Links
YouTube Broadcast
Background
Edit
In January 2009, this song was used for a second demo of Megurine Luka featuring both English and Japanese version of the voicebank. There is also a MP3 version.
The song explains the origins of the Luka's name: Megurine.
Japanese (日本語歌詞)
Romaji (ローマ字)
空から舞い降りる 音のしずく
sora kara maioriru oto no shizuku
巡り巡りあなたのもとへ
meguri meguri anata no moto e
耳を澄ませば聞こえる
mimi o sumaseba kikoeru
Melody


やがて大きな川になる
yagate ookina kawa ni naru
どこからともなく来たそれは
doko karatomo naku kita sore wa
あなたに会うために
anata ni au tame ni
無限の色に輝き続け
mugen no iro ni kagayaki tsuzuke
大地うるおし 花が咲く
daichi uruoshi hana ga saku


Look about you 幾千のしずく
Look about you ikusen no shizuku
巡り巡り流れる
meguri meguri nagareru
The sound goes around the earth
大きな川のように
ookina kawa no you ni
巡り巡り巡る・・・
meguri meguri meguru...
Ad blocker interference detected!
Wikia is a free-to-use site that makes money from advertising. We have a modified experience for viewers using ad blockers

Wikia is not accessible if you've made further modifications. Remove the custom ad blocker rule(s) and the page will load as expected.