This song article is lacking a proper background. You can help by adding one! The relevant section in the Song Article Guideline is a good starting point, and this blog post may also be helpful. We apologize for the inconvenience this may cause in the meantime.

Song pages lacking proper backgrounds are automatically sorted into this category.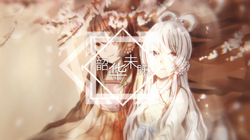 Song title
"韶华未既"
Traditional Chinese: 韶華未既
Pinyin: Sháohuá Wèi Jì
Uploaded February 13, 2016, with 171,000+ views
Singer(s)
Luo Tianyi, Yuezheng Ling
Producer(s)
Feng Shou miNado (compose, lyrics)
Chi Ye (storyboarding)
MACHWOLF (tuning)
Yu Xiang Xue (illustrator)
mienthoa, Alice Yinghua (video editors)
Links
YouTube Broadcast (reprint)
bilibili Broadcast

Background
Edit
"Sháohuá Wèi Jì" is an original song featuring Luo Tianyi and Yuezheng Ling.
This song has exceeded 100,000 views on bilibili.
| | | | |
| --- | --- | --- | --- |
| Singer | Tianyi | Ling | Both |
| Color | 66CCFF | Crimson | Black |
Chinese (中文歌詞)
Pinyin (拼音)

云逸曳 琼月翩跹

yun yi ye qiong yue pianxian

龠声咽 忆晴雨流年

yue sheng yan yi qingyu liunian

和乐清浅 子着芳霏而欲掩

he yueqing qianzizhe fang fei er yu yan

哀桃花绪烨 行书以鉴

ai taohua xu ye hangshu yi jian




遍寻桔枳而缘木 顾颦蹙 唯愿笑靥驻

bian xun ju zhi er yuan mu gu pin cu wei yuan xiaoye zhu

风影渐簌 以白绢为约 夙夜思情梏

feng ying jian su yi bai juan wei yue suye si qing gu

泣渐沾襟而袂濡

qi jian zhan jin er mei ru

落云岑 锁玲珑

luo yun cen suo linglong

犹认芳华谨舞

you ren fang hua jin wu




寻若木之遥远兮 随飘风缭转而行

xun ruomu zhi yaoyuan xi sui piao feng liao zhuan er xing

渚畔白鸟纷飞兮 落云岑寻陆离风影

zhu pan bai niao fenfei xi luo yun cen xun luli feng ying

儃佪寻虹兮 伤悲风拂过凝霜渐起
chan hui xun hong xi shang bei feng fuguo ning shuang jian qi
唯恋子心 而折渡此缘结
wei lianzi xin er zhedu ci yuan jie
时亦冉冉 而韶华未既
shi yi ranran er shaohua wei ji



晨起露 日居月诸

chen qi lu ri ju yue zhu

巡子于归 遍凭难诉

xun zi yu gui bian ping nan su

风雪尽覆 与此心斩余雾

feng xue jin fu yu ci xin zhan yu wu

试植梓为期 掔发以纾

shi zhi zi weiqi qian fa yi shu




心婵媛而无所 遂从流 留芳泽沃若

xin chan yuan er wu suo sui cong liu liu fangze wo ruo

还愿侧身 以玄鸟之资 缤纷此尘荏

huanyuan ceshen yi xuan niao zhi zi binfen ci chen ren

微霜降而不自忱

wei shuangjiang er bu zi chen

流年过 情意深
liunianguo qingyi shen

为君决此心谂

wei jun jue ci xin shen



负夏蒲而解羽兮 红妆纷蕰梦飘零
fu xia pu er jie yu xi hongzhuang fen wen meng piaoling

抚苏筝而鸣纬兮 诗楚歌志久远随行

fu su zheng er ming wei xi shi chuge zhi jiuyuan suihang

魂俇而灵行 知血泪将染篱落梓里
hun guang er ling xing zhi xuelei jiang ran li luo zi li
愿首邱桃下 誓姊于此命
yuan shou qiu tao xia shi zi yu ci ming
心悲怆 了然枉却此行
xin bei chuang liao ran wang que ci xing


褰裳渉旖旎

桃花纷飞楚雨

qian shang she yini

taohua fenfei chu yu

辗转汜水绪风 看破繁花别离

nianzhuan si shui xu feng kanpo fanhua bieli

殇于心 何以苏世独立

shang yu xin heyi su shi duli

以韶华之年宛君心

yi shaohua zhi nian wanjunxin



临夏芳菲溢

下幽晦兮缘起

linxia fangfei yi

xia you hui xi yuanqi

子迁逡而行 然情容与而不进

zi qian qun er xing ran qing rong yu er bu jin

眝绯印 忆昨年之轩渠

zhu fei yin yi zuonian zhi xuan qu

桃纷飞 是唯心所取

tao fenfei shi weixin suo qu




望鸾鸟纷飞

心震悼兮悲鸣

wang luan niao fenfei

xin zhen dao xi beiming

何以续前缘风雨散 悲绪风霏

heyi xu qian yuan fengyu san bei xu feng fei

殇于心

何以苏世独立

shang yu xin

heyi su shi duli

以韶华之年宛君心

yi shaohua zhi nian wanjunxin




冬至灵思陨

相鸣泣归缘起

dongzhi linsiyun

xiang ming qi gui yuanqi
子迁逡而行 然情容与而不进
zi qian qun er xing ran qing rong yu er bu jin
叩绯印

忆昨年之轩渠

kou fei yin

yi zuonian zhi xuan qu

桃纷飞 是唯心所倾
tao fenfei shi weixin suo qing
External links
Edit
| | |
| --- | --- |
| | Articles |