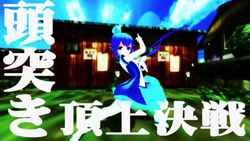 Song title
"頭突き頂上決戦"
Romaji: Zutsuki Choujou Kessen
English: Headbutt Showdown at the Summit
Uploaded April 6, 2013, with 21,000+ (NND) and 150+ (YT) views
Singer(s)
Aoki Lapis
Producer(s)
danierukunP (music, lyrics, video)
Various (MikuMikuDance models and effects)
Links
Niconico Broadcast • YouTube Broadcast

Background
Edit
A sequel to Zutsuki, Zutsuki Choujou Kessen is a complex song about Lapis' efforts to regain her status after someone spreads a rumor about her not being the best in head-butting and her intense battle with Suzuki-dayo, a rival from the north.
Due to the PV's high speed and viewers' difficulty in understanding the events, danierukunP wrote a blog post about the background and events of Zutsuki Choujou Kessen. Among the things noted are that "Zutsuki Choujou Kessen" was originally a song about oden, and that production of the MikuMikuDance video started in October 2012. It is also noted that Suzuki's second form is the same cardboard box that Lapis fought with in Zutsuki, and that in the PV danierukunP was killed by Suzuki shortly after writing Twitter posts declaring that Lapis was not the best at head-butting (resulting in Lapis' encounter with Suzuki when hunting down danierukunP).
Japanese (日本語歌詞)
Romaji (ローマ字)
何やら私の
nani yara watashi no
頭突きが
zutsuki ga
最強じゃないって
saikyou janai tte
ほざいてるヤツがいる
hozaiteru YATSU ga iru
そいつを
soitsu wo
早く見つけ出せ!
hayaku mitsukedase!


この噂が
kono uwasa ga
拡散
kakusan
される前に
sareru mae ni
決着付けるぞ
kecchakutsukeru zo
見つけた あそこだ!
mitsuketa asoko sa!
お前が
omae ga
鈴木だなっ!
suzuki da na!


広がる
hirogaru
邪悪な影
jaaku na kage
うずめく
uzumeku
ダイヤモンド
DAIYAMONDO


魅せるぜ
miseru ze
いにしえの
inishie no
必殺
hissatsu
屈辱イリュージョン
kutsujoku IRYUUJON


この想い
kono omoi
ふぅ~…
fuu~...
頭突きを喰らわば
zutsuki wo kurawaba
皿までも
sara made mo


全ては
subete wa
私利私欲
shirishiyoku
名声の為
meisei no tame
世界の平和など
sekai no heiwa nado
気にはしてない
ki ni wa shitenai
降り掛かる火の粉を
furikakeru hi no ko wo
払いのけ
harai no ke
誰にも譲らない
dare ni mo yuzuranai
この頭突き
kono zutsuki


じっちゃんの名に賭け
jicchan no na ni kake
この戦いだけは
kono tatakai dake wa
負けるわけにはいかない
makeru wake ni wa ikanai
あれはお兄…いや
are wa moshikashite onii... iya
お前は
omae wa
小池か!
koike ka!


ざわめく
zawameku
自然界の
shizenkai no
止まらない
tomaranai
暴走加減
bousou kagen
このまま
kono mama
天に召されよ
ten ni mesare yo
究極
kyuukyoku
カゲロウデイズん
KAGEROU DEIZUn


これはヤバイ
kore wa YABAI
あるぇ…?
are...?
おかしい
okashii
どうしてこうなった!?
doushite kou natta!?


当たらない
ataranai
捕まらない
tsukamaranai
勝てる気がしない
kateru ki ga shinai
このまま続けば
kono mama tsuzukeba
あの世逝きだよ
ano yo iki da yo
もう一度、お風呂に
mou ichido, ofuro ni
入りたかった
hairitakatta
ごめんよ、悔しいけど
gomen yo, kuyashii kedo
コ コ マ デ カ …
KO KO MA DE KA ...


この際、プライドは抜きだ!お前を倒せれば、それで十分だ!
kono sai, PURAIDO wa nuki da! omae wo taosereba, sore de juubun da!


これ以上
kore ijou
私を
watashi wo
怒らせるな
okoraseruna
理性が消え行く
risei ga kieyuku
その前までに
sono mae made ni
頭に輝く
atama ni kagayaku
ダイヤモンドよ
DAIYAMONDO yo
正しい道へと
tadashii michi he to
導いてくれ
michibiitekure


大事な
daiji na
仲間たち
nakama-tachi
失いたくない
ushinaitakunai
楽しくこのまま
tanoshiku kono mama
続けたかった
tsuzuketakatta
でも、逃げない負けない
demo, nigenai makenai
自分のために
jibun no tame ni
頭突きは、私の
zutsuki wa, watashi no
全てなんだ
subete nanda
External links
Edit
| | |
| --- | --- |
| | Official |
| | |
| --- | --- |
| | Articles |
Ad blocker interference detected!
Wikia is a free-to-use site that makes money from advertising. We have a modified experience for viewers using ad blockers

Wikia is not accessible if you've made further modifications. Remove the custom ad blocker rule(s) and the page will load as expected.