This song article is lacking a proper background. You can help by adding one! The relevant section in the Song Article Guideline is a good starting point, and this blog post may also be helpful. We apologize for the inconvenience this may cause in the meantime.

Song pages lacking proper backgrounds are automatically sorted into this category.
©

Notice:

This song is no longer available publicly; the original upload has been ceased by the Producer. Take caution with reprints as the Producer can still claim copyright infringement.

The Vocaloid Wiki does not have a policy on lyrical contents or themes no longer being available from its original source, however, it attempts to follow the Wikia TOU, the Author must contact Administrators or Wikia Staff for such concerns.
For further discussion see Thread:107893. Ceased songs are automatically sorted into this category.

©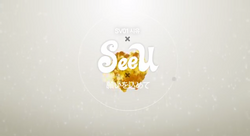 Song title
"願いを込めて"
Romaji: Negai wo Komete
Uploaded Dec. 15, 2011, with 100,000+ views
Singer(s)
SeeU
Producer(s)
Silver Bell (music, arrangement)
Fly Dragon (lyrics)
White Ssang (arrangement)
Jung Seung, Kim (mixing)
Links
Niconico Broadcast (reprint) • YouTube Broadcast (unavailable)
YouTube Broadcast (reprint, Portuguese subs)

Background
Edit
SBS Artech's very first Japanese demo song released for SeeU, and only a day before her release in Japan.
Japanese (日本語歌詞)
Romaji (ローマ字)
願いを込めて OhOhOh
negai o komete Oh Oh Oh
ねえ,やってみてよ Oh ye
nee, yatte mite yo Oh ye
自分を信じて信じて OhOhOh
jibun o shinjite ne Oh Oh Oh
何でもできるから
nande mo dekiru kara


痛みも悲しみも (全て)
itami mo kanashimi mo (subete)
吹き飛ばして笑ってよ (いつも)
fukito bashite waratte ne (itsumo)
望みを抱いて (きっと)
nozomi o idaite (kitto)
夢はかなうからね (夢はかなうからね)
yume wa kanau kara ne (Yume wa kanau kara ne)


君のそばには 私がいるよ
kimi no soba ni wa watashi ga iru yo
手をつないで 空高く飛ぼう
te o tsunaide sora takaku tobou
目を閉じて 魔法をかけてね
me o doujite mahou o kakete ne
僕らは 何でもできるよ
bokura wa nande mo dekiru yo
幸せになれるよ いつまでも
shiawase ni nareru yo itsu made mo


願いを込めて OhOhOh
negai o komete Oh Oh Oh
ねえ,やってみてよ Oh ye
nee, yatte mite yo Oh ye
自分を信じて信じて OhOhOh
jibun o shinjite ne Oh Oh Oh
何でもできるから
nande mo dekiru kara


痛みも悲しみも (全て)
itami mo kanashimi mo (subete)
吹き飛ばして笑ってよ (いつも)
fukito bashite waratte ne (itsumo)
望みを抱いて (きっと)
nozomi o idaite (kitto)
夢はかなうからね (夢はかなうからね)
yume wa kanau kara ne (yume wa kanau kara ne)


君のそばには 私がいるよ
kimi no soba ni wa watashi ga iru yo
手をつないで 空高く飛ぼう
te o tsunaide sora takaku tobou
目を閉じて 魔法をかけてね
me o doujite mahou o kakete ne
僕らは 何でもできるよ
bokura wa nande mo dekiru yo
幸せになれるよ いつまでも
shiawase ninareru yo itsu made mo


君のそばには 私がいるよ
kimi no soba ni wa watashi ga iru yo
手をつないで 空高く飛ぼう
te o tsunaide sorata kaku tobou
目を閉じて 魔法をかけてね
me o doujite mahou o kakete ne
僕らは 何でもできるよ
bokura wa nande mo dekiru yo


幸せになれるよ いつまでも
shiawase ninareru yo itsu made mo