Ad blocker interference detected!
Wikia is a free-to-use site that makes money from advertising. We have a modified experience for viewers using ad blockers

Wikia is not accessible if you've made further modifications. Remove the custom ad blocker rule(s) and the page will load as expected.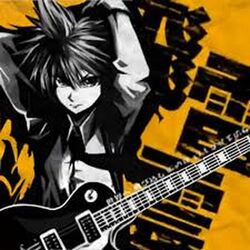 Song title
"飛雷震"
Romaji: Hi Rai Shin
(The title carries no specific point. However, each kanji character means "flying" "lightning" and "quake".)
Uploaded August 20, 2010, with 295,050+ views
Singer(s)
Kagamine Len
Producer(s)
Yuuyu-P (music)
tamajam (illust)
Acha (movie)
Links
Niconico Broadcast • YouTube Broadcast (reprint)

Background
Edit
This song is Yuuyu-P's 20th work and has entered the Hall of Fame.
Japanese (日本語歌詞)
Romaji (ローマ字)
嘘つきの空が 取り残された僕を嗤う
usotsuki no sora ga tori nokosarata boku o warau
溢れた apology 目を伏せて甘い蜜に酔う
afurata aplology me o fusete amai mitsu ni you


繰り返す言葉 「まだ、やれるさ」「もう、十分だろう」
kurikaesu kotoba "mada, yareru sa" "mou, juubun darou"
衝突する心さえ 歪んで掻き消されていく
shoutotsu suru kokoro sae yugande kaki kesarete iku


逆さまわりの陽が昇り来る 後ろ戻り道は鮮やか
sakasa mawari no hi ga norobi kuru ushiro modori michi wa azayaka
そこにもう何も無いのなら ほらね 行き止まり
sokoni mou nanimo nai no nara hora ne ikidomari


さよなら さよなら 愛した僕よ
sayonara sayonara aishita boku yo
さあ 記憶閉じ込めて
saa kioku tojikomete
辛くて 痛いよ この闇の果て
tsurakute itai yo kono yami no hate
震える僕抱いて
furueru boku daite


計画と空想 導き出した答えは0
keikaku to kuusou michibiki dashita kotae wa 0
不安と妄想の渦 鎖は繋がるまま
fuan to mousou no uzu kusari wa tsunagaru mama


欠けた黒の月が堕ちて行く 行手丑三刻二時雨
kaketa kuro no tsuki ga ochite iku yukute ushimitsukoku niji ame
そこにもし何か在るのなら 僕は 辿り着きたいよ
soko ni moshi nanika aru no nara boku wa tadori tsukitai yo


声を押し殺して泣いてる僕の そっと背中押したのはあの日の僕だ
koe o oshi koroshite naiteru boku no sotto senaka oshita nowa ano hi no boku da


さよなら さよなら 愛した僕よ
sayonara sayonara aishita boku yo
さあ 君は駆け出した
saa kimi wa kake dashita
泣かないで 泣かないで 愛する僕よ
nakanaide nakanaide aisuru boku yo
もう 独りにしないよ
mou hitori ni shinai yo


さよなら さよなら 愛した僕よ
sayonara sayonara aishita boku yo
さあ 僕を終わらせて
saa boku o owarasete
世界へ 飛び込む 雷の様
sekai e tobikomu kaminari no you
震えさせて僕ら
furue sasete bokura
Derivatives
Edit
Enatanu.'s cover

| | |
| --- | --- |
| Featuring | Enatanu. |
| Author(s) | NTropy (mix) |
| Category | Human cover |
Touyu's cover

| | |
| --- | --- |
| Featuring | Touyu |
| Author(s) | |
| Category | Human cover |
Toriko's cover

| | |
| --- | --- |
| Featuring | Toriko |
| Author(s) | |
| Category | Human cover |
Nico Nico Chorus

| | |
| --- | --- |
| Featuring | Karasu, Toriko, Yane, Bosa, Kiiino, Enatanu., Funa, Touyu |
| Author(s) | ururun (mix) |
| Category | Human chorus |
External links
Edit
| | |
| --- | --- |
| | Lyrics |