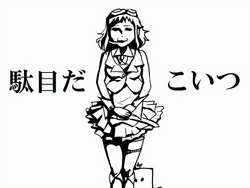 Song title
"駄目だこいつ"
Romaji: Dame da Koitsu
English: This Person is Hopeless
Uploaded November 10, 2011, with 6,000+ views
Singer(s)
GUMI
Producer(s)
Tomatofu
Links
Niconico Broadcast
Background
Edit
Tomatoufu's 15th song, a song featuring GUMI singing about hopeless people in hopeless situations.
Japanese (日本語歌詞)
Romaji (ローマ字
初めて作るビーフシチュー マジ黒コゲ異臭
hajimete tsukuru biifu shichuu maji kuro koge ishuu
貯金はたいたギター 練習しない
chokin hataita gitaa renshuushinai
セキュリティソフト入れたら 即落ちた
sekyuriti sofuto iretara sokuochita
何もしないもう何もしない
nani mo shinai mou nani mo shinai


足遅くなった 縮毛矯正効果切れた
ashiosokunatta shukumoukyousei kouka kireta
ホコリがひっついた ああハゲちゃった
hokori ga hittsuita aa hagechatta
ページが取れた 歯垢が歯石になった
peeji ga toreta shikou ga shiseki ni natta
テスト成績右下がり
tesuto seiseki migisagari


動画のタグ消えとるがな タグ消し厨粘着
douga no tagu kietoru ga na tagu keshichuu nenchaku
どこまで構ってちゃん 駄目だこいつ
doko made kamattechan dame da koitsu




久しぶりに見るアイドル 夢壊れる劣化
hisashiburi ni miru aidoru yumekowareru rekka
ドラえもん声優 まだ慣れない
doraemon seiyuu mada narenai
毎週靴下一足 穴が開く
maishuu kutsushita issoku ana ga aku
何か嫌だもう何か嫌だ
nanika iya da mou nanika iya da


スネ毛濃くなった イヤホン片方壊れた
sunege kokunatta iyahon katahou kowareta
漫画が大量だ ああ薄いのも
manga ga dairyou da aa usui no mo
まだスマホじゃない コンタクトレンズ痛い
mada sumaho janai kontakuto renzu itai
総理大臣また変わり
souridaijin mata kawari


勝手なリムーブ腹が立つ お前の影響かい
katte na rimuubu hara ga tatsu omae no eikyou kai
「リムーブさせてもらいます」 駄目だこいつ
"rimuubusasetemoraimasu" dame da koitsu
Ad blocker interference detected!
Wikia is a free-to-use site that makes money from advertising. We have a modified experience for viewers using ad blockers

Wikia is not accessible if you've made further modifications. Remove the custom ad blocker rule(s) and the page will load as expected.