Ad blocker interference detected!
Wikia is a free-to-use site that makes money from advertising. We have a modified experience for viewers using ad blockers

Wikia is not accessible if you've made further modifications. Remove the custom ad blocker rule(s) and the page will load as expected.
!

Warning:

This song contains explicit lyrics and themes; it may be inappropriate for younger audiences.

The Vocaloid Wiki does not have a policy on lyrical content or theme; however, it attempts to follow the Wikia TOU.
For further discussion see Thread:68883. Explicit songs are automatically sorted into this category.

!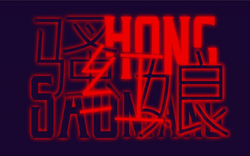 Song title
"骚红娘"
Traditional Chinese: 騷紅娘
Pinyin: Sāo Hóngniáng
English: Slutty Red Maiden
Uploaded July 30, 2015, with 120,000+ views
Singer(s)
Yuezheng Ling
Producer(s)
Wugui (compose, arrange, lyrics, video editor)
OQQ (tuning)
Xin-Kun (mixing)
Lengee (logo)
Links
YouTube Broadcast (reprint)
bilibili Broadcast

Background
Edit
"Sāo Hóngniáng" is an original Yuezheng Ling song. The song is about a girl who tries to look for her love in a night club and the lyrics consists of sexual euphemism.
This song has exceeded 100,000 views on bilibili.
Chinese (中文歌词)
Pinyin (拼音)
舞台上放纵呐喊 摆脱开所有无奈
Wutai shang fangzong nahan baituo kai suoyou wunai
一切都随风消散 今夜在摇摆中忘荒诞
Yiqie dou sui feng xiaosan jinye zai yaobai zhong wang huangdan
抛下麻烦 再一次放纵呐喊
Pao xia mafan zai yici fangzong nahan
汗水会随风消散
Hanshui hui sui feng xiaosan
谁和我一起来欢到夜半
Shui he wo yi qilai huan dao yeban


愚昧的人妄图离开
Yumei de ren wangtu likai
扭动滑稽身躯 下贱放出尖叫
Niu dong huaji shenqu xiajian fangchu jian jiao
看谁回来 在此一搏
Kan shui huilai zai ci yi bo
我让你哪三分 也请让我愉悦
Wo rang ni na san fen ye qing rang wo yuyue


招牌下 精字的号角
Zhaopai xia jing zi de haojiao
是谁来淹没了红地毯却装作没问题
Shi shui lai yanmole hong ditan que zhuang zuo mei wenti


两白点 夹杂着硕体
Liang bai dian jiazazhe shuo ti
越发越炙热的搏动着
Yuefa yue zhire de bodongzhe
是谁触及巅峰
Shi shui chuji dianfeng


舞台上放纵呐喊 摆脱开所有无奈
Wutai shang fangzong nahan baituo kai suoyou wunai
一切都随风消散 今夜在摇摆中忘荒诞
Yiqie dou sui feng xiaosan jinye zai yaobai zhong wang huangdan
抛下麻烦 再一次放纵呐喊
Pao xia mafan zai yici fangzong nahan
汗水会随风消散
Hanshui hui sui feng xiaosan
谁和我一起来欢到夜半
Shui he wo yi qilai huan dao yeban


舞台上放纵呐喊 摆脱开所有无奈
Wutai shang fangzong nahan baituo kai suoyou wunai
一切都随风消散 今夜在摇摆中忘荒诞
Yiqie dou sui feng xiaosan jinye zai yaobai zhong wang huangdan
抛下麻烦 再一次放纵呐喊
Pao xia mafan zai yici fangzong nahan
汗水会随风消散
Hanshui hui sui feng xiaosan
谁和我一起来欢到夜半
Shui he wo yi qilai huan dao yeban


最后在 爱的迷宫里
Zuihou zai ai de migong li
迷失了所有自我感觉
Mishile suoyou ziwo ganjue
沉浸在热吻下
Chenjin zai re wen xia


三二一 倒数着几分
San'eryi daoshuzhe ji fen
离开后所谓的那温柔
Likai hou suowei di na wenrou
也不过是放纵
Ye buguo shi fangzong
External links
Edit
| | |
| --- | --- |
| | Lyrics |