Ad blocker interference detected!
Wikia is a free-to-use site that makes money from advertising. We have a modified experience for viewers using ad blockers

Wikia is not accessible if you've made further modifications. Remove the custom ad blocker rule(s) and the page will load as expected.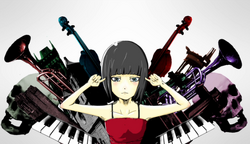 Song title
"骸骨楽団とリリア"
Romaji: Gaikotsu Gakudan to Riria
English: Skeleton Orchestra and Lilia
Uploaded June 18, 2011, with 1,363,720+ views
Singer(s)
Hatsune Miku
Producer(s)
Tohma (music, lyrics, illust)
Links
Niconico Broadcast
Background
Edit
This song was uploaded to NicoNico on June 18, 2011. It is currently Tohma's Second most popular work, only slightly behind Envy Cat Walk in view count. The song was featured in the Exit Tunes Compliation Vocalocluster. It entered the Hall of Legend on the April 5th, 2014.
The lyrics, themselves, are rather nonsensical, and the meaning depends on one's own interpretation. A popular assumption is that it is about a girl singing to the boy that either chooses to ignore her or cannot hear her.
The song was featured in the games Hatsune Miku Project mirai 2 and Hatsune Miku -Project DIVA- Arcade Future Tone.
Succeeding versions
Edit
Japanese (日本語歌詞)
Romaji (ローマ字)
無口な神様が 音を捨てて傾いた
mukuchi na kamisama ga oto o sutete katamuita
泣き虫夜空 涙ぐんだ
nakimushi yozora namidagunda
月夜に聞かせるの 誰も知らない歌
tsukiyo ni kikaseru no dare mo shiranai uta
灰色劇場 窓辺のオリオンと
haiiro gekijou madobe no Orion to


何度だって聞こえる 一人きりの拙い声
nando datte kikoeru hitorikiri no tsutanai koe
錆び付いた楽器が 海原で幻想を奏でてた
sabitsuita gakki ga unabara de gensou o kanadeteta
夢の中覚えた 音色たちをただ集めて
yume no naka oboeta neiro tachi o tada atsumete
芽吹くように紡いだ
mebuku you ni tsumuida
星巡りの歌が届かない
hoshimeguri no uta ga todokanai


ほら
hora
歌ってたって 泣いた ひとり
utattetatte naita hitori
浮かんで舞った音楽祭
ukande matta ongakusai
君は聞こえる? ロミア ロミア
kimi wa kikoeru? Romia Romia
何年経って逢えた音に
nannen tatte aeta oto ni
魔法みたいな恋をしたり
mahou mitai na koi o shitari
気が付かないように
ki ga tsukanai you ni


言葉を飲み干した 退屈な国の人が
kotoba o nomihoshita taikutsu na kuni no hito ga
失くしたモノを探してた
nakushita mono o sagashiteta
鏡を塞いでた 溶けたアンティークな日々
kagami o fusaideta toketa antiiku na hibi
火星の廃墟 真昼のカシオペア
kasei no haikyo mahiru no Kashiopea


何度だって聞こえる 忘れていた音の雨に
nando datte kikoeru wasurete ita oto no ame ni
絵に描いた骸骨は 孤独な想像を埋めるようで
e ni kaita gaikotsu wa kodoku na souzou o umeru you de
遠くなって溺れて 霞む空は知らないまま
tooku natte oborete kasumu sora wa shiranai mama
降りそそぐ世界へ連れて行って
furisosogu sekai e tsurete itte


ねえ
nee
潤んで咲いた遠い国に
urunde saita tooi kuni ni
馳せる思い くすんだ瞳
haseru omoi kusunda hitomi
星に願いを ロミア ロミア
hoshi ni negai o Romia Romia
門をくぐって霧を抜けて
mon o kugutte kiri o nukete
奪い去ったって会いに行こう
ubai sattatte ai ni ikou
囁きを頼りに
sasayaki o tayori ni


歩く街並み 硝子瓶の冬
aruku machinami garasubin no fuyu
何処かの映画のようね
dokoka no eiga no you ne
細く長い線路の上でさ
hosoku nagai senro no ue de sa
私に色を付けて
watashi ni iro o tsukete


触れてすぐ剥がれてしまう
furete sugu hagarete shimau
儚く静かな朝に
hakanaku shizukana asa ni
見つけた音の欠片
mitsuketa oto no kakera


ほら
hora
歌ってたって 泣いた ひとり
utattetatte naita hitori
浮かんで舞った音楽祭
ukande matta ongakusai
君は聞こえる ロミア ロミア
kimi wa kikoeru? Romia Romia
何年経って逢えた音に
nannen tatte aeta oto ni
魔法みたいな恋をしたり
mahou mitai na koi o shitari
眠るように冷める前に
nemuru you ni sameru mae ni


目を閉じて手をあてて
me o tojite te o atete
奥底の鼓動を聞いた
okusoko no kodou o kiita
途切れない旋律を
togirenai senritsu o
名もなき君へと
na mo naki kimi e to
Derivatives
Edit
Nico Nico Chorus

| | |
| --- | --- |
| Featuring | Various NicoSingers |
| Author(s) | |
| Category | Chorus |
Shoga's PV

| | |
| --- | --- |
| Featuring | Hatsune Miku |
| Author(s) | Shoga |
| Category | Fanmade PV |
Dragon Napori's PV

| | |
| --- | --- |
| Featuring | Hatsune Miku |
| Author(s) | Dragon Napori |
| Category | Fandmade PV |
Yuki's PV

| | |
| --- | --- |
| Featuring | Hatsune Miku |
| Author(s) | Yuki |
| Category | Fanmade PV |
Rondasu's PV

| | |
| --- | --- |
| Featuring | Hatsune Miku |
| Author(s) | Rondasu |
| Category | Fandmade PV |
Wasabi's PV

| | |
| --- | --- |
| Featuring | Hatsune Miku |
| Author(s) | Wasabi |
| Category | Fanmade PV |
Fanmade Project Diva PV

| | |
| --- | --- |
| Featuring | Hatsune Miku |
| Author(s) | Runoka |
| Category | Fanmade PV |
External links
Edit
| | |
| --- | --- |
| | Articles |
| | |
| --- | --- |
| | Downloads |