Ad blocker interference detected!
Wikia is a free-to-use site that makes money from advertising. We have a modified experience for viewers using ad blockers

Wikia is not accessible if you've made further modifications. Remove the custom ad blocker rule(s) and the page will load as expected.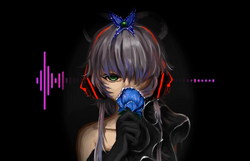 Song title
"魔女的舞宴"
Pinyin: Mónǚ De Wǔ Yàn
English: Witch's Dance Party
Uploaded February 15, 2013, with 150,000+ views
Singer(s)
Luo Tianyi
Producer(s)
鸟爷ToriSama (lyrics, music)
伍号 (PV)
夕行妖 (illust)
Links
YouTube Broadcast (reprint)
bilibili Broadcast

Background
Edit
An original Luo Tianyi song.  The PV also features VOCALOID CHINA character, Zhiyu Moke. In this song, witches come out to seek and hunt down humans at their parties. Then the witch would seduce their victims and capture them, keeping them for all eternity.
This song has exceeded 100,000 views on bilibili
Chinese (中文歌词)
Pinyin (拼音)
耳边传来凌乱破碎的鼓点
er bian chuan lai lingluan posui de gudian
眼前矗立昏暗华丽的圣殿
yanqian chuli hun'an huali de sheng dian
微笑着对迷途的人说一句
weixiaozhe dui mitu de ren shuo yiju
欢迎来到魔女的舞宴
huanying lai dao monü de wu yan


卸下那些无关紧要的尊严
xie xia naxie wuguan jinyao de zunyan
忽略来自他人的讨厌视线
hulüe laizi taren de taoyan shixian
遵从体内蠢蠢欲动的本能
zuncong tinei chunchunyudong de benneng
在这狂欢的一夜
zai zhe kuanghuan de yiye


停滞的时间虚幻的空间 烦恼的事情让我来帮你化解
tingzhi de shijian xuhuan de kongjian fannao de shiqing rang wo lai bang ni huajie
何必挣扎在道德与理性边缘
hebi zhengzha zai daode yu lixing bianyuan
嘴上在拒绝身体却喜悦 不诚实的人渴求新鲜肉与血
zui shang zai jujue shenti que xiyue bu chengshi de ren keqiu xinxian rou yu xue
让我多看看你那张有些欲拒还迎的脸 整夜
rang wo duo kan kan ni na zhang youxie yu ju hai ying de lian zheng ye


耳边甜腻的喘息无法停歇
er bian tian ni de chuanxi wufa tingxie
眼前划过脸颊的鲜红指尖
yanqian huaguo lianjia de xianhong zhi jian
尽情享受秘密果实的甘甜
jinqing xiangshou mimi guoshi de gantian
属于你我的舞宴
shuyu ni wo de wu yan


混乱的思绪暧昧的语言 还有什么想传达到让我听见
hunluan de sixu aimei de yuyan hai you she me xiang chuanda dao rang wo tingjian
只要顺从于我就都帮你实现
zhiyao shuncong yu wo jiu dou bang ni shixian
为何不签下完美的契约 要知道魔女从来就没有谎言
weihe bu qian xia wanmei de qiyue yao zhidao monü conglai jiu meiyou huangyan
不过只需要这双手十指交扣的一瞬间 改变
buguo zhi xuyao zhe shuangshou shizhi jiao kou de yi shunjian gaibian


高仿品一般的眉眼
gao fang pin yiban de meiyan
腐朽后堕落的根源
fuxiu hou duoluo de genyuan
失去后终又回到身边 缀成永远
shiqu hou zhong you hui dao shenbian zhui cheng yongyuan


停滞的时间虚幻的空间 烦恼的事情让我来帮你化解
tingzhi de shijian xuhuan de kongjian fannao de shiqing rang wo lai bang ni huajie
何必挣扎在道德与理性边缘
hebi zhengzha zai daode yu lixing bianyuan
嘴上在拒绝身体却喜悦 不诚实的人渴求新鲜肉与血
zui shang zai jujue shenti que xiyue bu chengshi de ren keqiu xinxian rou yu xue
让我多看看你那张欲拒还迎的脸
rang wo duo kan kan ni na zhang yu ju hai ying de lian


别再逃别再跑明明就躲不掉 我看到你在笑我知道你想要
bie zai tao bie zai pao mingming jiu duo bu diao wo kan dao ni zai xiao wo zhidao ni xiang yao
什么都不会少这里就是天堂 你所有的欲望我都满足的了
shenme dou bu hui shao zheli jiushi tiantang ni suoyou de yuwang wo du manzu dele
放下所有骄傲你由我来驯养 在你的躯体上烙下我的记号
fangxia suoyou jiao'ao ni you wo lai xunyang zai ni de quti shang lao xia wo de jihao
空气中弥散着漂白过的味道 我知道你一定愉悦到就快要死掉 闪耀
kongqi zhong misanzhe piaobaiguo de weidao wo zhidao ni yiding yuyue dao jiu kuaiyao si diao shanyao


已经...不会让你再...逃跑了
yijing... bu hui rang ni zai... taopaole