Ad blocker interference detected!
Wikia is a free-to-use site that makes money from advertising. We have a modified experience for viewers using ad blockers

Wikia is not accessible if you've made further modifications. Remove the custom ad blocker rule(s) and the page will load as expected.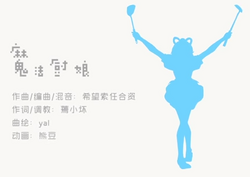 Song title
"魔法厨娘"
Traditional Chinese: 魔法廚娘
Pinyin: Mófǎ Chú Niáng
English: Magical Kitchen Girl
Uploaded July 23, 2015, with 290,000+ views
Singer(s)
Luo Tianyi, YANHE, and Yuezheng Ling
Producer(s)
Xiwang Suo Ren Hezi (compose, arrange, mixing)
Nian Xiao Huai (lyrics, tuning)
Xiong Dou (video editor)
Yal (illustrator)
Links
YouTube Broadcast (reprint)
bilibili Broadcast

Background
Edit
"Mófǎ Chú Niáng" is an original trio song featuring Luo Tianyi, YANHE, and Yuezheng Ling. It is divided into three chapters. The first is about a girl, Tianyi, who wants to become a great cook. She forces YANHE to taste test them, who reacts by fainting or bleeding as if the food were poisonous and trying desperately to escape. Frustrated that she cannot cook very well, Tianyi decides to learn from a master. In the second chapter, she asks Ling to teach her and drags YANHE along to taste test more meals. Ling explains why she is bad at cooking, and in the third chapter she learns to put emotion into food instead of following recipes. After many, many more attempts, Tianyi learns what it is to be a cook.
This songs has exceeded 100,000 views on bilibili.
| | | | | | | | |
| --- | --- | --- | --- | --- | --- | --- | --- |
| Singer | Luo Tianyi | YANHE | Yuezheng Ling | Tianyi and YANHE | Tianyi and Ling | YANHE and Ling | All |
| Color | 66CCFF | Light Blue | Crimson | Navy | Purple | Green | Black |
Chinese (中文歌词)
Pinyin (拼音)

一點點製作著各色美味

yidian dian zhizuozhe gese meiwei

用盡全力給予味蕾以及心靈最大化滿足

yong jin quanli jiyu weilei yiji xinling zuida hua manzu

一點點烹飪著生活百味

yidian dian pengrenzhe shenghuo baiwei

用心演繹著一道道人生酸甜辣苦

yongxin yanyizhe yidao dao rensheng suan tian la ku

我的味覺體驗我來做主

wo de weijue tiyan wo lai zuozhu




櫃子裡紅燒牛肉小雞燉蘑菇

guizi li hongshao niurou xiao ji dun mogu

各種口味泡面我吃得想吐

gezhong kouwei pao mian wo chi de xiang tu

聽說天依今天在家裡下廚

ting shuo tianyi jintian zai jiali xia chu

倒不如蹭頓飯填飽肚

dao buru ceng dun fan tian bao du




今天的晚餐做的是糖醋排骨

jintian de wancan zuo de shi tang cu paigu

揭開鍋裡裡面一片黑乎乎

jie kai guo li limian yipian hei hu hu

這種東西吃下去真的大丈夫

zhe zhong dongxi chi xiaqu zhen de dazhangfu

不如找言和來試下毒

buru zhao yanhe lai shi xia du




火候和刀工都不夠工夫

huohou he daogong dou bugou gongfu

選食材的本事也還遠遠不夠最基本段數

xuan shicai de benshi ye hai yuan yuan bugou zui jiben duan shu

做飯時偶爾有點小迷糊

zuo fan shi ou'er youdian xiao mihu

糖鹽味精各種調料傻傻分不清楚

tang yan weijing gezhong tiaoliao sha sha fen bu qingchu

我想我應該去拜個師傅

wo xiang wo yinggai qu bai ge shifu

努力練習廚藝本領再學會幾個拿手菜譜

nuli lianxi chu yi benling zai xuehui ji ge nashou caipu

像我這樣的聰明又刻苦

xiang wo zheyang de congming you keku

有朝一日一定能當一個絕世大廚

youzhaoyiri yiding neng dang yige jueshi da chu

不要小看吃貨廚藝天賦

buyao xiao kan chihuo chu yi tianfu




從此我冬練三九夏天練三伏

congci wo dong lian sanjiu xiatian lian sanfu

尋訪遍閩浙桂湘粵蘇川魯

xunfang bian min zhe gui xiang yue su chuan lu

不管是煎炒烹炸燉煨醬滷

buguan shi jian chao peng zha dun wei jiang lu

都是我拿手的好功夫

dou shi wo nashou de hao gongfu




小徒兒精神可嘉經驗卻不足

xiao tu er jingshen ke jia jingyan que buzu

想做出好菜不能只靠菜譜

xiang zuo chu hao cai buneng zhi kao caipu

烹飪是技巧更是一門藝術

pengren shi jiqiao geng shi yimen yishu

需要到生活中去感悟

xuyao dao shenghuo zhong qu ganwu




借來悲傷炒成涼瓜的苦

jie lai beishang chao cheng liang gua de ku

再把誰的心酸偷來

釀成一瓶陳年的老醋

zai ba shui de xinsuan tou lai

niang cheng yi ping chen nian de lao cu

把歡樂甜蜜都做成甜點

ba huanle tianmi dou zuo cheng tiandian

包裹上滿滿紅豆

咬一口滿是幸福

baoguo shang man man hongdou

yao yikou man shi xingfu

有誰的冷漠是零下四度

you shui de lengmo shi lingxia si du

凝結成為冰塊鎮上幾瓶啤酒一定

會很酷

ningjie chengwei bing kuai zhen shang ji ping pijiu yiding

hui hen ku

那邊的大叔你不要發怒

na bian de dashu ni buyao fanu

把你的火氣送

我做一鍋麻辣燒肚

ba ni de huoqi song wo

zuo yi guo mala shao du

還要外加一盤麻婆豆腐
hai yao waijia yi pan ma po doufu



人生中多少的喜怒哀樂

rensheng zhong duoshao de xi nu aiyue

被人們烹飪成佳餚最終一一端上了餐桌

bei renmen pengren cheng jiayao zuizhong yiyi duan shangle canzhuo

又有多少段的悲歡離合

you you duoshao duan de beihuanlihe

用味覺記憶流轉千年成為了傳說

yong weijue jiyi liuzhuan qiannian cheng wei le chuanshuo

每一個食客都有一道菜
mei yige shike dou you yidao cai
永遠都銘記在內心深處最柔軟的那個角落
yongyuan dou mingji zai neixin shen chu zui rouruan di nage jiaoluo
認真地烹飪著我的生活
renzhen di pengrenzhe wo de shenghuo
最平凡的美味也是最簡單的快樂
zui pingfan di meiwei yeshi zui jiandan de kuaile
只要用心就會有所收穫
zhiyao yongxin jiu hui you suo shouhuo