Ad blocker interference detected!
Wikia is a free-to-use site that makes money from advertising. We have a modified experience for viewers using ad blockers

Wikia is not accessible if you've made further modifications. Remove the custom ad blocker rule(s) and the page will load as expected.
This song article is lacking a proper background. You can help by adding one! The relevant section in the Song Article Guideline is a good starting point, and this blog post may also be helpful. We apologize for the inconvenience this may cause in the meantime.

Song pages lacking proper backgrounds are automatically sorted into this category.
!

Warning:

This song contains questionable lyrics and themes (

Violence

); it may be inappropriate for younger audiences.

The Vocaloid Wiki does not have a policy on lyrical content or theme; however, it attempts to follow the Wikia TOU.
For further discussion see Thread:68883. Questionable songs are automatically sorted into this category.

!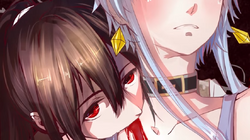 Song title
"鲜血循环"
Traditional Chinese: 鮮血循環
Pinyin: Xiānxiě Xúnhuán
English: Blood Circulation
Uploaded January 1, 2016, with 200,000+ views
Singer(s)
Luo Tianyi, Yuezheng Ling
Producer(s)
Heibai-P (compose, arrange, tuning, video editor)
Dao Ji (lyrics)
Chlore, Tang (illustrators)
Links
YouTube Broadcast (reprint)
bilibili Broadcast

Background
Edit
"Xiānxiě Xúnhuán" is an original duet song featuring Luo Tianyi and Yuezheng Ling.
This song has exceeded 100,000 views on bilibili.
Singer + Color
Tianyi
Ling
Chinese (中文歌词)
Pinyin (拼音)

花朵 簇拥在我身旁

huaduo cuyong zai wo shen pang

少女们为我歌唱

shaonumen wei wo gechang

烟火 绽放在天空上

yanhuo zhanfang zai tiankong shang

人群中全是欢笑

renqun zhong quan shi huanxiao

这一刻 期待惩罚

zhe yike qidai chengfa

卑微的跪下

beiwei de gui xia

这一刻 渴望痛痒

zhe yike kewang tongyang

说羞耻的 话

shuo xiuchi dehua

这灵魂 的漏洞

zhe linghun de loudong

路西法 来进出

lu xifa lai jinchu




死亡是种邀请 窒息加快呼吸

siwang shi zhong yaoqing zhixi jiakuai huxi

仰望我鲜红色眼睛 裸露你的秘密

yangwang wo xianhong se yanjing luolu ni de mimi

倾听这秒寂静 猜测下秒的谜语

qingting zhe miao jijing caice xia miao de miyu

亲吻你留下我的红色痕迹

qinwen ni liu xia wo de hongse henji




触摸骨髓的病 轻舔黑色荆棘

chumo gusui de bing qing tian heise jingji

沉浮在鲜红色感情 快放弃你自己

chenfu zai xianhong se ganqing kuai fangqi ni ziji

放肆你的恐惧 这痛苦深得我心

fangsi ni de kongju zhe tongku shen de wo xin

瓦解你 沦陷在我 血之潮汐里

wajie ni lunxian zai wo xue zhi chaoxi li




长袍 侍女为我戴上 皇冠闪耀着金光

changpao shinu wei wo dai shang huangguan shanyaozhe jinguang

失落 埋藏在我眼角 马车上保持微笑

shiluo maicang zai wo yanjiao mache shang baochi weixiao

这一刻 等待鞭挞 任魔鬼戏耍

zhe yike dengdai bianta ren mogui xishua

这一刻 想被捆绑 软弱的哭叫

zhe yike xiang bei kunbang ruanruo de ku jiao




喧嚣世界中聆听你的祈祷

xuanxiao shijie zhong lingting ni de qidao

我从阴影中醒来

wo cong yinying zhong xing lai

你在眼神里隐藏着狂潮

ni zai yanshen li yincangzhe kuangchao

与我去人间之外

yu wo qu renjian zhi wai




死亡是种邀请 折磨是种启示

siwang shi zhong yaoqing zhemo shi zhong qishi

仰望我鲜红色眼睛 裸露你的秘密

yangwang wo xianhong se yanjing luolu ni de mimi

服从绝对命令 诈欺信仰的上帝

fucong juedui mingling zha qi xinyang de shangdi

亲吻你留下我的红色痕迹

qinwen ni liu xia wo de hongse henji




坠落罪恶深渊 探索荆棘花园

zhuiluo zui'e shenyuan tansuo jingji huayuan

沉浮在鲜红色感情 快放弃你自己

chenfu zai xianhong se ganqing kuai fangqi ni ziji

放肆你的恐惧 这痛苦深得我心

fangsi ni de kongju zhe tongku shen de wo xin

瓦解你 沦陷在我 血之潮汐里

wajie ni lunxian zai wo xue zhi chaoxi li
External links
Edit
| | |
| --- | --- |
| | Articles |