Ad blocker interference detected!
Wikia is a free-to-use site that makes money from advertising. We have a modified experience for viewers using ad blockers

Wikia is not accessible if you've made further modifications. Remove the custom ad blocker rule(s) and the page will load as expected.
This song article is lacking a proper background. You can help by adding one! The relevant section in the Song Article Guideline is a good starting point, and this blog post may also be helpful. We apologize for the inconvenience this may cause in the meantime.

Song pages lacking proper backgrounds are automatically sorted into this category.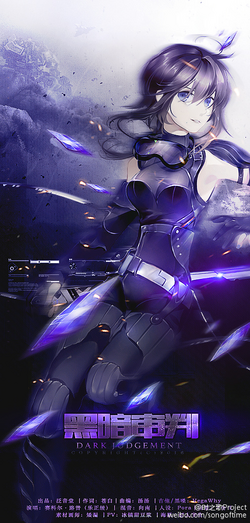 Song title
"黑暗审判"
Traditional Chinese: 黑暗審判
Pinyin: Hēi'àn Shěnpàn
Official English: Dark Judgement
Uploaded April 9, 2016, with 130,000+ views
Singer(s)
Yuezheng Ling
Luo Tianyi (dialogue)
Producer(s)
Tang Tang (compose, arrange)
Cangbai (lyrics)
Ren Yi Daren (mastering, mixing)
Jiang Wu Luan Wan (tuning)
Pora, A She Zhang, Ai Lou (illustrators)
Bingzhen Tian Doujiang (video editor)
Xianren Bansheng (uploader)
Links
YouTube Broadcast (reprint)
bilibili Broadcast
5SING Broadcast

Background
Edit
"Dark Judgement" is an original song featuring Yuezheng Ling, with Luo Tianyi speaking a line of dialogue. It is the sixth song in the Song of Time series.
This song has exceeded 100,000 views on bilibili.
Preceding versions
Edit
Mario's Version

| | |
| --- | --- |
| Featuring | Mario |
| Author(s) | Tang Tang (compose, arrange), Cangbai (lyrics), VegaWhy (guitar), Xiang Nan (mixing), REI, A She Zhang, Ai Lou (illustrators), Bingzhen Tian Doujiang (video editor), Xianren Bansheng (uploader), Mario (vocals) |
| Category | Preceding version, human cover |
Chinese (中文歌词)
Pinyin (拼音)
白色灯光有飞蛾萦绕
baise dengguang you fei e yingrao
扑上纱罩像垂死讯号
pu shang shazhao xiang chuisi xunhao
是谁在咆哮 深夜和寂静来撕咬
shi shei zai paoxiao shenye he jijing lai si yao
简直无理取闹
jianzhi wuliqunao
颤抖双手犹豫地祈祷
chandou shuangshou youyu de qidao
眼泪抹掉是否太可笑
yanlei mo diao shifou tai kexiao
在阴影之间 我把一切全都藏好
zai yinying zhi jian wo ba yiqie quandou cang hao
要开始死亡
yao kaishi siwang
舞蹈 Right now 毒药真无聊
wudao Right now duyao zhen wuliao
尖叫惊嚎 我完全不想要听到
jian jiao jing hao wo wanquan buxiang yao ting dao


轻狂之冕 黑暗之巅
qingkuang zhi mian hei'an zhi dian
让混乱世界重新改写契约
rang hunluan shijie chongxin gaixie qiyue
鲜血裁决 穿破所有虚伪谎言
xianxie caijue chuan po suoyou xuwei huangyan
我掌控无尽黑夜 不要黑色双眼
wo zhangkong wujin heiye buyao heise shuangyan
让罪恶灵魂看到我的轻蔑
rang zui'e linghun kan dao wo de qingmie
无需再狡辩 没人可以听见
wuxu zai jiaobian mei ren keyi tingjian
生与死就在瞬间
sheng yu si jiu zai shunjian


空荡房间有人在打扰
kong dang fangjian youren zai darao
轻轻悄悄却心惊肉跳
qing qing qiaoqiao que xinjingroutiao
她推开门来 脚步声像扭曲哭号
ta tui kai men lai jiaobu sheng xiang niuqu ku hao
翘着浮夸眉梢
qiaozhe fukua meishao
血色双唇往耳边说教
xuese shuang chun wang er bian shuojiao
甜蜜恶谣真令人烦恼
tianmi e yao zhen ling ren fannao
我不动声色 只当做什么都没有看到
wo bu dong shengse zhi dangzuo shenme dou meiyou kan dao
快随我微笑 SMILE OUT 理由不重要
kuai sui wo weixiao SMILE OUT liyou bu zhongyao
时间请停消 全身已经快要燃烧
shijian qing ting xiao quanshen yijing kuaiyao ranshao


轻狂之冕 黑暗之巅
qingkuang zhi mian hei'an zhi dian
让混乱世界重新改写契约
rang hunluan shijie chongxin gaixie qiyue
鲜血裁决 穿破所有虚伪谎言
xianxie caijue chuan po suoyou xuwei huangyan
我掌控无尽黑夜 不要黑色双眼
wo zhangkong wujin heiye buyao heise shuangyan
让罪恶灵魂看到我的轻蔑
rang zui'e linghun kan dao wo de qingmie
无需再狡辩 没人可以听见
wuxu zai jiaobian mei ren keyi tingjian
生与死就在瞬间
sheng yu si jiu zai shunjian


轻狂之冕黑暗之巅
qingkuang zhi mian hei'an zhi dian
黑夜不要黑色双眼
heiye buyao heise shuangyan


轻狂之冕 黑暗之巅
qingkuang zhi mian hei'an zhi dian
让混乱世界重新改写契约
rang hunluan shijie chongxin gaixie qiyue
鲜血裁决 穿破所有虚伪谎言
xianxie caijue chuan po suoyou xuwei huangyan
我掌控无尽黑夜 不要黑色双眼
wo zhangkong wujin heiye buyao heise shuangyan
让罪恶灵魂看到我的轻蔑
rang zui'e linghun kan dao wo de qingmie
无需再狡辩 没人可以听见
wuxu zai jiaobian mei ren keyi tingjian
生与死就在瞬间
sheng yu si jiu zai shunjian
刀划过一瞬之间
dao huaguo yishun zhi jian