Ad blocker interference detected!
Wikia is a free-to-use site that makes money from advertising. We have a modified experience for viewers using ad blockers

Wikia is not accessible if you've made further modifications. Remove the custom ad blocker rule(s) and the page will load as expected.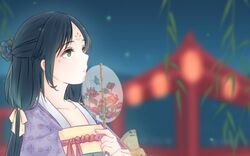 Song title
"點妝謠"
Simplified Chinese: 点妆谣
Pinyin: Diǎn Zhuāng Yáo
Uploaded August 27, 2014, with 250,000+ views
Singer(s)
Luo Tianyi
Producer(s)
阿原 (compose, arrange, mixing)
L (lyrics)
Muu (illust)
Vermouth (mastering, PV)
Links
YouTube Broadcast (reprint)
bilibili Broadcast

Background
Edit
"Diǎn Zhuāng Yáo" is an original Luo Tianyi song.
This song has exceeded 100,000 views on bilibili.
Chinese (中文歌词)
Pinyin (拼音)
颜凝雪,胭脂淡淡,一抹
yan ning xue, yanzhi dandan, yimo
朱唇启,露出浅浅,梨涡
zhuchun qi, luchu qian qian, li wo
盈盈语,寒露化春波,春光沱沱
yingying yu, hanlu hua chun bo, chunguang tuo tuo
嫣嫣笑,倾城倾国
yan yan xiao, qingchengqingguo


生花妙笔,丹青宝墨,绘不出那轮廓
shenghua miaobi, danqing bao mo, hui bu chu na lunkuo
时光荏苒,青春错过,多少才子蹉跎
shiguang renran, qingchun cuoguo, duoshao caizi cuotuo
看人面改,桃花零落,更叹春风寂寞
kan ren mian gai, taohua lingluo, geng tan chunfeng jimo
青丝沉默,琵琶声声诉说
qingsi chenmo, pipa sheng sheng sushuo


秋风起,窗外梧桐,婆娑
qiufeng qi, chuangwai wutong, posuo
红罗帐 ,琴前款款,凝坐
hong luo zhang, qin qian kuan kuan, ning zuo
纤纤手,古韵生花朵,花开灼灼
xian qian shou, guyun sheng huaduo, hua kai zhuozhuo
轻轻舞,仙影绰绰
qing qing wu, xian ying chuo chuo


容颜绝色,粉妆玉琢,怎把眉头紧锁
rongyan juese, fen zhuang yu zhuo, zen ba meitou jin suo
柳絮飘萍,浮沉随波,风吹雨打漂泊
liuxu piao ping, fuchen sui bo, feng chui yu da piaobo
佳人乱世,家国沦落,处处狼烟烽火
jiaren luanshi, jia guo lunluo, chuchu langyan fenghuo
恨身娇弱,不能快意巾帼
hen shen jiao ruo, buneng kuaiyi jinguo
容颜绝色,粉妆玉琢,怎把眉头紧锁
rongyan juese, fen zhuang yu zhuo, zen ba meitou jin suo
柳絮飘萍,浮沉随波,风吹雨打漂泊
liuxu piao ping, fuchen sui bo, feng chui yu da piaobo
佳人乱世,国亡家破,皆说红颜有错
jiaren luanshi, guo wang jia po, jie shuo hongyan you cuo
丽质成祸,红颜天妒命薄
lizhi cheng huo, hongyan tian du ming bao
External links
Edit
| | |
| --- | --- |
| | Lyrics |