Ad blocker interference detected!
Wikia is a free-to-use site that makes money from advertising. We have a modified experience for viewers using ad blockers

Wikia is not accessible if you've made further modifications. Remove the custom ad blocker rule(s) and the page will load as expected.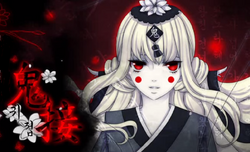 Song title
"귀접"
Romaja: Gwijeop
English: Ghost Wedding
Uploaded June 6, 2012, with 490,000+ views
Singer(s)
SeeU
Producer(s)
Team Sweet Dream
Caiainism (producer, mixing)
MFrain (SeeU operator)
Pumpkin (music video)
Links
YouTube Broadcast
Background
Edit
This song is a sequel of 몽상뢰 (Mongsangroe). This song tells the story of a girl who was so heartbroken by losing her lover, she died. Her spirit, left behind with remorse, remained in the natural world, haunting the same forest that they separated from. However, being determined to stay with him forever, she lured him into the woods as a beautiful ghost, and convinced his spirit to stay with her forever. In the end, she feels remorse for taking his spirit away and causing his new love to feel sorrow like she did. However, she does remain with her love once again, as spirits.
Korean (한국어 가사)
Romaja (로마자)
명월야, 서리 내린 밤 그저 말없이 나는 잠겨가고
myeongworya, seori naerin bam geujeo mareopsi naneun jamgyeogago
끝없이 가라앉으며 지친 눈감고 한을 읊조리네
kkeudeopsi garaanjeumyeo jichin nungamgo haneul eulpjorine
소녀 이 생전에 이루지 못하여 가슴 속에 품은 설움 있사오니
sonyeo i saengjeone iruji mothayeo gaseum soge pumeun seorum itsaoni
한에 죽는 것도 서러워할진대 사모하던 님과 꽃피게 하소서
hane jukneun geotdo seoreowohaljindae samohadeon nimgwa kkotpige hasoseo


가노라 헤 가노라 에헤 생사 넘어 가노라
ganora he ganora ehe saengsa neomeo ganora
왔노라 헤 왔노라 에헤 황천 건너서 신부 왔노라
wannora he wannora ehe hwangcheon geonneoseo sinbu wannora


그대가 너무나 너무나 그리워 귀신이 되어서 찾아왔죠
geudaega neomuna neomuna geuriwo gwisini doeeoseo chajawatjyo
하룻밤 꿈임에 가슴이 아려와도 황홀한 눈물로 젖어가네
harutbam kkumime gaseumi aryeowado hwangholhan nunmullo jeojeogane


혼월야, 안개 짙은 밤 신방 등불은 숨결에 꺼지고
honworya, angae jiteun bam sinbang deungbureun sumgyeore kkeojigo
새빨간 달빛 내려와 몰래 창백한 살결을 더듬네
saeppalgan dalbit naeryeowa mollae changbaekhan salgyeoreul deodeumne
비록 그대 이미 내 님 아닌 것을 어렴풋이나마 알고 있지마는
birok geudae imi nae nim anin geoseul eoryeompusinama algo itjimaneun
이 밤 내 님 안아 기쁘게 하리니 소녀 저승길에 함께해주소서
i bam nae nim anha gippeuge harini sonyeo jeoseunggire hamkkehaejusoseo


왔노라 헤 왔노라 에헤 생사 넘어 왔노라
wannora he wannora ehe saengsa neomeo wannora
가노라 헤 가노라 에헤 황천 건너서 신부 가노라
ganora he ganora ehe hwangcheon geonneoseo sinbu ganora


그대가 너무나 너무나 그리워 귀신이 되어서 찾아왔죠
geudaega neomuna neomuna geuriwo gwisin-i doe-eoseo chajawatjyo
한많은 저승길 나홀로 울었지만 행복해 그대와 함께라면
hanmanheun jeoseunggil nahollo ureotjiman haengbokhae geudaewa hamkkeramyeon
사랑해 사랑해 너무나 사랑해 그러니 어서 날 떠나줘요
saranghae saranghae neomuna saranghae geureoni eoseo nal tteonajwoyo
나 정말 이렇게 그댈 사랑하는데 왜 이리 가슴이 아픈거죠
na jeongmal ireoke geudael saranghaneunde wae iri gaseumi apeungeojyo
외로워 괴로워 터질듯이 아파 나 그댈 보내고 싶진 않아
oerowo goerowo teojildeusi apa na geudael bonaego sipjin anha
그래도 당신을 만나 행복했다고 홀로 읊조리며 가라앉네
geuraedo dangsineul manna haengbokhaetdago hollo eupjjorimyeo garaanne
External links
Edit
| | |
| --- | --- |
| | Lyrics |