This song article is lacking a proper background. You can help by adding one! The relevant section in the Song Article Guideline is a good starting point, and this blog post may also be helpful. We apologize for the inconvenience this may cause in the meantime.

Song pages lacking proper backgrounds are automatically sorted into this category.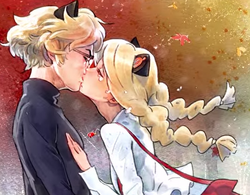 Song title
"그래 안녕"
Romaja: Geurae Annyeong
English: Alright, Goodbye
Uploaded October 13, 2014, with 6,000+ views
Singer(s)
SeeU
Producer(s)
Dr. Yun (music, lyrics)
Director.J (movie)
Links
YouTube Broadcast
Background
Edit
"그래 안녕" is an original SeeU song. It was featured in the 2014 SeeU concert, "The First or the Last".
Korean (한국어 가사)
Romaja (로마자)
오늘 난 생각 없이 널 만났어
oneul nan saenggak eopsi neol mannasseo
여전히 벅찬 마음 행복했어
yeojeonhi beokchan ma-eum haengbokhaesseo
너는 달랐어
neoneun dallasseo
불안해보여
buranhaeboyeo
헤어짐을 말하는 듯 심각해보여
heeojimeul malhaneun deut simgakhaeboyeo
그런 눈으로 바라보면서
geureon nuneuro barabomyeonseo
무슨 말을 하려 하지만
museun mareul haryeo hajiman
내게 하려던 그 말은
naege haryeodeon geu mareun
가슴 속에만 묻어 둬
gaseum sogeman mudeo dwo
난 아무 준비조차 못했어
nan amu junbijocha mothaesseo
내가 하고 싶은 말은
naega hago sipeun mareun
단 한 마디 하지 못한 채
dan han madi haji mothan chae
눈물 속에 내 입을 맞추네
nunmul soge nae ibeul matchune


넌 아무 생각 없이 얘기했어
neon amu saenggak eopsi yaegihaesseo
여전히 힘든 마음 두려웠어
yeojeonhi himdeun ma-eum duryeowosseo
너는 달랐어
neoneun dallasseo
웃고 있었어
utgo isseosseo
오랫동안 고민한 듯
oraetdongan gominhan deut
편안해보여
pyeonanhaeboyeo
그런 눈으로 바라보면서
geureon nuneuro barabomyeonseo
나를 떠나가려 하지만
nareul tteonagaryeo hajiman
내게 해버린 그 말은
naege haebeorin geu mareun
기억 속에서 지워줘
gieok sogeseo jiwojwo
난 아무 생각조차 못했어
nan amu saenggakjocha mothaesseo
내가 듣고 싶은 말은
naega deutgo sipeun mareun
단 한 마디 하지 않은 채
dan han madi haji anheun chae
눈물 속에 내 입을 맞추네
nunmul soge nae ibeul matchune


그래
geurae
떠나
tteona
가네
gane
다 안녕
da annyeong
그래 이젠
geurae ijen


이별의 한 마디는 잔인했어
ibyeorui han madineun janinhaesseo
그런 식으로 돌아서면서
geureon sigeuro doraseomyeonseo
사랑했다고 말한다면
saranghaetdago malhandamyeon
내게 주었던 사랑은
naege jueotdeon sarangeun
시간 속에 다 버려줘
sigan soge da beoryeojwo
난 아무 준비조차 못했어
nan amu junbijocha mothaesseo
내가 하고 싶은 말은
naega hago sipeun mareun
단 한 마디 하지 못한 채
dan han madi haji mothan chae
눈물 속에 내 입을 다무네
nunmul soge nae ibeul damune
안녕 안녕 안녕
annyeong annyeong annyeong


내가 받았던 사랑은 기억조차 하지 않을 게
naega badatdeon sarangeun gieokjocha haji anheul ge
눈물 속에 내 마음을 닫네
nunmul soge nae ma-eumeul danne


그래
geurae
안녕
annyeong
이젠
ijen
안녕
annyeong
External links
Edit
| | |
| --- | --- |
| | Lyrics |