This song article is lacking a proper background. You can help by adding one! The relevant section in the Song Article Guideline is a good starting point, and this blog post may also be helpful. We apologize for the inconvenience this may cause in the meantime.

Song pages lacking proper backgrounds are automatically sorted into this category.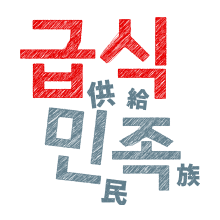 Song title
"급식민족"
Romaja: Geupsik Minjok
Official English: Lunch Ethnic
Uploaded April 13, 2016, with 670+ views
Singer(s)
SeeU
Producer(s)
DJPops (music, lyrics, V3 operator, movie, illust)
SeeUni Lover (illust)
Links
YouTube Broadcast
Background
Edit
"Geupsik Minjok" is an original Korean song featuring SeeU.
Korean (한국어 가사)
Romaja (로마자)
4교시 되었다 수업종을 친다
4-gyosi doeeotda sueopjongeul chinda
하지만 수업을 들어야하는걸
hajiman sueobeul deureoyahaneungeol
수업을 듣고 집중을 하는 참에
sueobeul deutgo jipjongeul haneun chame
종이 울렸다 4교시 끝났다
jongi ullyeotda 4-gyosi kkeunnatda


야 점심이다!
ya jeomsimida!


오늘 뭔 음식일까 메뉴판 보자
oneul mweon eumsigilkka menyupan boja
맛있는 고기 참 맛있겠다
masinneun gogi cham masitgetda
너도 나도 새치기 내가 먼저 갈거야
neodo nado saechigi naega meonjeo galgeoya
맛냄새 풍기는 각 오지구요
mannaemsae punggineun gak ojiguyo


이따다끼마스(잘 먹겠습니다) 앙냠냠냠 냠냠냠
ittadakkimaseu (jal meokgesseupnida) angnyamnyamnyam nyamnyamnyam
앙냠냠냠 냠냠냠 앙 기모찌
angnyamnyamnyam nyamnyamnyam ang gimojji
오지구요 육지구요 칠지구요 팔지구요
ojiguyo yukjiguyo chiljiguyo paljiguyo
구지구요 인정 어 인정
gujiguyo injeong eo injeong


고기반찬 다 먹었다 남은것은 야채
gogibanchan da meogeotda nameungeoseun yachae
야채를 먹고 김치도 먹고 국도 먹고
yachaereul meokgo gimchido meokgo gukdo meokgo
내 배는 아직 배 부르지 않아
nae baeneun ajik bae bureuji anha
한 끼 더 먹을 수 밖에 없다
han kki deo meogeul su bakke eoptda


에헤라디야 에헤라디야
eheradiya eheradiya
아줌마 여기 밥 더주세요
ajumma yeogi bap deojuseyo
내 배는 빵빵해지는구나
nae baeneun ppangppanghaejineunguna
오늘 밥은 개이득 오지게 맛있구여
oneul babeun gaeigeuk ojige masitguyeo


너네들은 인정하는 부분이구요
neonedeureun injeonghaneun bubuniguyo
학생들 : 인정합니다
haksaengdeul : injeonghapnida
이거레알 반박불가 리얼팩트 맛있구요
igeoreal banbakbulga rieolpaekteu masitguyo
레알 꿀맛 각이죠 안 먹으면 에바각이죠
real kkolmat gagijyu an meogeumyeon ebagagijyo


행님들 맛있는 급식에 탁 치고 갑니다
haengnimdeul masinneun geupsige tak chigo gapnida
위대하신 세종대왕님 죄송합니다
wedaehasin sejongdaewangnim joesonghapnida


바른 말 쓰겠습니다
bareun mal sseugesseupnida
검사님 저는 아무 말도 하지 않았습니다
geomsanim jeoneun amu maldo haji anhasseupnida
External links
Edit
| | |
| --- | --- |
| | Articles |
| | |
| --- | --- |
| | Downloads |
Ad blocker interference detected!
Wikia is a free-to-use site that makes money from advertising. We have a modified experience for viewers using ad blockers

Wikia is not accessible if you've made further modifications. Remove the custom ad blocker rule(s) and the page will load as expected.