This song article is lacking a proper background. You can help by adding one! The relevant section in the Song Article Guideline is a good starting point, and this blog post may also be helpful. We apologize for the inconvenience this may cause in the meantime.

Song pages lacking proper backgrounds are automatically sorted into this category.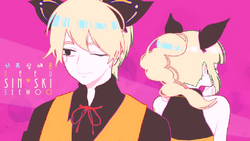 Song title
"기초상애론"
Romaja: Gichosang-aeron
English: Theory of the Basics of Mutual Love
Japanese: 基礎相愛論
Uploaded August 25, 2013, with 15,000+ (YT) and 3,000+ (NND) views
Singer(s)
SeeU and ZeeU
Producer(s)
SIN*SKI
Links
Niconico Broadcast • YouTube Broadcast (private)

Background
Edit
"Gichosang-aeron" is an original Korean duet song featured SeeU and official genderbend, ZeeU.
Korean (한국어 가사)
Romaja (로마자)
너와 내가 만나서 마음으로써 사랑하는 게
neowa naega mannaseo ma-eumeurosseo saranghaneun ge
진짜 사랑이라 한다면, 진짜 사랑이 아닌 건 뭘까?
jinjja sarangira handamyeon, jinjja sarangi anin geon mwolkka?


다 똑같은 세상에서 우열을 가려낼 수 있는 건?
da ttokgateun sesangeseo uyeoreul garyeonael su inneun geon?


『진짜 사랑하지 않는구나』
『jinjja saranghaji anneunguna』


그건 어디까지 진실이야?
geugeon eodikkaji jinsiriya?


『신께서는 아마도 너를 포기하지 않게 나란 사람을 이렇게 만들었단다』
『sinkkeseoneun amado neoreul pogihaji anke naran sarameul ireoke mandeureotdanda』


질렸다 모든 게 다시 원점에 돌아가
jillyeotda modeun ge dasi wonjeome doraga
살아온 날들에게 마음 약한 말들을 아무렇지 않게 전부 내뱉고 난다면
saraon naldeurege ma-eum yakhan maldeureul amureochi anke jeonbu naebaetgo nandamyeon
그 때는 나까지 끝난 세상이 될 거야
geu ttaeneun nakkaji kkeunnan sesangi doel geoya


『다 똑같은 세상에서 같지 않은 두 사람이 서로를 인정하고서 살아갈 수 없다는 게…』
『da ttokgateun sesangeseo gatji anheun du sarami seororeul injeonghagoseo saragal su eopdaneun ge…』


끝났다 모든 게 각자의 자리를 잡아
kkeunnatda modeun ge gakja-ui jarireul jaba
쌍방향의 사랑이 성립되지 않을 때
ssangbanghyangui sarangi seongripdoeji anheul ttae
처음부터 아무 감정이 없던 것처럼
cheo-eumbuteo amu gamjeongi eopdeon geotcheoreom
두 사람의 기억이 낙서처럼 변해 가
du saram-ui gieogi nakseocheoreom byeonhae ga


특별한 존재가 되는 건 즐거웠지만
teukbyeolhan jonjaega doeneun geon jeulgeowotjiman
그 이상의 모든 건 보편성으로 남아
geu isang-ui modeun geon bopyeonseongeuro nama
다시는 돌아갈 수 없는 출발점으로
dasineun doragal su eomneun chulbaljeomeuro
두 사람의 시선은 다른 곳을 향한 채
du saram-ui siseoneun dareun goseul hyanghan chae


『세상을 보는 관점이 너와 난 다르니까』
『sesangeul boneun gwanjeomi neowa nan dareunikka』


『그런 거 어찌되든 상관 없지 않아』
『geureon geo eojjidoedeun sanggwan eopji anha』


『신께서는 아마도 널 포기하기 편하게 나란 사람을 이렇게 만들었나봐』
『sinkkeseoneun amado neol pogihagi pyeonhage naran sarameul ireoke mandeureonnabwa』
질렸다 모든 게 다시 원점에 돌아가
jillyeotda modeun ge dasi wonjeome doraga
살아온 날들에게 마음 약한 말들을 아무렇지 않게 전부 내뱉고 난다면
saraon naldeurege ma-eum yakhan maldeureul amureochi anke jeonbu naebaetgo nandamyeon
그 때는 나까지 끝난 세상이 될 거야
geut taeneun nakkaji kkeunnan sesangi doel geoya


끝났다 모든 게 각자의 자리를 잡아
kkeunnatda modeun ge gakjaui jarireul jaba
쌍방향의 사랑이 성립되지 않을 때
ssangbanghyang-ui sarangi seongripdoeji anheul ttae
처음부터 아무 감정이 없던 것처럼
cheo-eumbuteo amu gamjeongi eoptdeon geotcheoreom
두 사람의 기억이 낙서처럼 변해 가
du saram-ui gieogi nakseocheoreom byeonhae ga


특별한 존재가 되는 건 즐거웠지만
teukbyeolhan jonjaega doeneun geon jeulgeowotjiman
그 이상의 모든 건 보편성으로 남아
geu isang-ui modeun geon bopyeonseongeuro nama
다시는 돌아갈 수 없는 출발점으로
dasineun doragal su eomneun chulbaljeom-euro
두 사람의 시선은 다른 곳을 향한 채
du saram-ui siseon-eun dareun goseul hyanghan chae
External links
Edit
| | |
| --- | --- |
| | Lyrics |
| | |
| --- | --- |
| | Articles |