This song article is lacking a proper background. You can help by adding one! The relevant section in the Song Article Guideline is a good starting point, and this blog post may also be helpful. We apologize for the inconvenience this may cause in the meantime.

Song pages lacking proper backgrounds are automatically sorted into this category.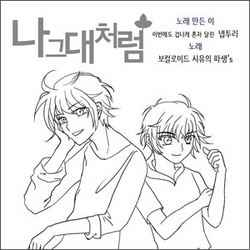 Song title
"나 그대처럼"
Romaja: Na Geudae Cheoreom
Uploaded March 2, 2016, with 1,000+ views
Singer(s)
SeeU
(ZeeU)
Producer(s)
Neptury
Links
YouTube Broadcast
Background
Edit
"Na Geudae Cheoreom" is an original Korean song featuring SeeU.
Korean (한국어 가사)
Romaja (로마자)
망설이는 이 시간에
mangseorineun i sigane
조금씩 나아간다면
jogeumssik naagandamyeon
불가능했던 것들도 모두 다
bulganeunghaetdeon geotdeuldo modu da
해볼만하게 될 거야
haebolmanhage dwil geoya


그 말을 확신하기엔
geu mareul hwaksinhagien
내 모습은 초라해서
nae moseubeun chorahaeseo
아마 안될거라고 시간 낭비한다고
ama andwilgeorago sigan nangbihandogo
그렇게 웃기만 했었죠
geureoke utgiman haesseotjyo


하지만 욕심이 생겨
hajiman yoksimi saenggyeo
멋지게 살아봤으면
meotjige sarabwasseumyeon
잘하진 못하지만 할 수 만있다면은
jalhajin mothajiman hal su manitdamyeoneun
살아갈 힘이 생길 것만 같은데
saragal himi saenggil geotman gateunde


그래서
geuraeseo
그대를 바라보았죠
geudaereul baraboatjyo
비록 나와 같은 길은 아니였지만
birok nawa gateun gireun aniyeotjiman


목표를 향한 그 마음은
mokpyoreul hyanghan geu maeumeun
나와 같을 거라 믿었기에
nawa gateul geora mideotgie


나 그대처럼 되기 위해
na geudae cheoreom dwigi wihae
그대 옆에 부끄럽지 않게
geudae yeope bukkeureopji anke
멋진 사람이 되고 싶었어요
meotjin sarami dwigo sipeosseoyo
포기하고 싶지 않았어요
pogihago sipji anhasseoyo


늘 열심으로 살아가는
neul yeolsimeuro saraganeun
당신 보면 가슴이 뛰어요
dangsin bomyeon gaseumi ttwieoyo
나도 그 속에서 함께하면서
nado geu sogeseo hamkkehamyeonseo
웃을 수 있겠죠 언? 가는
useul su itgetjyo eonjenganeun


눈부시게
nunbusige


멈추는 것이 두려워
meomchuneun geosi duryeoweo
무리하게 나아가면
murihage naagamyeon
몸도 마음도 지쳐 쓰러질걸
momdo maeumdo jichyeo sseureojilgeol
쉬는 것도 정말 중요해
swineun geotdo jeongmal juyohae


게임도 쉬어야 올라
geimdo swieoya olla
계단식 성장법이지
gyedansik seongjangbeobiji
긴장을 너무하면 근육도 긴장해서
jinjangeul neomuhamyeon geunyukdo ginjanghaeseo
버튼도 잘 안 눌러지게 돼
beoteundo jal an nulleojige dwae


나이에 안맞는다고
naie anmanneundago
좋아하는 걸 버린 들
johahaneun geol beorin deul
결국 돌아오는 건 허무한 삶이더라
gyeolguk doraoneun heomuhan salmideora
사는 게 진짜 사는 게 아니더라
saneun ge jinjja saneun ge anideora


너무나
neomuna
적절한 설명이었죠
jeokjeolhan seolmyeongieotjyo
내 머리에 확실하게 이해됐어요
nae meorie hwaksilhage ihaedwaesseoyo


내 꿈을 함께 고민하는
nae kkumeul hamkke gominhaneun
그런 그대가 정말 있었군요!
geureon geudaega jeongmal isseotgonyo!


내가 아는 것 너주려고
naega aneun geot neojuryeogo
더욱 정성들인 삶의 경험
deouk jeongseongdeurin salmui gyeongheom
나도 받았으니 이어주는 것이
nado badasseuni ieojuneun geosi
당연하다며 웃어주었죠
dangyeonhadamyeo useojueotjyo


나 그대처럼 될 수 있게
na geudaecheoreom dwil su itge
다시한번 일어설 거예요
dasihanbeon ireosel geyeyo
두렵지 않아요 그대가 있으니
duryeopji anhayo geudaega isseuni
나아가는 것이 즐거워요
naaganeun geosi jeulgeoweoyo


고마워요
gomaweoyo
고마워요
gomaweoyo
External links
Edit
| | |
| --- | --- |
| | Articles |
Ad blocker interference detected!
Wikia is a free-to-use site that makes money from advertising. We have a modified experience for viewers using ad blockers

Wikia is not accessible if you've made further modifications. Remove the custom ad blocker rule(s) and the page will load as expected.