Ad blocker interference detected!
Wikia is a free-to-use site that makes money from advertising. We have a modified experience for viewers using ad blockers

Wikia is not accessible if you've made further modifications. Remove the custom ad blocker rule(s) and the page will load as expected.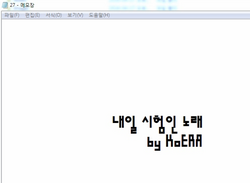 Song title
"내일 시험인 노래"
Romaja: Naeil Sihomein Norae
Uploaded April 17, 2016, with 100+ views
Singer(s)
SeeU
Producer(s)
KoERA K.
Links
Background
Edit
"Naeil Siheomin Norae" is an original Korean song featuring SeeU. In it, SeeU sings about cramming for a test coming up the next day, trying to remember everything she needs to by studying all night long.
Korean (한국어 가사)
Romaja (로마자)
개 강 한 지 얼 마 라 고 벌 써 내 일 시 험 이 야
gae gang han ji eol ma ra go beol sseo nae il si heom i ya
이 럴 수 가 큰 일 났 다 공 부 하 나 도 안 했 네
i reol su ga keun il nat da gong bu ha na do an haen ne
술 마 시 고 꽃 구 경 에 롤 롤 롤 롤 롤 롤 롤 롤
sul ma si go kkot gu gyeong e rol rol rol rol rol rol rol rol
으 아 아 악 으 아 아 악 롤 좀 끊 어 야 하 는 데
eu a a ag eu a a ak rol jom kkeunh eo ya ha neun de
방 금 전 도 한 판 하 고 두 판 하 고 세 판 하 고
bang geum jeon do han pan ha go du pan ha go se pan ha go
지 금 시 간 네 시 십 분 월 욜 까 지 여 덟 시 간
ji geum si gan ne si sip bun wol yol kka ji yeo deolp si gan
으 히 히 히 으 히 히 히 헤 헤 흐 헤 하 하 흐 흫
eu hi hi hi eu hi hi hi he he heu he ha ha heu heuh
이 제 책 을 들 춰 본 다 아 하 하 하 하 하 하 하
i je chaeg eul deul chwo da a ha ha ha ha ha ha ha


시 험 범 위 는 천 릿 길 아 아 아 아 끔 찌 캐
si heom beom wi neun cheon rit gil a a a a kkeum jji kae
나 의 눈 길 은 또 샛 길 아 아 아 아 공 부 해
na ui nun gil eun tto saet gil a a a a gong bu hae
하 나 도 머 리 에 안 들 와 아 아 아 살 려 줘
ha na do meo ri e an deul wa a a a sal lyeo jwo
롤 한 판 만 더 해 야 지 아 아 아 아 그 만 해
rol han pan man deo hae ya ji a a a a geu man hae


이 제 부 턴 정 말 공 부 뿐 이 야 라 한 지 십 분
i je bu teon jeong mal gong bu ppun i ya ra han ji sip bun
나 는 다 시 페 북 카 톡 만 지 작 만 지 작 만 지
na neun da si pe buk ka tok man ji jak man ji jak man ji
다 시 다 시 공 부 에 만 집 중 하 자 집 중 하 자
da si da si gong bu e man jip jung ha ja jip jung ha ja
작 심 삼 분 작 심 이 분 작 심 일 분 작 심 일 초
jak sim sam bun jak sim i bun jak sim il bun jak sim il chu
집 중 력 은 이 미 바 닥 삼 십 분 만 자 고 하 자
jip jung ryeog eun i mi ba dak sam sip bun man ja go ha ja
맑 은 정 신 새 출 발 을 하 는 거 야 할 수 있 어
malg eun jeong sin sae chul bal eul ha neun geo ya hal su iss eo


아 이 우 에 아 야 어 여 야 여 요 유 유 요 아 야
a i u e a ya eo yeo ya yeo yo yu yu yo a ya
유 야 야 여 여 유 야 요 이 아 어 우 으 이 아 이
yu ya ya yeo yeo yu ya yo i a eo u eu i a i


이 럴 수 가 열 시 까 지 자 버 렸 어 난 어 떡 해
i reol su ga yeol si kka ji ja beo ryeoss eo nan eo tteok hae
오 늘 밤 은 새 야 겠 어 답 이 없 는 걸 어 떡 해
o neul bam eun sae ya gess eo dap i eopn neun geor eo tteok hae
나 이 들 어 체 력 방 전 새 벽 이 면 눈 이 감 겨
na i deur eo che ryeok bang jeon sae byeok i myeon nun i gam gyeo
밤 새 고 도 파 릇 하 던 그 시 절 이 그 리 워 져
bam sae go do pa reut ha deon geu si jeor i geu ri wo jyeo


엄 마 한 테 전 화 오 네 딸 아 공 부 많 이 했 니
eom ma han te jeon hwa o ne ttar a gong bu manh i haen ni
엄 마 가 못 해 주 는 게 많 아 서 미 안 해 힘 내
eom ma ga mot hae ju neun ge manh a seo mi an hae him nae
불 효 자 는 웁 니 다 다 음 부 터 잘 할 게 요
bul hyo ja neun up ni da da eum bu teo jal hal ge yo


드 랍
deu rap
External Links
Edit
| | |
| --- | --- |
| | Articles |