Ad blocker interference detected!
Wikia is a free-to-use site that makes money from advertising. We have a modified experience for viewers using ad blockers

Wikia is not accessible if you've made further modifications. Remove the custom ad blocker rule(s) and the page will load as expected.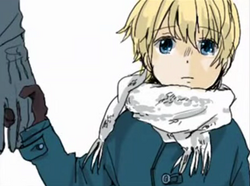 Song title
"노래인형"
Romaja: Noraeinhyeong
English: The Singing Doll
Singer(s)
SeeU
Producer(s)
Ho-ong-i (music, lyrics)
Links
YouTube Broadcast (fan pv, reprint, subbed)

Background
Edit
"노래인형" is an original SeeU song written by Ho-ong-i. This song was originally published on CreCrew, which has since been shut down.
Korean (한국어 가사)
Romaja (로마자)
난 노래하게 만들어진 인형
nan noraehage mandeureojin inhyeong
당신을 위해 노래를 해요
dangsineul wihae noraereul haeyo
난 움직일 수 없는 작은 인형
nan umjigil su eomneun jageun inhyeong
당신의 곁에 가고 싶어요
dangsin-ui gyeote gago sipeoyo


당신과 내가 처음 만난 곳은
dangsingwa naega cheoeum mannan goseun
한 골목길의 장난감 가게
han golmokgirui jangnangam gage
당신이 나를 바라보았을 때
dangsini nareul baraboasseul ttae
난 사랑에 빠져버린 거죠
nan sarange ppajyeobeorin geojyo
당신이 나를 두 손으로 안고
dangsini nareul du soneuro ankko
내게 웃음을 지어 보였을 때
naege useumeul jieo boyeosseul ttae
난 맹세했죠 내 모든 걸 바쳐
nan maengsehaetjyo nae modeun geol bachyeo
당신을 위해 노랠 할 것을
dangsineul wihae norael hal geoseul


내가 부르는 노래는
naega bureuneun noraeneun
너의 귀가에 닿아
neoui gwikka-e daa
꼭 너와 나를 이어 주는 것 같아
kkok neowa nareul ieo juneun geot gata
행복에 겨운 노랠 부르죠
haengboge gyeoun norael bureujyo


난 노래하게 만들어진 인형
nan noraehage mandeureojin inhyeong
당신을 위해 노래를 해요
dangsineul wihae noraereul haeyo
난 움직일 수 없는 작은 인형
nan umjigil su eomneun jageun inhyeong
당신의 곁에 가고 싶어요
dangsin-ui gyeote gago sipeoyo


시간이 흘러 당신이 조금씩
sigani heulleo dangsini jogeumssik
커가는 것을 느꼈을 때에
keoganeun geoseul neukkyeosseul ttaee
난 깨달았죠 당신이 더 이상
nan kkaedaratjyo dangsini deo isang
날 바라보지 않는다는 걸
nal baraboji anneundaneun geol
시간이 흘러 내 몸에 조금씩
sigani heulleo nae mome jogeumssik
먼지 쌓이고 녹이 슬을 때
meonji ssaigo nogi seureul ttae
난 깨달았죠 내 몸이 조금씩
nan kkaedaratjyo nae momi jogeumssik
부서져 가고 있다는 것을
buseojyeo gago itdaneun geoseul


당신이 집을 떠날 때
dangsini jibeul tteonal ttae
문득 생각이 난 듯
mundeuk saenggagi nan deut
커진 두 손으로 날 안았을 때에
keojin du soneuro nal anasseul ttaee
난 노랠 부르기 시작했죠
nan norael bureugi sijakhaetjyo


난 노래하게 만들어진 인형
nan noraehage mandeureojin inhyeong
당신을 위해 노래를 해요
dangsineul wihae noraereul haeyo
난 부서지고 있는 작은 인형
nan buseojigo inneun jageun inhyeong
당신 추억에 남고 싶어요
dangsin chueoge namgo sipeoyo
External links
Edit
| | |
| --- | --- |
| | Lyrics |