This song article is lacking a proper background. You can help by adding one! The relevant section in the Song Article Guideline is a good starting point, and this blog post may also be helpful. We apologize for the inconvenience this may cause in the meantime.

Song pages lacking proper backgrounds are automatically sorted into this category.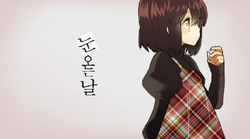 Song title
"눈 오는 날"
Romaja: Nun Oneun Nal
English: Snow Days
Uploaded December 28, 2012, with 39,000+ views
Singer(s)
SeeU
Producer(s)
DarkCherry (music, V3 edit)
45º (lyrics)
Amy (movie)
Panttwa (illust)
Links
YouTube Broadcast
Background
Edit
"Nun Oneun Nal" is an original SeeU song.
Korean (한국어 가사)
Romaja (로마자)
오늘은 어쩐지 자꾸만 설레어
oneureun eojjeonji jakkuman seolleeo
내다본 거리엔 또 하얗게 눈내려
naedabon georien tto hayake nunnaeryeo
몇번 고쳐 쓴 편지 풀었다 다시 뜬 장갑
myeotbeon gochyeo sseun pyeonji pureotda dasi tteun janggap
오늘 나 조금 더 용기 내고 싶은데
oneul na jogeum deo yonggi naego sipeunde
내 마음의 풍경엔 또 눈이 내려서
nae ma-eum-ui punggyeongen tto nuni naeryeoseo
이 세상은 마치 하얀 도화지 같아
i sesangeun machi hayan dohwaji gata
네가 남긴 발자국을 따라서
nega namgin baljagugeul ttaraseo
나 천천히 걸어갈래
na cheoncheonhi georeogallae


우는 아이에게 선물은 없어
uneun aiege seonmureun eopseo
하며 내 눈물 닦아 준 그대
hamyeo nae nunmul dakga jun geudae
코가 빨개져 웃던 너와 영원히
koga ppalgaejyeo utdeon neowa yeongwonhi
나는 언제까지나 이 눈을 맞고 싶은데
naneun eonjekkajina i nuneul matgo sipeunde


차가운 겨울은 언제나처럼 찾아와
chagaun gyeoureun eonjenacheoreom chajawa
나 결코 솔직하지는 못했지만
na gyeolko soljikhajineun mothaetjiman
이제 흰눈 내려 내 맘 두근대면
ije huinnun naeryeo nae mam dugeundaemyeon
용기내서 말해볼래 "널 좋아해"
yongginaeseo malhaebollae "neol joahae"
눈 내리는 계절 돌아오면
nun naerineun gyejeol doraomyeon
매번 네 앞에 서면 또 얼어버린 그 말을
maebeon ne ape seomyeon tto eoreobeorin geu mareul
온 마음 하얀 이곳에서 수줍게 말해볼 거야
on ma-eum hayan igoseseo sujupge malhaebol geoya
"사랑해"
"saranghae"


네게 다가가는 길은 너무 멀어서
nege dagaganeun gireun neomu meoreoseo
역시 조금 특별한 마법이 필요해
yeoksi jogeum teukbyeolhan mabeobi piryohae
이 마음 한가득 흰 눈에 실어
i ma-eum hangadeuk huin nune sireo
널 살며시 불러볼래
neol salmyeosi bulleobollae


난 네 앞에 서면 언제까지나
nan ne ape seomyeon eonjekkajina
수줍은 착한 아이고 싶어
sujubeun chakhan aigo sipeo
지금까지 나 바라는 것은 없지만
jigeumkkaji na baraneun geoseun eoptjiman
오늘만큼은 네게 선물을 받고 싶은 걸
oneulmankeumeun nege seonmureul batgo sipeun geol


이제 설레는 마음 위로 눈꽃이 피고
ije seolreneun ma-eum wiro nunkkochi pigo
속으로 삼키며 연습한 네 글자
sogeuro samkimyeo yeonseuphan ne geulja
오직 눈 오는 날의 마법을 믿고서
ojik nun oneun narui mabeobeul mitgoseo
용기내서 말해볼래 "널 좋아해"
yongginaeseo malhaebolrae "neol joahae"
눈 내리는 계절 또 찾아오면
nun naerineun gyejeol tto chajaomyeon
너와 꼭 잡은 손 위로 내려앉은
neowa kkok jabeun son wiro naeryeoanjeun
그 말을 온 마음 담아 흰 눈 처럼 하얗게 고백할 거야
geu mareul on ma-eum dama huin nun cheoreom hayake gobaekhal geoya
"사랑해"
"saranghae"
External links
Edit
| | |
| --- | --- |
| | Lyrics |