This song article is lacking a proper background. You can help by adding one! The relevant section in the Song Article Guideline is a good starting point, and this blog post may also be helpful. We apologize for the inconvenience this may cause in the meantime.

Song pages lacking proper backgrounds are automatically sorted into this category.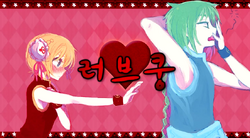 Song title
"러브쿵"
Romaja: Reobeukung
English: Love Bump
Uploaded January 7, 2013, with 7,000+ views
Singer(s)
SeeU
Producer(s)
zzZ (music, lyrics, video)
Sya (illust)
This is Parallel World (guitar, mixing)
Nero (tuning)
Links
YouTube Broadcast
Background
Edit
"Love-kung" is an original song by zzZ featuring SeeU.
Korean (한국어 가사)
Romaja (로마자)
내 몸을 단련한지 일십년
nae mom-eul danryeonhanji ilsimnyeon
수련을 하고 또한 이런 나이지만
suryeon-eul hago ttohan ireon naijiman
어째서인지 녀석에겐
eojjaeseoinji nyeoseogegen


주먹질이 제대로 나가질 않아
jumeokjiri jedaero nagajil an-a


뭐 상관없어 이제 대회는
mwo sanggwan-eopseo ije daehoeneun
35일 그 정도 남았을테니깐
samsiboil geu jeongdo nam-asseultenikkan


그때야말로 녀석에게
geuttaeyamalro nyeoseogege
음양팔극권 선풍각 일격필살 아도겐
eum-yangpalgeukgwon seonpunggak ilgyeokpisal adogen


눈 뜨면 너의 얼굴 생각나 이런 마음
nun tteumyeon neoui eolgul saenggangna ireon ma-eum
이제는 말할까하다 뒤돌아가
ijeneun malhalkkahada dwidoraga


너를 싫어하고 싶은데 싫어할 수 없는 이런 나 어떡해
neoreul sireohago sipeunde sireohal su eomneun ireon na eotteokhae
이리저리 흔들리는 내 마음은 어디에
irijeori heundeulrineun nae ma-eum-eun eodie
너는 이 맘 모른채
neoneun i mam moreunchae


대대로 앙숙인 우리 당파
daedaero angsugin uri dangpa
서로가 못 죽여 안달인 사이지만
seoroga mot jugyeo andarin saijiman
무슨 일인지 녀석에겐
museun irinji nyeoseogegen


발차기가 제대로 나가질 않아
balchagiga jedaero nagajil an-a


음 하지만 이제 이런 일도
eum hajiman ije ireon ildo
15일 정도 후엔 끝났을테니깐
siboil jeongdo huen kkeunnasseultenikkan


그 날 그 녀석의 얼굴에
geu nal geu nyeoseogui eolgure
와다다다다 다다다 아다다다따뚜겐
wadadadada dadada adadadattattugen


잠들면 너의 모습 아른해 이런 마음
jamdeulmyeon neoui moseup areunhae ireon ma-eum
이제는 말할까하다 뒤돌아서
ijeneun malhalkkahada dwidoraseo


너를 싫어하고 싶은데 싫어할 수 없는 이런 나 어떡해
neoreul sireohago sipeunde sireohal su eomneun ireon na eotteokhae
이리저리 흔들리는 내 마음은 어디에
irijeori heundeulrineun nae ma-eum-eun eodie


노력하고 시간이 지나서 이제는 정말 끝날 때가 왔어
noryeokhago sigan-i jinaseo ijeneun jeongmal kkeunnal ttaega wsseo
하지만 이제 와서 어쩔 수도 없는데 이런 내 맘을 너는 알까
hajiman ije waseo eojjeol sudo eomneunde ireon nae mam-eul neoneun alkka


너를 싫어하고 싶은데 싫어할 수 없는 이런 나 어떡해
neoreul sireohago sipeunde sireohal su eomneun ireon na eotteokhae
이리저리 흔들리는 내 마음은 어디에
irijeori heundeulrineun nae ma-eum-eun eodie


너를 싫어하고 싶은데 너를 사랑하는 이런 나 때문에
neoreul sireohago sipeunde neoreul saranghaneun ireon na ttaemun-e
두근두근 가슴 뛰는 내 마음은 어디에
dugeundugeun gaseum ttwineun nae ma-eum-eun eodie
내 마음을 너에게
nae ma-eum-eul neoege
External links
Edit
| | |
| --- | --- |
| | Lyrics |