This song article is lacking a proper background. You can help by adding one! The relevant section in the Song Article Guideline is a good starting point, and this blog post may also be helpful. We apologize for the inconvenience this may cause in the meantime.

Song pages lacking proper backgrounds are automatically sorted into this category.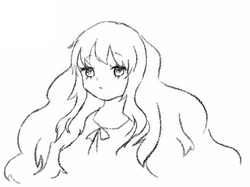 Song title
"머리가 엉켰어요"
Romaji: Meoriga Eongkyeosseoyo
English: My Hair Gets Tangled
Uploaded June 10, 2014, with 54,000+ views
Singer(s)
SeeU
Producer(s)
Neptury (music, lyrics)
Secret Diamond (movie)
Links
YouTube Broadcast
Background
Edit
"머리가 엉켰어요" is an original SeeU song.
Korean (한국어 가사)
Romaja (로마자)
머리가 엉켰어요
meoriga eongkyeosseoyo
100% 천연 곱슬이죠
100 percent cheonyeon gopseurijyo
빗기라도 하면 악 소리나게
bitgirado hamyeon ak sorinage
머리카락 다 뽑혀요
meorikarak da ppophyeoyo


(X2)


거리에 나갔어요
georie nagasseoyo
찰랑대고 윤기나는 생머리
challangdaego yunginaneun saengmeori
날개가 아파서 식려던 파리도
nalgaega apaseo sikryeodeon parido


미끄러워 떨어져요
mikkeureoweo tteoreojyeoyo
나도 저런 머리가 갖고 싶어
nado jeoreon meoriga gatgo sipeo
아름다운 내모습 상상해요
areumdaun naemoseup sangsanghaeyo


세련미 성숙미 어른스런머리
seryeonmi seongsokmi eoreunseureonmeori
어머 어떡하지 헌팅이라도 당하면
eomeo eotteokhaji heontingirado danghamyeon
미용실에 찾아갔죠
miyongsire chajagatjyo


이? 곰팡이도 구름도 싫어요
ijen gompangido gureumdo silheoyo
최첨단 울트라
chwicheomdan unteura
매직 고데기로 겁나게 밀어줘요
maejik godegiro geopnage mireojweoyo


머리하는 종...
meorihaneun jung...


네시간이 경과하고
nesigani gyeonggwahago
거울속에 비치는건
geoulsoge bichineungeon
일그러진 표정과
ilgeureojin pyojeonggwa


내 눈치보눈 미영실언니가 있네요
nae nunchibonun miyeongsireonniga inneyo
철랑대는 생머리 가졌는데
cheollangdaeneun saengmeori gajyeotneunde
이건워지 내가 아닌것 같아
igeonweoji naega aningeot gata


왠지각진 모습 날카롭단 반응
waenjigakjin moseup nalkaropdan baneung
나의 아이덴티티 는 어디로 갔는가
naui aidentiti neun eodiro gatneunga
미용실에 찾아갔죠
miyongsire chajagatjyo


열래대로 되돌릴 수 있나요
yeollaedaero dwidollil su innayo
남감한표정은 제발 짓지 마요
namgamhanpyojeongeun jebal jitji mayo
된다고 말해줘요
dwindago malhaejweoyo


나는 나인 게 최고예요
naneun nain ge chwigoeyo
External links
Edit
| | |
| --- | --- |
| | Lyrics |