Ad blocker interference detected!
Wikia is a free-to-use site that makes money from advertising. We have a modified experience for viewers using ad blockers

Wikia is not accessible if you've made further modifications. Remove the custom ad blocker rule(s) and the page will load as expected.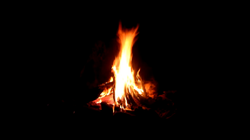 Song title
"모닥불"
Romaja: Modakbul
English: Bonfire
Uploaded May 8, 2012, with 10,000+ views
Singer(s)
SeeU
Producer(s)
Sangnoksu (music, lyrics)
Links
YouTube Broadcast
Background
Edit
"모닥불" is SeeU original song by Sangnoksu. The author composed for everyone's parents on Korean Parents' Day.
Korean (한국어 가사)
Romaja (로마자)
겨우내 피워낸 불을 이고서 말 없이 온 몸을 태우네
gyeounae piwonaen bureul igoseo mareopsi on momeul tae-une
갈라지고 검게 그을려 가며 무게도 눌러 참네
gallajigo geomge geueullyeo gamyeo mugedo nulleo chamne


비바람은 눈앞에 들이치고 눈발도 온누리를 뒤엎어도
bibarameun nunape deurichigo nunbaldo onnurireul dwieopeodo
기어이 작은 불을 지켜내고 숯 속에 상처를 감춘다
gieoi jageun bureul jikyeonaego sut soge sangcheoreul gamchunda


까맣게 변하여 화염 속으로 조금씩 부스러져 가네
kkamake byeonhayeo hwayeom sogeuro jogeumssik buseureojyeo gane
외로이 불길만 바라보면서 고요히 웃으면서
oeroi bulgilman barabomyeonseo goyohi useumyeonseo


커다란 장작들 위에 태어나 그저 저 위로만 치솟네
keodaran jangjakdeul wie taeeona geujeo jeo wiroman chisonne
자그맣게 변한 발 밑 아래로 시선조차 거두며
jageumake byeonhan bal mit araero siseonjocha geodumyeo


너무나 커져버린 자신의 몸에 손을 내미는 것 조차 부끄러워서
neomuna keojyeobeorin jasin-ui mome soneul naemineun geot jocha bukkeureowoseo
뜨겁게 매서운 불로 나를 감싸고 더욱 더 멀어져만 간다
tteugeopge maeseoun bullo nareul gamssago deouk deo meoreojyeoman ganda


작은 왕관 머리에 인 모닥불
jageun wanggwan meorie in modakbul
빛무리에 삼켜지는 모닥불
bitmurie samkyeojineun modakbul
하늘 끝에서 사그라지는 모닥불
haneul kkeuteseo sageurajineun modakbul
재만 남은 곳 뒤돌아 보는 모닥불
jaeman nameun got dwidora boneun modakbul


겨우내 피워낸 불을 이고서 말 없이 온 몸을 태우네
gyeounae piwonaen bureul igoseo mareopsi on momeul tae-une
갈라지고 검게 그을려 가며 무게도 눌러 참네
gallajigo geomge geueullyeo gamyeo mugedo nulleo chamne


자그만 장작들 위에 살면서 마침내 고개를 떨구네
jageuman jangjakdeul wie salmyeonseo machimnae gogaereul tteolgune
수없이 가슴에 담았던 말 사랑한단 말을 하러
sueopsi gaseume damatdeon mal saranghandan mareul hareo
External links
Edit
| | |
| --- | --- |
| | Lyrics |