This song article is lacking a proper background. You can help by adding one! The relevant section in the Song Article Guideline is a good starting point, and this blog post may also be helpful. We apologize for the inconvenience this may cause in the meantime.

Song pages lacking proper backgrounds are automatically sorted into this category.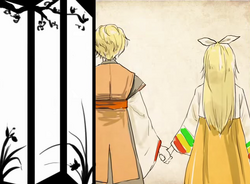 Song title
"몽상뢰"
Romaja: Mongsangroe
English: A Dreaming Flower
Uploaded January 19, 2012, with 102,000+ views
Singer(s)
SeeU
Producer(s)
Team Sweet Dream
Links
YouTube Broadcast
Background
Edit
This song is a prequel to 귀접 (Gwijeop).
Korean (한국어 가사)
Romaja (로마자)
나비의 작은 날갯짓 여린 한숨에 나려 희미해가고
nabi-ui jageun nalgaetjit yeorin hansume naryeo huimihaegago
초롱불 속에 품은 꿈 고이 쓸어서 이밤 지새우리라
chorongbul soge pumeun kkum goi sseureoseo ibam jisaeurira
혹여나 나를 잊었을까 두렵지만
hogyeona nareul ijeosseulkka duryeopjiman
그대의 사랑한단 그 말 믿고 있죠
geudae-ui saranghandan geu mal mitgo itjyo


끝없이 흘러내리는 눈물 머금고 다시 태어날 꿈망울
kkeudeopsi heulleonaerineun nunmul meogeumgo dasi taeeonal kkummangul
그대가 돌아올 날엔 슬픔 숨기고 따스한 미소 짓겠죠
geudaega doraol naren seulpeum sumgigo ttaseuhan miso jitgetjyo
이렇게 기나긴 기다림 너무나도 지치지만
ireoke ginagin gidarim neomunado jichijiman
그대와 약속한 미래를 품에 안고
geudaewa yaksokhan miraereul pume ango
기다릴게요
gidarilgeyo


한 쌍의 나무 기러기 서로 안고서 행복을 지저귀고
han ssang-ui namu gireogi seoro angoseo haengbogeul jijeogwigo
어여쁜 색동저고리 그대 손잡은 저 소녀 누구인가
eoyeoppeun saekdongjeogori geudae sonjabeun jeo sonyeo nuguinga
나 만을 바라본단 약속 잊었나요
na maneul barabondan yaksok ijeonnayo
이리도 아려오는 내맘 알아줘요
irido aryeooneun naemam arajwoyo


끝없이 흘러내리는 눈물 머금고 다시 피어날 꿈망울
kkeudeopsi heulleonaerineun nunmul meogeumgo dasi pieonal kkummangul
그대가 돌아올 날엔 슬픔 숨기고 따스한 미소 짓겠죠
geudaega doraol naren seulpeum sumgigo ttaseuhan miso jitgetjyo
그대가 돌아봐 줄거라 생각하진 않지마는
geudaega dorabwa julgeora saenggakhajin anchimaneun
내마음 아무리 감춰도 나 그대가
naema-eum amuri gamchwodo na geudaega
그리워져요
geuriwojyeoyo


봄날이 지고 여름이 지나 낙엽이 지고 겨울이 지나고
bomnari jigo yeoreumi jina nagyeobi jigo gyeouri jinago
내가 묻힌곳
naega muchingot
추억의 잿빛
chueogui jaetbit
죽어서 나는 한 송이 꽃 되어
jugeoseo naneun han songi kkot doeeo
나의 끝없이 흘러내리는 눈물 머금고 다시 피어날 꿈망울
naui kkeudeopsi heulreonaerineun nunmul meogeumgo dasi pieonal kkummangul


그대가 돌아올 날엔 슬픔 숨기고 따스한 미소 짓겠죠
geudaega doraol naren seulpeum sumgigo ttaseuhan miso jitgetjyo
먼 훗날 이 꽃을 보고 스쳐 가듯이 문득 내 생각 난다면
meon hunnal i kkoseul bogo seuchyeo gadeusi mundeuk nae saenggak nandamyeon
그걸로 나는 족해요
geugeollo naneun jokhaeyo
눈물이 나요
nunmuri nayo
그래도 나는 행복해
geuraedo naneun haengbokhae
그대는 내 사랑 기억해 낼 수조차 없겠지만
geudaeneun nae sarang gieokhae nael sujocha eopgetjiman
언제나 그대가 행복하게 살기를 바래줄게요
eonjena geudaega haengbokhage salgireul baraejulgeyo
External links
Edit
| | |
| --- | --- |
| | Lyrics |
| | |
| --- | --- |
| | Articles |