This song article is lacking a proper background. You can help by adding one! The relevant section in the Song Article Guideline is a good starting point, and this blog post may also be helpful. We apologize for the inconvenience this may cause in the meantime.

Song pages lacking proper backgrounds are automatically sorted into this category.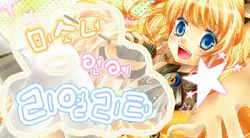 Song title
"미소녀 연예 리얼리티"
Romaja: Misonyeo Yeonye Rieolliti
English: Pretty Girl's Love Reality
Uploaded June 25, 2013, with 330+ views
Singer(s)
SeeU
Producer(s)
Springhead (music, lyrics)
Jyulen (illust)
Chyamong (movie)
Links
YouTube Broadcast
Background
Edit
An original SeeU song written by Springhead.
Korean (한국어 가사)
Romaja (로마자)
너무 빠른 건 싫어 천천히 와 줘
neomu ppareun geon sireo cheoncheonhi wa jwo
너무 갑자기 오면 상처입게 되잖아
neomu gapjagi omyeon sangcheoipge doejanha
아주 조금씩 너에게 허락해 줄 게
aju jogeumssik neo-ege heorakhae jul ge
조금만 기다려 주겠니
jogeumman gidaryeo jugenni


언제나 보게 되는 네 얼굴
eonjena boge doeneun ne eolgul
여태까지 아무 감정 없었는데
yeotaekkaji amu gamjeong eopseonneunde
우연히 손 끝이 닿았을 뿐
uyeonhi son kkeuchi daasseul ppun
갑자기 다가오는 애뜻한 기분
gapjagi dagaoneun aetteuthan gibun
이게 사랑이라는 복잡 미묘한 그것
ige sarangiraneun bokjap mimyohan geugeot
이제는 알았어
ijeneun arasseo
너도 날 바라보며 귀까지 빨개졌잖아
neodo nal barabomyeo gwikkaji ppalgaejyeotjanha


너무나도 갑자기 찾아와버린 나의 첫사랑이야 너무나 설레는 걸
neomunado gapjagi chajawabeorin naui cheotsarangiya neomuna seolleneun geol
두근거리는 마음을 너에게 줄 게
dugeungeorineun ma-eumeul neo-ege jul ge
내 마음 모두 너에게
nae ma-eum modu neo-ege


너무 빠른 건 싫어 천천히 와 줘
neomu ppareun geon sireo cheoncheonhi wa jwo
너무 갑자기 오면 상처입게 되잖아
neomu gapjagi omyeon sangcheoipge doejanha
아주 조금씩 너에게 허락해 줄 게
aju jogeumssik neoege heorakhae jul ge
조금만 기다려 주겠니
jogeumman gidaryeo jugenni


언제나 보게 되는 네 얼굴
eonjena boge doeneun ne eolgul
왠지 그냥 숨어버리게 되는 걸
waenji geunyang sumeobeorige doeneun geol
왜 내가 도망가야 하는지
wae naega domanggaya haneunji
생각하면 할 수록 어이 없었어
saenggakhamyeon hal surok eoi eopseosseo
이게 사랑이라는 복잡 미묘한 그것
ige sarangiraneun bokjap mimyohan geugeot
이제야 알았어
ijeya arasseo
이제는 당당하게
ijeneun dangdanghage
네 얼굴 쳐다볼 거야
ne eolgul chyeodabol geoya


너무나도 갑자기 찾아와버린 나의 첫사랑이야 너무나 설레는 걸
neomunado gapjagi chajawabeorin naui cheotsarangiya neomuna seolleneun geol
두근거리는 마음을 너에게 줄 게
dugeungeorineun ma-eumeul neoege jul ge
내 마음 모두 너에게
nae ma-eum modu neoege


너무 빠른 건 싫어 천천히 와 줘
neomu ppareun geon sireo cheoncheonhi wa jwo
너무 갑자기 오면 상처입게 되잖아
neomu gapjagi omyeon sangcheoipge doejanha
아주 조금씩 너에게 허락해 줄 게
aju jogeumssik neoege heorakhae jul ge
조금만 기다려 주겠니
jogeumman gidaryeo jugenni


모든 게 현실이고 싶은데……
modeun ge hyeonsirigo sipeunde……
세상은 차갑도록 나에게 냉정했어……
sesangeun chagapdorok na-ege naengjeonghaesseo……


너무나도 갑자기 찾아와버린 나의 첫사랑은 왜 모니터에 있을까
neomunado gapjagi chajawabeorin naui cheotsarangeun wae moniteo-e isseulkka
두근거리는 마음을 전해 주기엔
dugeungeorineun ma-eumeul jeonhae jugien
너무나 멀리 있는 걸
neomuna meolli inneun geol
너무나도 빠르게 흘러가버린 컴퓨터 이용시간 마음이 너무 아파
neomunado ppareuge heulleogabeorin keompyuteo iyongsigan ma-eumi neomu apa
아주 조금씩 천천히 공략해 줄 게
aju jogeumssik cheoncheonhi gongnyakhae jul ge
어차피 내일 또 보니까
eochapi naeil tto bonikka
External links
Edit
| | |
| --- | --- |
| | Lyrics |