Ad blocker interference detected!
Wikia is a free-to-use site that makes money from advertising. We have a modified experience for viewers using ad blockers

Wikia is not accessible if you've made further modifications. Remove the custom ad blocker rule(s) and the page will load as expected.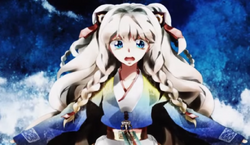 Song title
"바다의 노래"
Romaja: Badaui Norae
English: Song of the Sea
Uploaded October 22, 2012, with 374,000+ views
Singer(s)
SeeU
Producer(s)
Sangnoksu (music, lyrics)
fue4 (illust)
Ryl (movie)
Links
YouTube Broadcast
Background
Edit
One of Sangnoksu's songs based off of traditional Korean music. It tells the story of the ocean, and how it wishes to be able to create life in the way the sun and earth does (flowers, nature, etc). However, do to its overwhelming "bitterness", it is unable, and laments about how it will never be like the rest of its world.
Korean (한국어 가사)
Romaja (로마자)
새벽녘 밝을 적에 시린 비를 맞으며
saebyeoknyeok balgeul jeoge sirin bireul majeumyeo
태양 끝까지 넘실거리는 피를 일깨운다
taeyang kkeutkkaji neomsilgeorineun pireul ilkkae-unda
머나먼 수평선에 유유히 홀로 남아
meonameon supyeongseone yuyuhi hollo nama
몸안에 고동치는 숨결을 오늘도 내리 부른다
momane godongchineun sumgyeoreul oneuldo naeri bureunda


태양이 뿌리는 꽃이여 구름 산이여 나를 안아라
taeyangi ppurineun kkochiyeo gureum saniyeo nareul anara
바람에 실려온 땅이여 푸른 땅이여 나를 깨워라
barame sillyeoon ttangiyeo pureun ttangiyeo nareul kkaewora


솟아오르는 파도 비바람에 데치여
sosaoreuneun pado bibarame dechiyeo
아파 낳아온 이들에게도 저버림받은 몸
apa naaon ideuregedo jeobeorimbadeun mom
고요하게 얼마나 많은 날을 세웠나
goyohage eolmana manheun nareul sewonna
칠흑빛 하늘이 내리쳐도 끝끝내 푸르르리라
chilheukbit haneuri naerichyeodo kkeutkkeunnae pureureurira


태양이 뿌리는 꽃이여 구름 산이여 나를 안아라
taeyangi ppurineun kkochiyeo gureum saniyeo nareul anara
바람에 실려온 땅이여 푸른 땅이여 나를 깨워라
barame sillyeoon ttangiyeo pureun ttangiyeo nareul kkaewora
별들이 떨어진 흙이여 물결고개여 날 일으켜라
byeoldeuri tteoreojin heugiyeo mulgyeolgogaeyeo nal ireukyeora
바람에 실려온 땅이여 푸른 땅이여 내가 곧 간다
barame sillyeoon ttangiyeo pureun ttangiyeo naega got ganda


햇살이 그리는 섬이여 하얀 숨이여 나를 채워라
haetsari geurineun seomiyeo hayan sumiyeo nareul chaewora
새벽도 파도도 벗고서 푸른 땅으로 너른 땅으로
saebyeokdo padodo beotgoseo pureun ttangeuro neoreun ttangeuro


태양이 뿌리는 꽃이여 구름 산이여 나를 안아라
taeyangi ppurineun kkochiyeo gureum saniyeo nareul anara
바람에 실려온 땅이여 푸른 땅이여 나를 깨워라
barame silryeoon ttangiyeo pureun ttangiyeo nareul kkaewora
별들이 떨어진 흙이여 물결고개여 나를 태워라
byeoldeuri tteoreojin heugiyeo mulgyeolgogaeyeo nareul taewora
바람에 비치는 땅이여 여기 바다가 바다로써 가리라
barame bichineun ttangiyeo yeogi badaga badarosseo garira
External links
Edit
| | |
| --- | --- |
| | Lyrics |