Ad blocker interference detected!
Wikia is a free-to-use site that makes money from advertising. We have a modified experience for viewers using ad blockers

Wikia is not accessible if you've made further modifications. Remove the custom ad blocker rule(s) and the page will load as expected.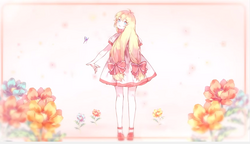 Song title
"반딧불자리"
Romaja: Banditbuljari
English: Constellation Firefly Light
Uploaded August 30, 2015, with 9,000+ (YT) & 50+ (AL) views
Singer(s)
SeeU
Producer(s)
zzZ (music, lyrics)
Otteumi (illustration)
M.S (movie)
Links
YouTube Broadcast
Ate Li Broadcast
Background
Edit
"Banditbuljari" is an original SeeU song. It was written in commemoration of SeeU's fourth birthday.
Korean (한국어 가사)
Romaja (로마자)
이제는 얼마나 살아왔는지 모를 정도로 많은 시간이 지났지만
ijeneun eolmana sarawattneunji moreul jeongdoro manheun sigani jinatjiman
저 하늘에 올라가는 별들을 바라보며 오늘도 같은 마음을 담아내
jeo haneure ollaganeun byeoldeureul barabomyeo oneuldo gateun ma-eumeul damanae


"괜찮은 거야?" 수없이 물어도 작은 소리조차 들려오지 않지만
"gwaenchanheun geoya?" sueopsi mureodo jakeun sorijacha deullyeooji anchiman
더는 두렵지 않아 네가 나를 믿으니까 괜찮은 거잖아
deoneun duryeopji nega nareul mideunikka gwaenchanheun geojanha


이렇게나, 언제나 밝게 빛났었던거야
ireohgena, eonjena balkkebichnasseottdeongeoya
너를 만났으니까 항상 곁에 있어줘서 고마워
neoreul mannasseunikka hangsang gyeote isseojwoseo gomawo


힘들 때면 서로가 서로의 반딧불 되어
himdeul ttaemyeon seoroga seoro-ui banditbul dwieo
이 세상을 비추러 가자
i sesangeul bichureo gaja


차가운 바람이 몸을 흔들고 쏟아지는 비가 눈물을 만들어도
chagaun barami momeul heundeulgo ssodajineun biga nunmureul mandeureodo
더는 아프지 않아 힘내란 그 한마디가 우산이 되잖아
deoneun apeuji anha himnaeran geu hanmadiga usani doejanha


이렇게나, 언제나 밝게 빛났었던거야
ireohgena, eonjena balkke binnasseotdeongeoya
너를 만났으니까 항상 곁에 있어줘서 고마워
neoreul mannasseunikka hangsang gyeote isseojweoseo gomaweo


힘들 때면 서로가 서로의 반딧불 되어
himdeul ttaemyeon seoroga seoro-ui banditbul doeeo
이 세상을 비추러 가자
i sesangeul bichureo gaja


이 세상에 전해주자
i sesange jeonhaejuja


봐 이렇게나, 너와 나 소중한 빛이 된 거야
nwa ireokena, neowa na sojunghan bichi doen geoya
어두운 밤이라도 우리 함께 있으니까 괜찮아
eoduun bamirado uri hamkke isseunikka gwaenchanha
내일에도 모레도 그다음 다음날에도
naeiredo moredo geuda-eum da-eumnaredo
웃으면서 더 나아가자
useumyeonseo deo naagaja
External links
Edit
| | |
| --- | --- |
| | Downloads |