This song article is lacking a proper background. You can help by adding one! The relevant section in the Song Article Guideline is a good starting point, and this blog post may also be helpful. We apologize for the inconvenience this may cause in the meantime.

Song pages lacking proper backgrounds are automatically sorted into this category.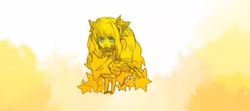 Song title
"별의 목소리"
Romaji: Byeorui Moksori
English: Voice of the Stars
Uploaded November 17, 2013, with 3,000+ views
Singer(s)
SeeU
Producer(s)
TEAM FOIS:
Su (music)
Links
YouTube Broadcast
Background
Edit
"Byeorui Moksori" is an original SeeU song. It is featured in TEAM FOIS's first official album, "Recollection".
Korean (한국어 가사)
Romaja (로마자)
수많은 별들 내마음 곡에 품을수 있을까
sumanheun byeoldeul naema-eum goge pumeulsu isseulkka
너무나 많은 별들을 지나온 것같아
neomuna manheun byeoldeureul jinaon geotgata
모든 별들의 끝에 가면 만날수있을까
modeun byeoldeul-ui kkeute mannalsuisseulkka
그곳에선 많은 시간이 후르고있겠지
geugoseseon manheun sigani hureugoitgetji


있잖아, 우리들은
itjanha, urideureun
우주와 지상으로 헤어진 연인들같아
ujuwa jisangeuro heeojin yeonindeulgata
아주 머나먼 곳에 떨어 져있지만
aju meonameon gose tteoreo jyeooitjiman
마음만은 시간을 초월한지도 몰라
ma-eummaneun siganeul chowolhanjido molla


난 지금 여기에 있어
nan jigeum yeogie isseo


너를 만나지 못하는 내마음은
neoreul mannaji mothaneun naema-eumeun
별의 목소리가 들리는 이 곳에 서서
byeol-ui moksoriga deullineun i gose seoseo
저 머나먼 세계로 떠나간 두사람
jeo meonameon segyero tteonagan dusaram
목소리가 닿는다면 내 이야기를
moksoriga dahneundamyeon nae iyagireul


전해줘
jeonhaejwo


2시간보다 멀어져버린 너와의 거리는
2-siganboda meoreojyeobeorin neowa-ui georineun
너무나 많은 별들을 지나가야만해
neomuna manheun byeoldeureul jinagayamanhae
보고싶은 내 마음이 닿을수있디면
bogosipeun nae ma-eumi daheulsuitdimyeon
난 괜찮아, 많은시간이 흘러가 있어도
nan gwaenchanha, manheunsigani heulleoga isseodo


너를 만나지 못하는 내 마음은
neoreul mannaji mothaneun nae ma-eumeun
별의 목소리가 들리는 이 곳에 서서
byeol-ui moksoriga deullineun i gose seoseo
저 머나먼 세계로 떠나간 두사람
jeo meonameon segyero tteonagan dusaram
목소리가 닿는다면 내 이야기를 전해줘
moksoriga dahneundamyeon nae iyagireul jeonhaejwo


너를 만나지 못하는 내 마음은
neoreul mannaji mothaneun nae ma-eumeun
별의 목소리가 들리는 이 곳에 서서
byeol-ui moksoriga deullineun i gose seoseo
저 머나먼 세계로 떠나간 두사람
jeo meonameon segyero tteonagan dusaram
목소리가 닿는다면 내 이야기를 전해줘
moksoriga dahneundamyeon nae iyagireul jeonhaejwo


너를 만나지 못하는 내 마음은
neoreul mannaji mothaneun nae ma-eumeun
별의 목소리가 들리는 이 곳에 서서
byeol-ui moksoriga deullineun i gose seoseo
저 머나먼 세계로 떠나간 두사람
jeo meonameon segyero tteonagan dusaram
목소리가 닿는다면 내 이야기를 전해줘
moksoriga dahneundamyeon nae iyagireul jeonhaejwo


너를 만나지 못하는 내 마음은
neoreul mannaji mothaneun nae ma-eumeun
별의 목소리가 들리는 이 곳에 서서
byeol-ui moksoriga deullineun i gose seoseo
저 머나먼 세계로 떠나간 두사람
jeo meonameon segyero tteonagan dusaram
목소리가 닿는다면 내 이야기를 전해줘
moksoriga dahneundamyeon nae iyagireul jeonhaejwo
External links
Edit
| | |
| --- | --- |
| | Lyrics |